When you have countless pictures on your phone, to manage them is really a headache. Luckily, AirMore can assist you in managing all of them from PC browser easily. AirMore "Pictures" function empowers you to wirelessly transfer pictures from PC to mobile device and the other way around. Moreover, it allows you to appreciate your photos on computer screen with better visual effect.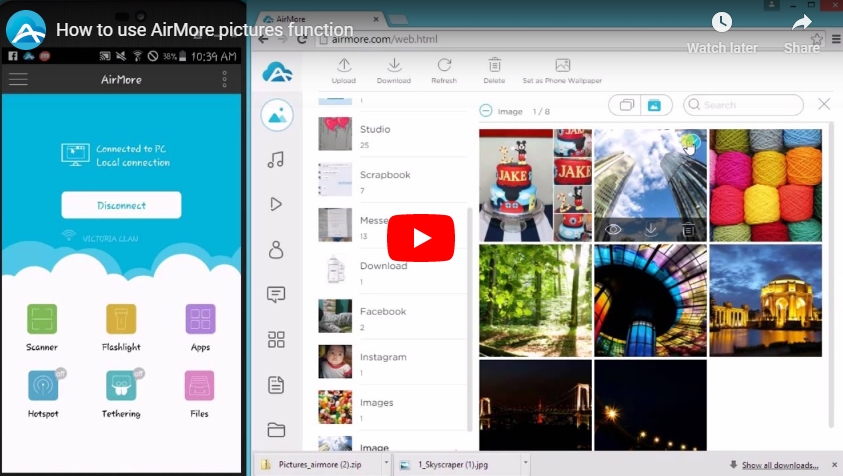 Introduction to AirMore Web Pictures Function
Transfer Pictures
If you want to transfer photos from mobile device to PC, you should:

Click the "Pictures" icon on the left side of the webpage.
Select the pictures to transfer (Click a picture to choose one, and check the circle above to choose all).
Click "Download" button on top.

Note for Android users: If you transfer less than 3 photos, they would be downloaded separately. But for photos more than 3, they would be compressed into a zip file.

If you would like to move images from PC to mobile device, you can:

Click "Upload" button.
Choose the images in the computer.
Click "Open".

You may also directly drag pictures into the web to upload, which would be easier.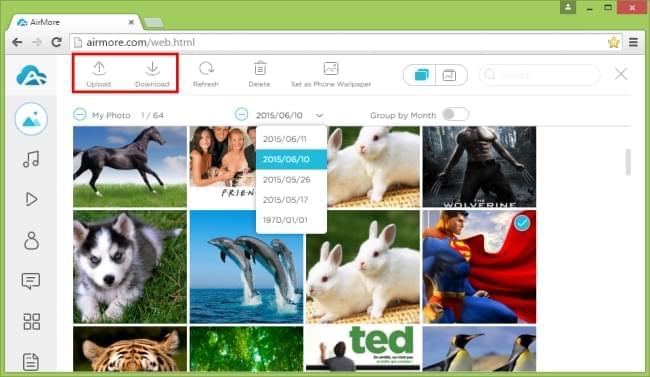 View Pictures
On AirMore Web, you will have a fancy experience of viewing pictures.
Two checking ways:

Click "My Photo" icon on the top right corner, and you can check your photos taken by phone camera in chronological order.
Click "My albums" icon, and you can check pictures by different folders.

Three viewing modes:

Thumbnail mode. After clicking "Pictures", you can view the thumbnails of the photos on web.
Previewing mode. Put the cursor on a picture, and click the eye icon under it. Then you will preview it in bigger size. You may click the operation buttons under the picture to get a better visual effect, including zooming in/out and rotate left/right.
Slide show mode. When you are previewing the pictures, you can click the "Play" button below and start the slide show. And you can change the switching time freely.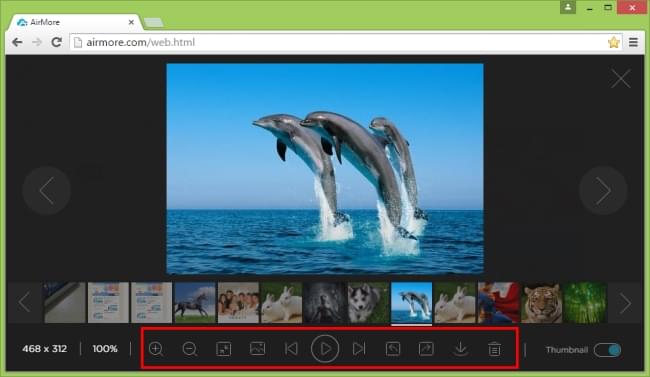 Delete Pictures
While deleting many pictures on small phone screen is annoying, doing it on the computer is winking. On AirMore Web, in order to remove unwanted pictures, all you need to do is several clicks.
To delete one photo, put the cursor on it and click the "delete" icon.
To delete many, it is also very simple.

Select all the images to delete.
Click the "Delete" button on top.
Click "Yes".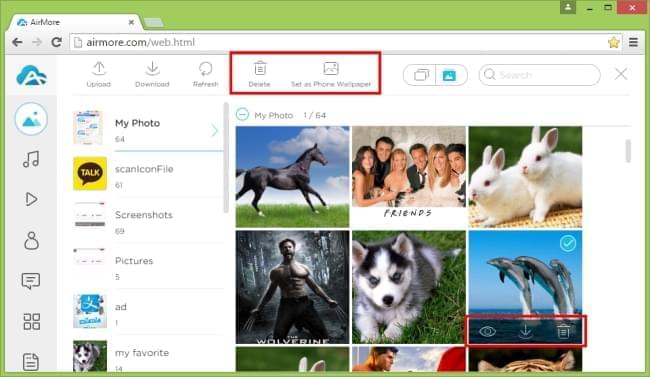 Set Picture as Phone Wallpaper
AirMore enables you to set the picture you like as your phone wallpaper. Just choose one picture, and click the "Set as Phone Wallpaper" button on top. This button also exists when you are previewing pictures.
Search Pictures
On AirMore Web, you can quickly locate the specific one picture out of others.
When viewing pictures under "My Photo" tab, you can click "Group by Month". Then all the photos will be grouped by months, which will be easier to find the one want. A faster way is to click the date above, choose an accurate date and find. Besides, typing in date manually is also applicable.
When you are viewing pictures under "My albums" tab, type in the picture's information into the searching box to find it directly.
Isn't AirMore "Pictures" feature amazing? What's more, its clean and simple interface makes people feel very comfortable. And if you want to set picture as the computer background, the Phone Manager in "Tools" can help you.