Most users know ways to transfer music to Android phones through USB cable. However, what if there is no USB cable at hand? Does it mean it is impossible to transfer music to Android? As more and more people have set up WiFi Networks at their home or working place, it is very convenient for them to connect their devices to the Internet without USB cables. Under this condition, to transfer music from computer to Android without USB, you only need AirMore to help you finish this task.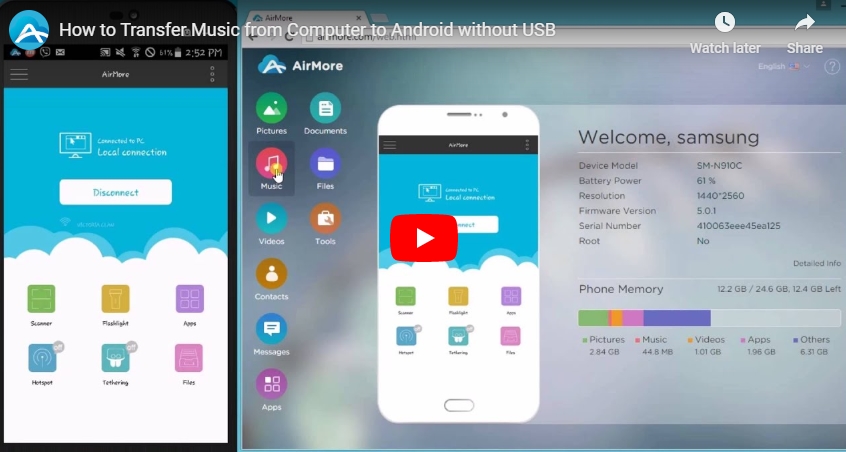 AirMore – Music Manager Customized for Android
As a professional mobile device management tool on the web, AirMore enables us to wirelessly transfer files between your mobiles and PC. You can wirelessly transfer music from computer to Android phone within a minute.
Download
Connect Android phone to AirMore web
Click "Scan to connect" to aim at the QR code or click your device icon in Radar on the AirMore web after installing AirMore on your phone.
If you choose to connect in Radar, click "Accept" when a connection request pops up on your phone. Make sure your phone and PC are in the same WiFi network.
Transfer music
Once connected, click "Music" on the left hand of the webpage, where you can see all the music stored on your phone.
Click "Import" and you can transfer music from computer to Android without USB cable.
With AirMore, you can backup music from your Android to PC just by clicking "Export" button. It also empowers users to play phone music on the web or remove any music from the device. In addition to its powerful music function, you can also use AirMore to manage other files like photos, videos, documents, apps. With it, it is no longer a tough task to manage your Android Phone.