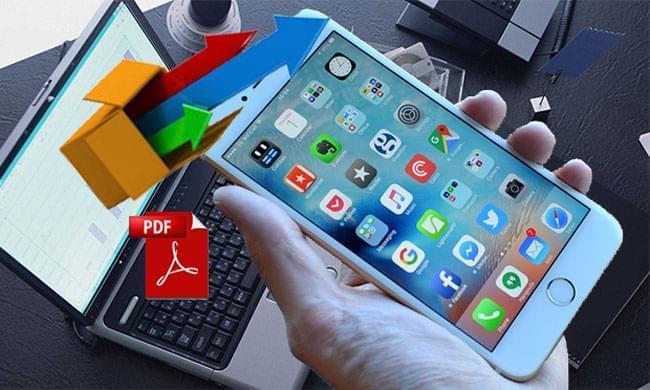 Although people increasingly prefer to use Word format to save and view documents on their iPhone, there's always occasions that documents are saved in the format of PDF (Portable Document Format). When it comes to how to transfer PDF to iPhone, most of iPhone users have no idea about the process. Fortunately, here are the methods you can use to finish the transfer.
Three ways to complete the transfer:
iTunes — A Traditional Way to Transfer PDF to iPhone
iTunes is a very familiar tool for iOS devices users which can be used to manage iPhone's files. Certainly it can help you transfer this kind of documents to iPhone. Here are the detailed steps:
Open iTunes on your PC and choose "Edit > Preferences > Devices > Prevent iPods, iPhones and iPads from syncing automatically".
Connect your iPhone to PC using USB cable. After creating the connection, iPhone's icon will show at the upper left corner.
Hit "File" > "Add File to Library" at the upper left corner, and then select the PDF files on the computer.
After importing the PDF files to the library, you need to click the icon of your iPhone, and choose "Books" under "Summary" panel. Click "Sync Books" > "Selected books" and then choose the PDF files you want to transfer and finally click "Sync" in the lower right corner.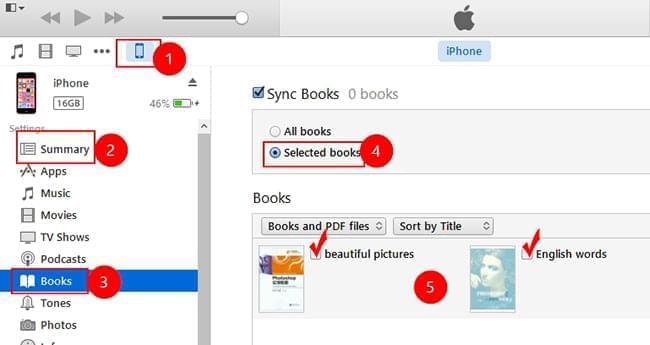 After a while, you will find these PDF files on the iBooks of your iPhone and you open them to view.
Cons: iTunes has many demerits. One of them is that iTunes often pops out many option windows. If you choose a wrong one by accident, it may result in failure or loss of data. Besides, the relevant steps are too complicated which often leads to failure the first time. You may need great patience to finish the whole transfer.
Now that iTunes is not a perfect tool, thus how to transfer PDF to iPhone without iTunes? OK, the author will introduce a better method.
AirMore — An Efficient Way to Transfer PDF to iPhone
This handy tool is one of the best mobile devices management tools available on the market right now. With this professional management tool on web, you're able to transfer documents to iPhone with just a few clicks wirelessly. Let's see how it works.
Download and install Adobe Reader on your iPhone. If you have installed it, just skip this step.
Go to AirMore Web address "airmore.net" and a QR code will show up on the browser.

Open scanner on iPhone's AirMore app to scan the QR code and tap "Agree" for successful connection.

On web, choose "Documents" > "PDF" > "Upload" to transfer PDF documents from PC to iPhone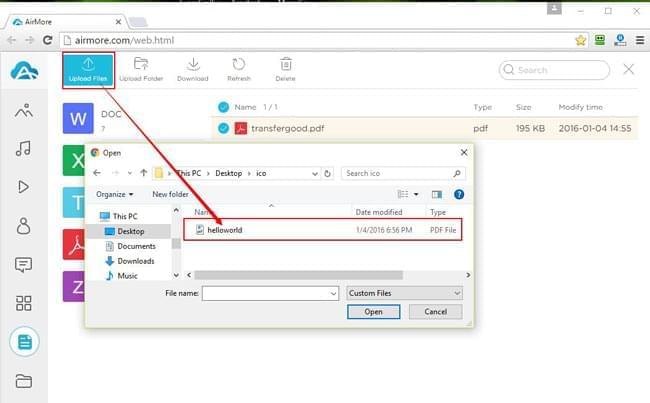 The documents will be transferred within a short time as long as your internet connection is stable and smooth. After transferring, you can check them by clicking "Files" on the AirMore app of iPhone. Apart from documents, it also enables you to manage music, videos, pictures, and other files on web wirelessly in the same manner. In addition, it allows you to download all these data on your iPhone to PC.
Tips:
If you need to edit these PDF files, you can share them to the Adobe Reader. Open the AirMore on your iPhone, and then hit "Files" > "PDF". Choose a PDF document and you'll see a share icon at the upper right corner. And if you want to delete useless PDF files, you can also use AirMore. With just several clicks, they will be deleted easily. Connect iPhone to airmore.net, open "Documents" > "PDF" and choose files you don't need any more, and then click the "Delete" button.
Apowersoft Phone Manager — Transfer PDF to iPhone No Hassle
This phone manager is a professional desktop tool which can help you manage, transfer, view, restore and backup your iPhone files conveniently and efficiently on PC. With it, you can import PDF files to your iPhone or iPad easily and then view and edit them on your iOS devices directly rather than share them to PDF reader in advance.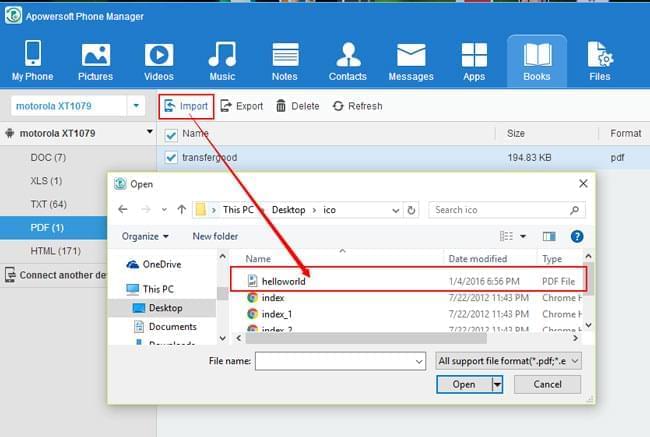 Conclusion
From the detailed introduction above, we know that all these three tools can help you transfer PDF to your iPhone. While, iTunes is really complicated for newbies. If you want a free tool, AirMore will be the best choice. If you need a professional and convenient tool, Apowersoft Phone Manager should be the one. In addition, it doesn't demand internet connection when you're using it.