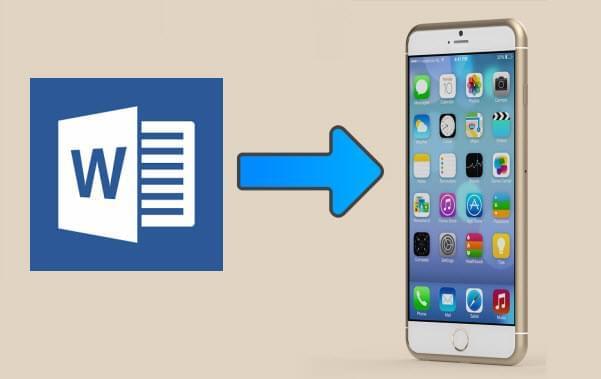 Reading Word document on iPhone used to be a challenge, but now it has been an easy task with iPhone's support for it. iPhone users who used to handle with the documents on the computer can transfer Word document to iPhone. In this way, you can deal with your working documents during a long journey or just on-the-go. If you have needs like that, just explore the easy ways introduced in this article.
Two easy ways to transfer Word document to iPhone
Way One: Import Word to iPhone with AirMore
This app is a nice file transfer tool for Apple users. It works on your browser to connect your iPhone to PC wirelessly. Then you can freely manage or transfer various kinds of files on web, such as pictures, music, videos, and documents. Hence, if you wonder how to save Word documents on iPhone, it is a wonderful method. The following guide can help you with the process step-by-step.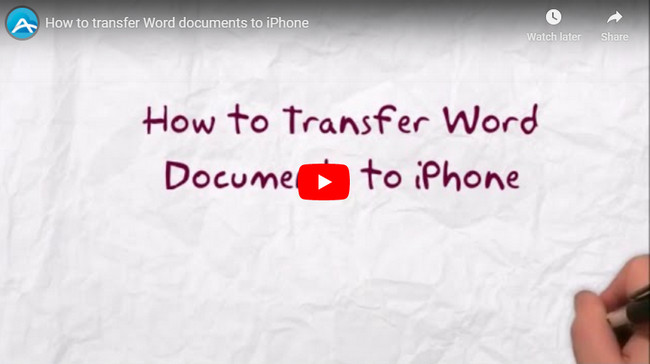 Download the app: Click the button below to visit App Store and install the application on your iPhone.
Connect iPhone to web: Go to the webpage "airmore.net" where a QR code will show up. Then open AirMore on your iPhone and tap "Scan to connect". After scanning, tap "Agree" and your iPhone will be connected with the computer wirelessly.
Transfer Word to iPhone: On AirMore Web, click "Documents" icon where all the documents stored on your iPhone will be displayed. Choose "Upload" button on top and select the Word documents to transfer. Afterwards, you can disconnect on web or on your phone.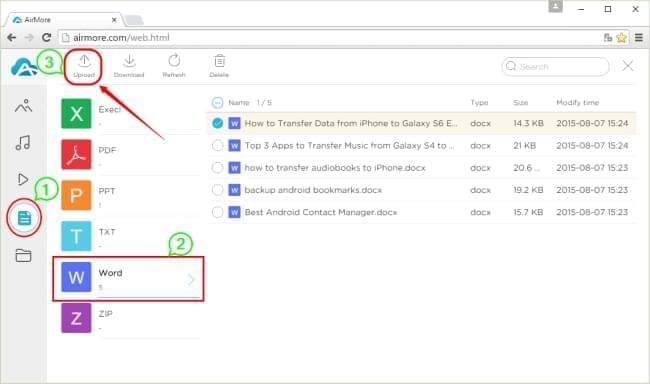 Besides Word, it also allows you to transfer PDF and other document formats to iPhone, including Excel, EPUB, PPT, TXT, ZIP and more. Thus, it can satisfy all your needs with the easiest operation.
Way Two: Transfer Document to Word app directly with Phone Manager
ApowerManager is a professional mobile devices management software used on the computer desktop. Apart from comprehensive control of your mobile, it also allows you to transfer any data from Android or iOS to PC and the other way around. The biggest advantage of using this tool to transfer Word documents to iPhone is its capability of putting the documents into a Word app directly. Just stick to the steps here.
Download and install the application on your computer.
On the main interface, click "Apps" and then "App files". Afterwards, choose a Word app which you want to transfer the documents into.
Select "Import" and find the word files in your computer. Click "Open".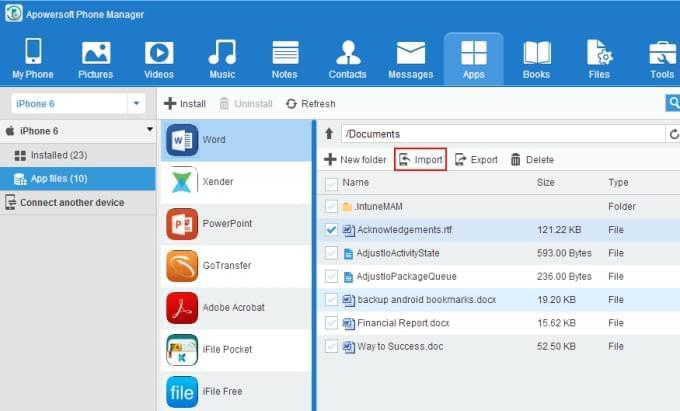 In this way, the word documents will be saved into the app. Then you can use this Word application to read the files conveniently. Most file transfer apps cannot achieve this. Thus, this ApowerManager could be worth trying.
Way Three: Sync Word to iPhone with latest iTunes
iTunes has updated to version 12.3. However, the guide on Apple Support webpage still sticks to the old iTunes. If you have downloaded the newest version, you will find the tutorial not applicable any longer. Therefore, this guide is specially made for you about how to put Word documents on iPhone using iTunes 12.3.
Get the latest iTunes by upgrading or downloading from its website.
Open the software and connect your iPhone to PC with matched USB.
Go to "Store" > "Authorise This Computer…" to enter your Apple ID and password.
After that, choose your iPhone and click "Apps" under "Settings". Then scroll down to the bottom of the window. Select "Word" and click "Add File…" at the right corner. Pick out the Word documents from PC to transfer and click "Open". With all the files being loaded to the main panel, click "Sync" to transfer them to your iPhone.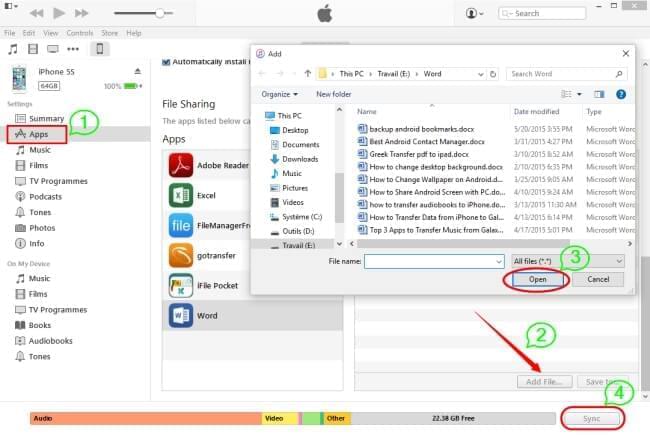 By doing so, you can also achieve what you want. Nevertheless, comparing to AirMore, this method has several shortcomings you need to be aware of.
The process is more complex.
A USB cable is required.
You need to install a desktop client on your computer.
You have to select the corresponding apps when you transfer various kinds of documents.
Actually, you can also adopt Gmail or iCloud to send Word documents to iPhone. But in general, these three methods introduced in this article are the most popular ones. Without many efforts or operations, all the documents will be transferred into your iPhone.