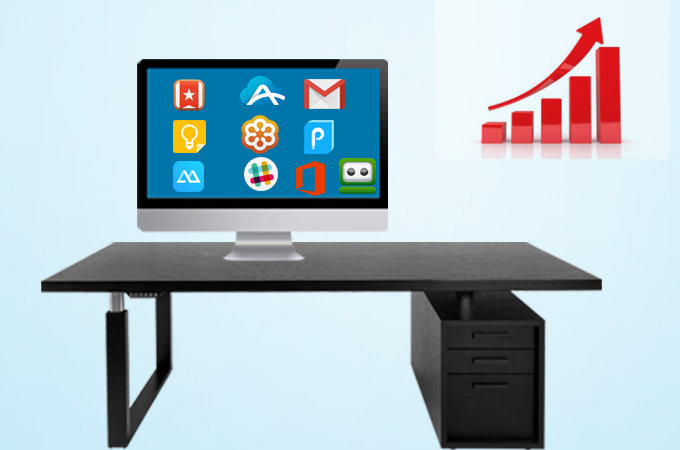 Most of us have to undertake numerous tasks every day, some are trifle while some are essential, but all need to be accomplished at the end of the day. We are busy handling these works, but the effects are not great – we spend all the time trying to complete the tasks, but most works are still unfinished when it's time to go home. How can we improve efficiency at work? Fortunately, there are many office apps on the app stores to help us save time and increase productivity. In the following content, we will discover 10 great programs that can help us in different parts of work. Now, let's check them out!
Optimum Tools for Work
Wunderlist
You might have heard of Time Management Matrix, which means to separate the tasks into four quadrants so that you can know what is important and urgent, and what is not important and not urgent. Wunderlist is a good application for work in sorting tasks and managing time, which could remind you all things you need to do. On this app, you can add tasks, set the due date and time, create different lists and move the tasks to different categories. Better yet, you can take advantage of Time Management Matrix while utilizing this program.
It has a "Today" list which shows how many tasks you need to complete today. To ensure you work more efficiently, I suggest that you can create four categories – Important & Urgent, Important & Not Urgent, Not Important & Urgent, Not Important & Not Urgent on this office app. After this, you can go to "Today", right-click one task and choose "Move to-do to" to move the task to one of the four categories. In this way, you may manage the tasks better. Once a task is finished, you can click the box before it, and it will disappear.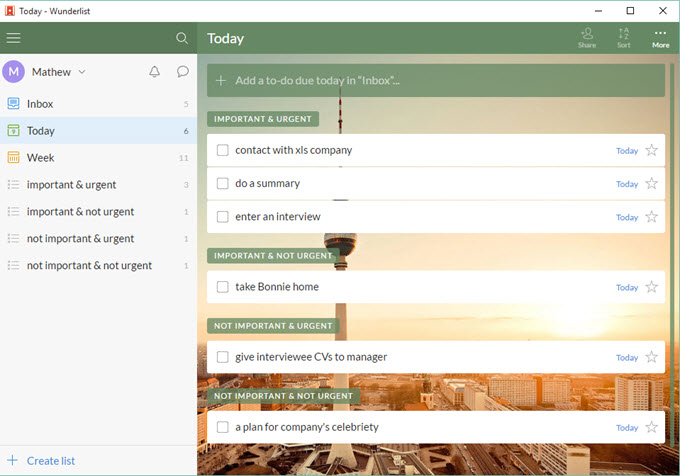 Google Keep
A lot of people have sticky notes around their monitor or put different notes on their computer screen. This can become cluttered and may even become lost. To solve such problems, you should use Google Keep, one of the best tools for work. It is the perfect note taking application which allows users to take notes, set alarms, manage notifications and search for the specific note easily. Along with this, the program is also available as an app which you can use on your Android and iOS devices.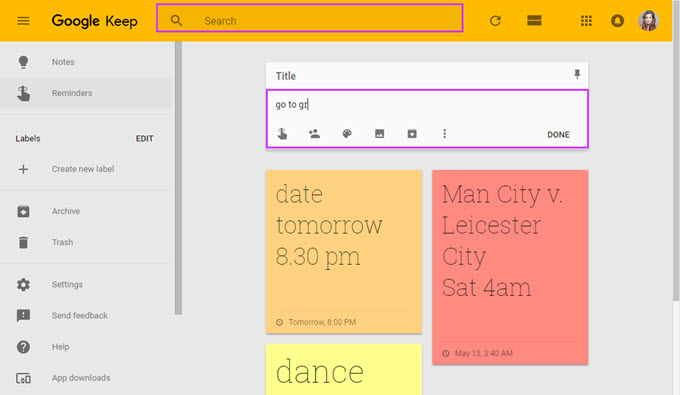 AirMore
Sometimes you store the documents on your mobile devices and need to put these files to the computer. Actually, you can use AirMore to transfer files. It is compatible with Android and iOS systems. And as it is web-based, both Mac and Windows PC owners can use the app to connect their phone to the computer. The files that can be transferred include photos, videos, music, documents and many more. To use this application for work, you need to make sure your mobile and PC are in the same Wi-Fi.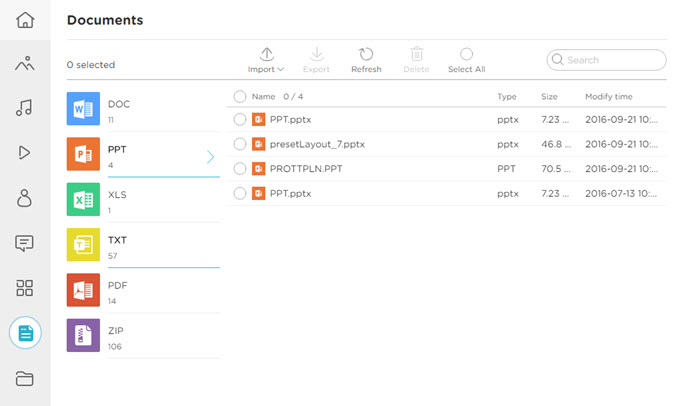 ApowerMirror
There's nothing worse than trying to do work but being disturbed constantly by notifications on your phone. One of the best ways to avoid this situation is to display your phone screen on your computer with ApowerMirror and be able to see the notifications while working without constantly looking at your phone. And you can control your phone from the computer with the mouse and keyboard.
With it, you do not need to download desktop message apps like WhatsApp, just click on WhatsApp on your displayed phone screen and type the text with the keyboard. When you chat with a client and want to copy the words on PC to your mobile app, you can select the words, hit "Ctrl"+ "C" and press "Ctrl"+ "V" to paste the words on your phone.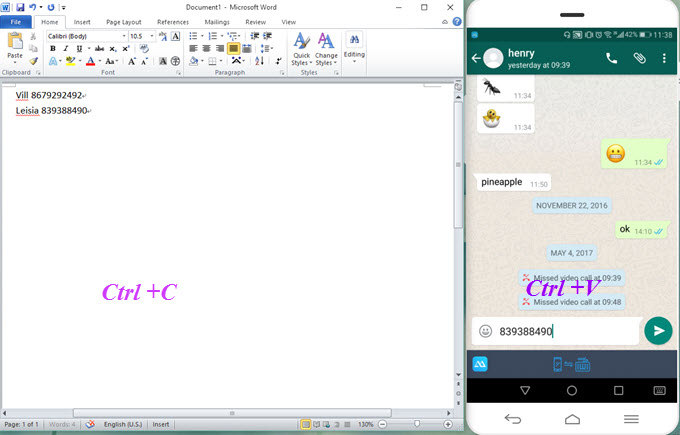 Note that controlling and notification features are only available for Android users. However, for iOS users, you can use this office app as a presentation tool, which is also helpful for many different tasks.
GoToMeeting
GoToMeeting is a great program that you can use for meetings. This app allows you to contact and invite people into a meeting with you, which is desirable for collaboration. You can hold a conference through its web or from your phone. This app supports Mac, PC, Chromebook, Linux computer as well as Android, iOS, Windows mobile devices.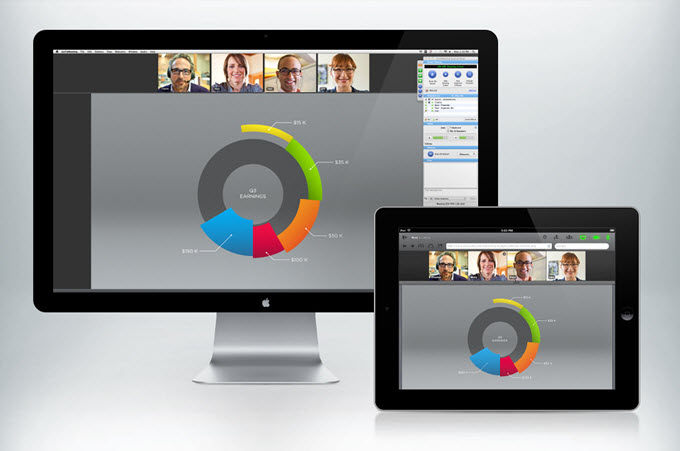 Gmail
Most people are familiar with Gmail as it is a common app used for external communication. You can use this tool to send emails to your customers, friends, suppliers and many others. And when you subscribe some websites, you can also receive the news from them. It is easy to compose emails, add attachments and manage emails. One of Gmail's best features is that it can pick up any promotional emails and spam and put them in separate folders to save your main inbox from getting clogged up.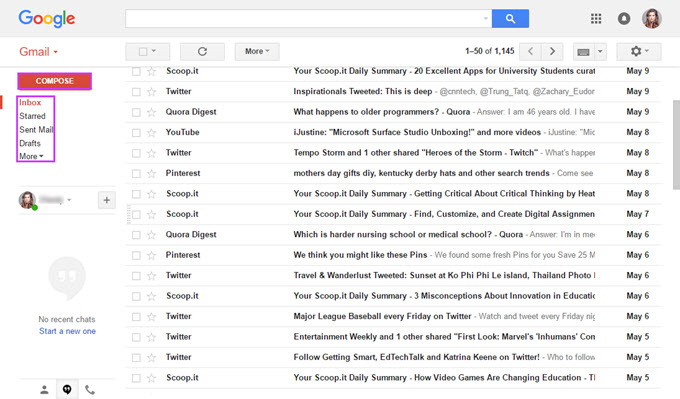 Slack
Slack is also one of the best tools for work. It allows staff in a company to communicate in real-time, and share files during cooperation. People can create different channels in the program and discuss the different tasks. When in the channel, people can see the conversation and join in, which is also a great idea for brainstorming. And you can talk with someone directly and privately via the app too, just click the name of the person you want to chat with.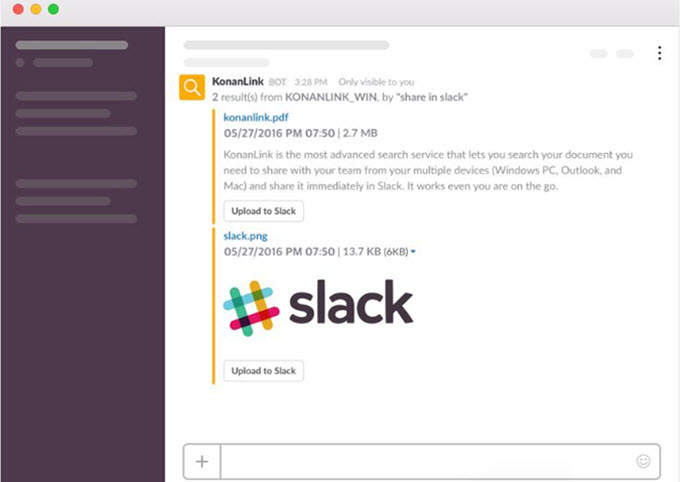 Microsoft Office
Microsoft Office consists of Word, Excel, PowerPoint, Outlook and many more. This is well known and is a helpful and essential application for work. You can edit a post or a plan with Word, make a list or do a budget on Excel, do presentations on PowerPoint etc. As an office worker, you'd better get this program on your devices.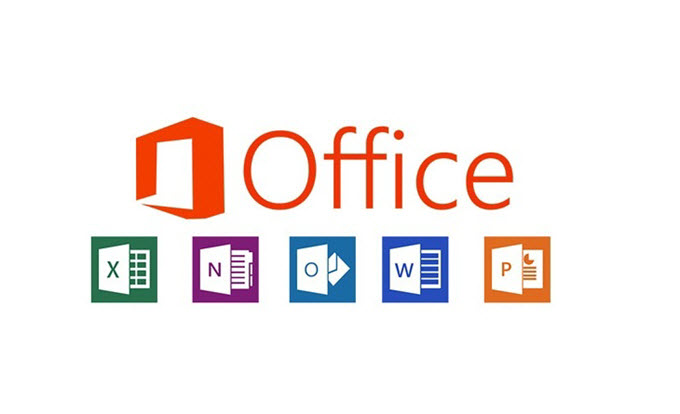 ApowerPDF
Microsoft Office is great, because it has a set of tools that we need in our daily work. However, it doesn't have a PDF tool and free online PDF annotator. So here, you need ApowerPDF, which makes editing PDF files possible. You can modify the content on the PDF, add text and images to the file, split PDF, merge the pages to a PDF and add watermark to your PDF. What's more, it supports converting files into PDF and vice versa.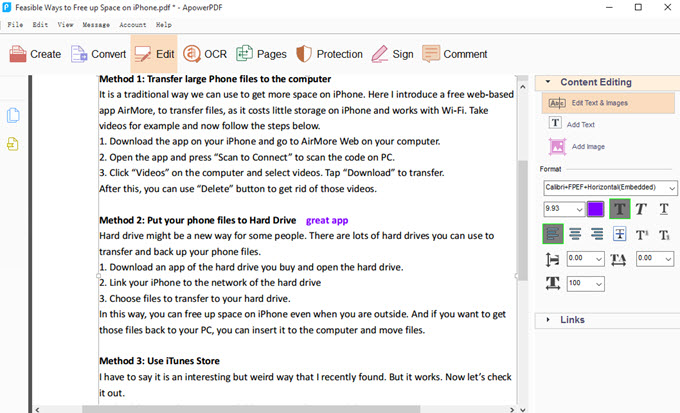 RoboForm
Do you have too many passwords you need to remember? Don't worry, you can use RoboForm. This awesome office app can save various account details once you sign in. When you open a website, a small window will show up, and you can quickly fill the form without typing the account and password anymore. Even if you switch to another computer, you can log in with the same RoboForm account, all the account information will be synced to your new device.
Summary
All of these apps are different and can benefit your working life in some way or another. If any of these have sounded good to you and feel like they would be valuable to you in helping with productivity then download them and give them a try.