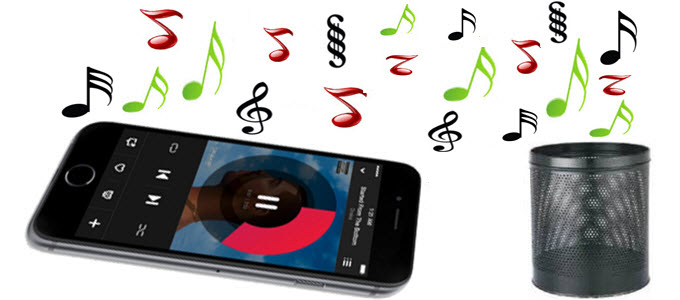 It is nice to have favored songs always on your iPhone 6s, while it will also generate storage issues over time. Fortunately, it is no longer as much of an issue as you may think. There is more than one way to delete music from iPhone 6s. We have outlined some feasible solutions after careful comparisons among various ways for your reference.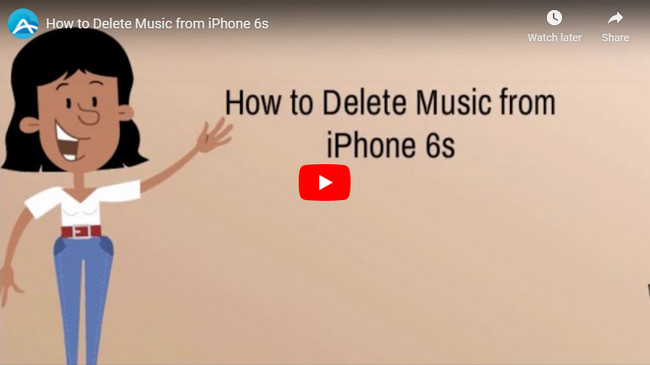 Three Ways to Delete Music off iPhone
Before going ahead, please make sure all the music have already been on your iCloud (or backed up on your PC) in case you want to get them back. For music that you purchased from iTunes or uploaded through iTunes Match, they are still available after deletion if they are kept on your iCloud in advance.
Directly Delete Songs off iPhone on "Settings" app
Open "Settings" app on your iPhone home page and locate "General" button. Click "Usage" and scroll down to hit on "Manage Storage". Tap on "Music" from the storage information. Click "Edit" and then further tap on "red minus (-)" icon next to "All Songs". Hit on "Delete" and you can remove all the music off your iPhone. If you only want to get rid of a certain song, you only need to click the "red minus" icon next that song.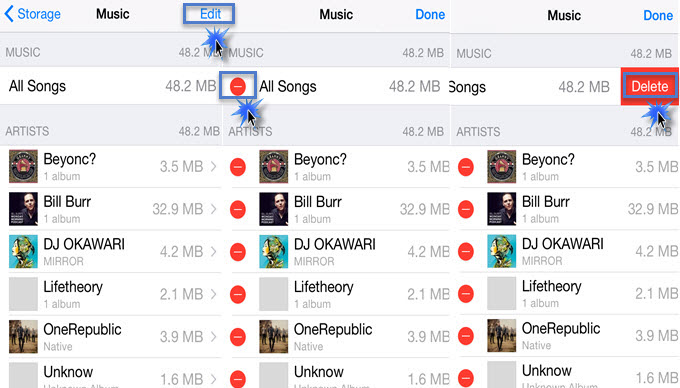 ApowerManager – the Most Efficient Way to Delete Music off iPhone
This phone manager is a versatile mobile management program. It is compatible with iOS devices and you can safely use it to manage your iPhone. Especially for deleting music, this tool works rather efficiently. Follow steps below to conduct iPhone music deletion.
Download this app from the download button below and install it on the Windows PC.
Plug your iPhone into computer through a supplied USB cable. When a notification appears on your iPhone, hit on the "Trust" button to confirm your trust in this application.
After connection, navigate to "Music" tab, from which you can see all songs kept on your iPhone.
Select the music you need to remove and hit on "Delete" button. Just a while, you can delete songs off iPhone.

Click "Disconnect" button to disconnect your iPhone from PC once finishing deletion.
Just as mentioned above, this phone manager is very multi-functional. In addition to getting rid of music, you can also use it to delete videos from iPhone. Of course, it also works perfectly on removing ringtones, pictures, contacts, applications, etc. As a comprehensive mobile management tool, this Phone Manager can transfer files between computer and iPhone, backup or restore files and organize your files as you like.
Delete Music from iPhone without USB Cable
If you happen to have a damaged USB cable, you can still remove useless music from iPhone 6s through WiFi. AirMore is such a handy tool which allows you to move files out of iPhone without using USB cable.
Search "airmore.com" on the web and tap on "Launch AirMore Web to Connect" at its home page to load a QR code.
Use your iPhone to scan the QR code to activate connection between your iPhone and PC. Ensure your iPhone and computer are in the same Wi-Fi network.
After connection, you can click "Music" icon on the left pane. Tick those unwanted songs and click "Delete" button to take music off iPhone.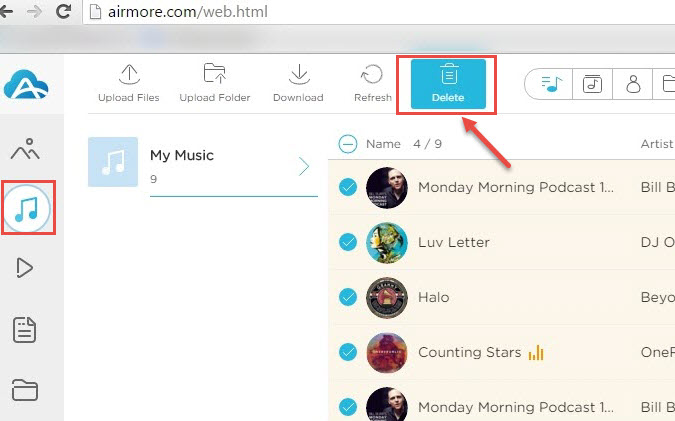 But note that this way is only applicable for deleting the songs which are transferred to your iPhone using AirMore.
Conclusion
With the above tips and tricks, you will have a clear idea of how to take music off iPhone. It is easy to use the direct way to get rid of music on iPhone, but the application of third party apps not only clears music more efficiently, but also enables you to organize other files at the same time.