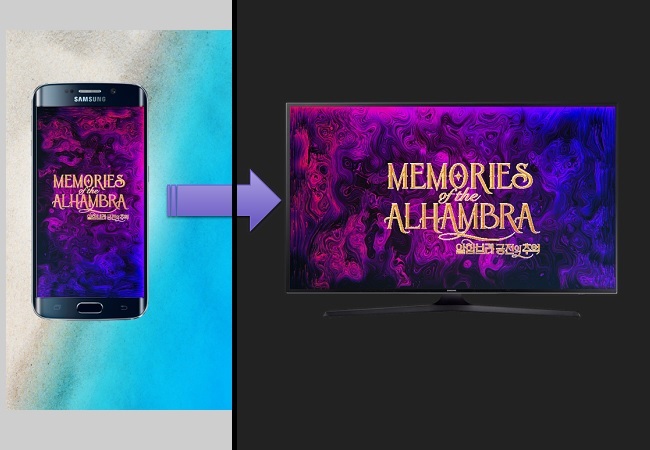 You watch videos and movies on your Samsung device every day on the way home or to the office. However, when you arrive at home and want to continue the movie you are watching, what can you do? To display Samsung phone on TV may be a good idea. Playing your favorite mobile games and showing photos captured by a cellphone on a bigger screen are also some of the reasons users prefer to view their mobile device on a television. You might think it is complex technology, but actually, it's not. Check out the contents below to learn how to do this.
Best Ways to Stream Samsung to TV
ApowerMirror
The first tool on the list is a multitasking screen mirroring app that you can use to cast your Samsung phone to TV wired or wirelessly. Also, it can be used on PC, iPhone,iPad, and Mac OS. Aside from that, it can do screen recording, capture images, and annotation while recording. You can try the tool by following the steps below.
Download and install the application on your Samsung phone and TV. Use the buttons below to do so.
Launch the app on both tools and make sure both are connected under the same network
On your TV, go to "Pincode" then get the 4 digit code.

On your phone, type the four digit code and wait until the connection is established. Once recognized the phone will be mirrored in no time.
Displaying with Chromecast
This is a multimedia device created by Google which aims to help users to stream visual and audio contents to Smart TV. To realize this, you need to follow these steps:
Insert Chromecast to a HDMI port on your television.
Install Google Home on your Samsung device. Make sure that your mobile and Chromecast are connected to the same Wi-Fi account.
Open Google Home app, tap the menu button and then "Cast screen/ audio". Choose the device to establish the connection.
Wait for a moment, and you will be able to mirror Samsung phone to TV.
Streaming through Smart View
Another way to enjoy mobile media on the television is through a function called Smart View. It is basically a function that allows users to stream media from a mobile device to your Samsung Smart TV.
Turn on your TV. Connect your TV and smartphone to the same network.
Slide down from the top of the phone to open the Notification Panel. Tap "Smart View".

A list of devices available will be shown on your phone screen. Choose your TV to establish the connection.
Now screen mirroring will start instantly.
Also you can go to your media file first, tap "Share" button and choose "Smart View" on the bottom of the phone screen. Select the device and start streaming.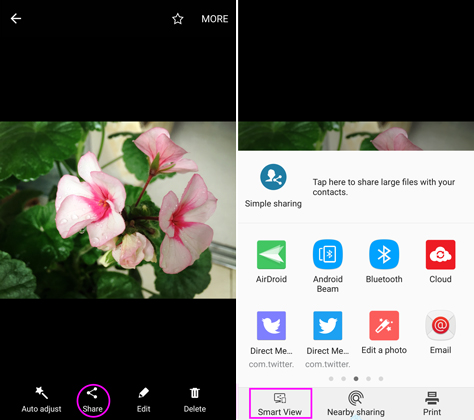 However, this method can only be used through Samsung Galaxy S7 device or up. What's more, it requires that your TV must be produced after 2015.
Mirroring via Quick Connect
Another way to display Samsung phone on TV is utilizing Quick connect. It enables you to mirror screen without HDMI link. It is compatible with Samsung Galaxy S7 and S7 Edge. But you should also check whether your TV supports Miracast. If it does, you can use the following steps:
Power on your TV and set the network.
On your Samsung, open the Notification Panel and tap on "Quick connect".
Enable Quick connect and set your device always visible to others.

Tap "Scan for nearby devices" to search for your TV and connect with your TV.
After this step, you can view your Samsung phone screen on your television. Like the second method, you can stream by tapping on a media file first, hitting "Share" icon and choosing "Nearby sharing".
Conclusion
These are the best ways to mirror Samsung phone to TV. As you notice, the last two methods only benefit some people who own certain types of Samsung devices. So if you are looking for a more flexible option, then using Chromecast is a good choice, as it can be used on most Smart TVs regardless of the brand.