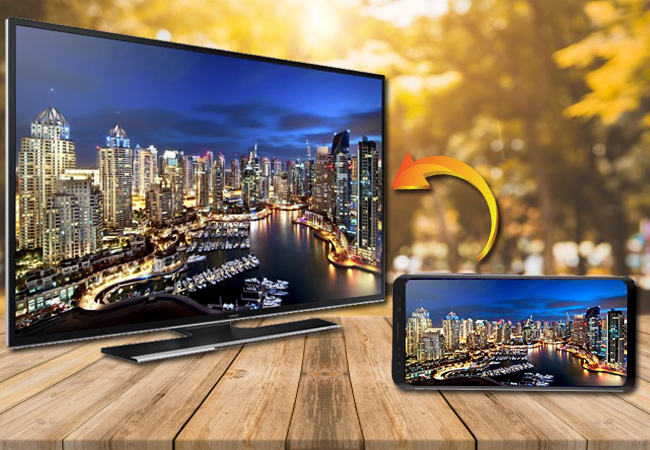 The Multi Window feature on the Samsung S9 makes multitasking simple and easy. With this feature, you don't need to constantly switch between two apps, as it allows you to run two programs at the same time using a split screen view. However, it cannot be denied that the elements of content like fonts, graphics, and objects look smaller because of the divided space. Luckily, screen mirroring software enables you to view mobile content on a larger screen. The idea of mirroring Galaxy S9 to PC is fine, but it's way different on TV. So, if you need to mirror Samsung S9 to Samsung TV, here are some of the best ways to do so.
Practical Ways to Mirror Samsung S9 to Samsung TV
Samsung Smart View
You can extend your mobile screen to a Samsung TV using Smart View. This allows you to cast Samsung devices to your TV with ease. With this app installed, you will be able to listen to music, view photos, and stream locally stored and online media content. In other words, you no longer need to settle for a small smartphone screen just to stream games or media. It also allows you to enjoy games installed on your Samsung S9. However, the app only streams content from selected compatible apps. Despite this fact, it remains a helpful program and it works exactly how it is expected to. To learn how to mirror Samsung S9 to Samsung TV, simply follow the steps below.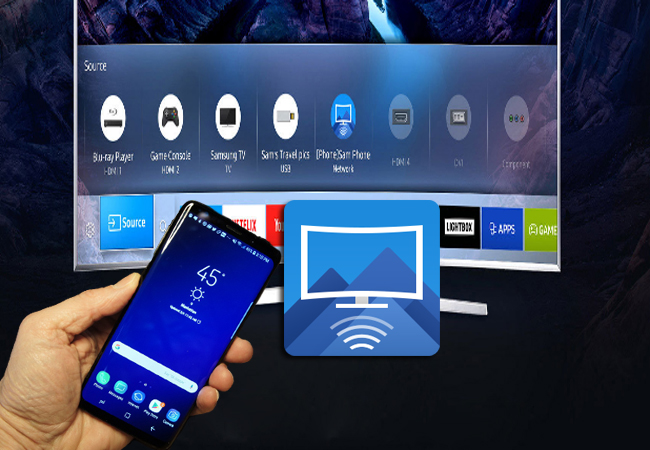 First, be sure to connect both your Samsung TV and Samsung S9 to the same network. Install Samsung Smart View from the Google Play Store on your phone, then launch it.
Enable detection by tapping on "Connect to TV".
Once your TV name appears on the list, tap it and select "Allow".
By now, you will be able to select and play the media you want to stream on your TV.
AllShare Cast
You can also use AllShare Cast to project your mobile screen onto a television. This lets you enjoy your videos, music, photos, not only on your TV but also on other devices. This includes smartphones, smart TVs, laptops, and tablets. Moreover, it supports screencasting for smart TVs such as Samsung, LG, and Panasonic, through the help of adaptors. This means you can use any smart TV as long as the TV supports display dongles. On top of this, media like photos, videos, and other visual content are even clearer when connected through dongles. To easily connect Samsung S9 to Samsung TV, check out the step-by-step procedure below.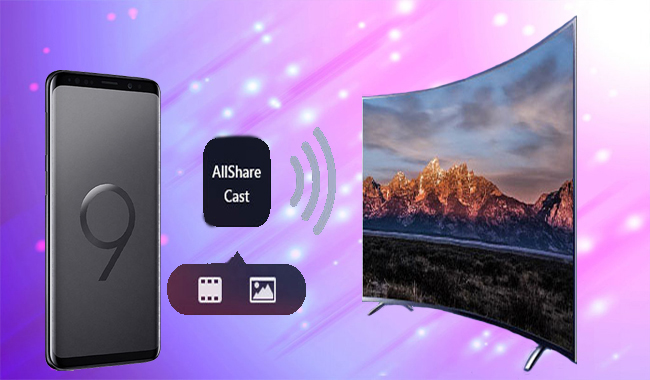 Start by connecting the necessary accessories, such as the AllShare Cast Dongle and a HDMI cable.
After setting up the accessories, connect your TV and phone under the same wireless network.
Now, select the input port being used by the HDMI cable on your TV and the indicator should begin to blink red. After that, press "Reset" and the indicator should appear blue.
Then from the list of devices, select AllShare Cast Wireless Hub and enter the pin.
With AllShare Cast installed on your phone, click on "Start", and you will be able to stream your media content from your mobile device to Samsung TV successfully.
ApowerMirror
Screen mirroring Samsung S9 to Samsung TV is also easy using ApowerMirror. This is a powerful tool loaded with many useful functions to help you with your presentations. With the help of this app, you're getting much more than just a television, as it offers wireless access to your favorite movies, music, and photos stored on your Samsung phone. Furthermore, if you are thinking of demonstrating an app presentation, you can use its pen tool to annotate the mirrored screen and transform it into what is essentially an interactive whiteboard screen. To connect your Samsung phone to your TV, you may need to use a laptop to do so. To get started, you can refer to the guidelines below.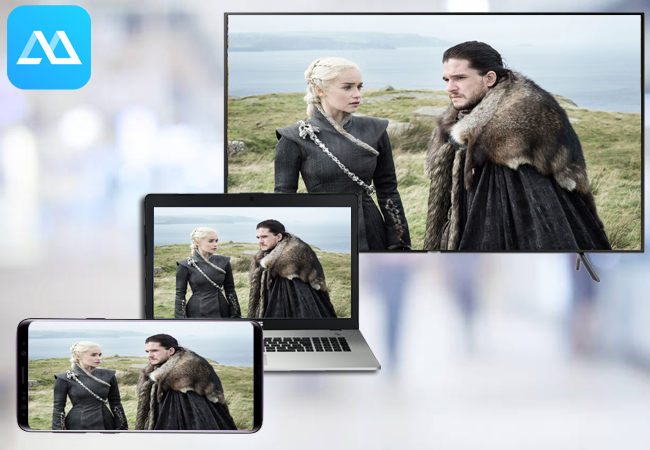 Connect one of the ends of the HDMI cable to your TV. Match the port on your Samsung TV by selecting the input port being used by the HDMI cable.
Now, connect the other end of the HMDI cable to your PC.
Next, install ApowerMirror on your PC and launch it. You also need to install its mobile version. Make sure your phone and PC are connected to the same WiFi network.
With the app installed on your phone, tap the blue "M" button at the bottom of the interface. Select your PC name and then choose "Phone Screen Mirroring".
Afterwards, your phone screen will be mirrored to your PC and to your TV at the same time. You are now ready to deliver a presentation or play a media as you wish.
Tips: You can also connect your Samsung phone to your PC via a USB cable. This will give you the privilege to control your phone from the comfort of your computer. You can use your mouse to navigate your phone or use the keyboard to type and compose a message.
Summary
After learning about these practical tools, you are now able to mirror Samsung S9 to Samsung TV with ease. If you are looking for a direct way to do this, you can choose between Smart View and AllShare Cast. However, there are some instances where you can only stream media from the supported apps. However, with ApowerMirror, it mirrors the entire screen of your phone and projects your phone activity in real-time. All in all, if your purpose is to just play media, the aforementioned tools are great options. But if you want to multitask and see the activity of your Samsung S9 as it appears on your TV, then choose ApowerMirror.