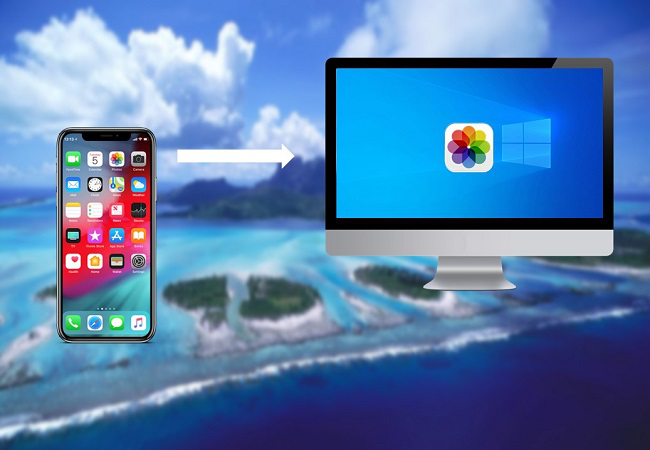 Apple iPhone is still one of the best smartphones out there that can take beautiful pictures. iPhone users tend to keep a backup of these photos for future purposes. As to the methods, most iPhone users will turn to iTunes which can sync iPhone data to PC. But as we all know, iTunes is saying goodbye now. Therefore, many iPhone users are wondering if there is a simple way to transfer photos from iPhone to Windows 10 without the need for iTunes. This article will show you three practical methods to do this.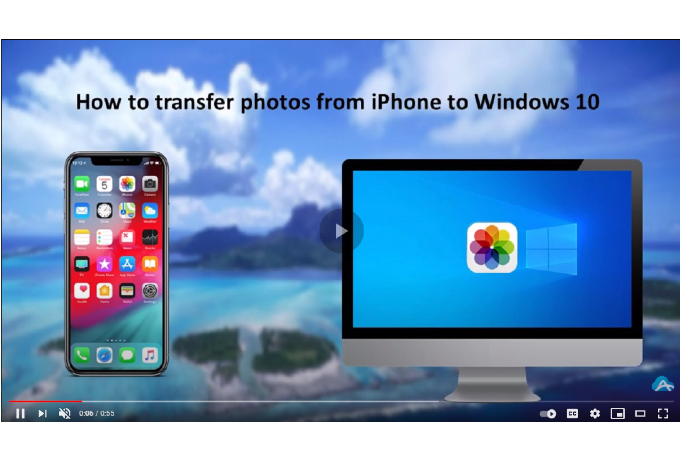 Three methods to transfer iPhone photos to Windows 10
Method 1: Windows 10 Photos app
Microsoft adds the Photos app function to its newest OS which can help you copy photos from iPhone to Windows 10 in bulk. It's very interesting. You may have a try.
Step 1: Plug your iPhone into your PC over the USB cable.
Step 2: Open Photos app. This can be found by typing "Photos" into the search bar at the lower left corner of the screen in Windows 10.
Step 3: Click the button at the top-right of the Photos app to import. You can click the three dots to get the text reminder.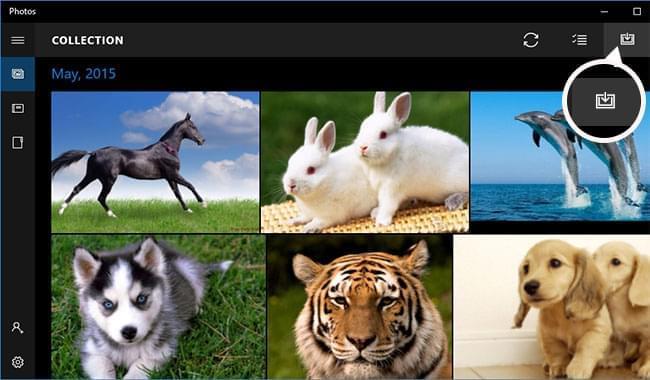 Step 4: Select your iPhone from the options that appear and tap "Import" to import photos from iPhone to Windows 10.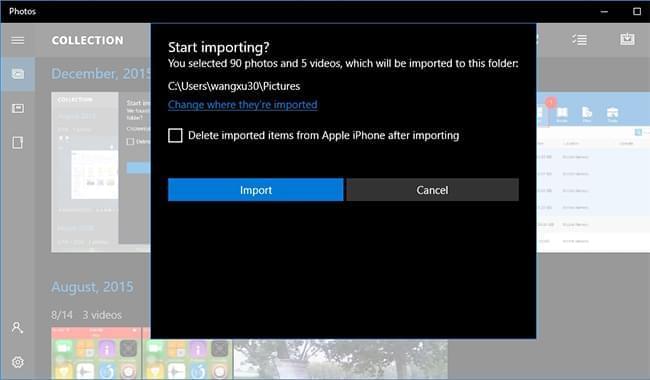 Pros:
Cons:
It can't do this without USB cable.
It's not precise.
It's not able to load all photos of iPhone and export photos from PC to iPhone.
Now let's see another method through which you transfer photos between iPhone and Windows 10 with ease.
Method 2: AirMore – transfer photos from iPhone to Windows 10 wirelessly
AirMore is a powerful mobile devices management tool based on web. It has been favored by most of iPhone users for its useful function in transferring photos between iPhone and Windows PC or Apple Mac. It only takes you seconds to copy photos from iPhone to Windows 10 without using iTunes and any USB cable. Now get started with steps below.
Step 1: Download this app from Apple Store and install it on your iPhone or you can directly download it by hitting the download button below.
Step 2: Connect iPhone with AirMore.
Open AirMore on iPhone. Scan the QR code or hit your device name in Radar on the AirMore web. You can go to the AirMore web page by visiting "web.airmore.com" through Google Chrome, Firefox and Safari.

If you connect two devices in Radar, then click "Accept" button when a notification box pops up on your handset in order to confirm your agreement on iPhone's connection with this app.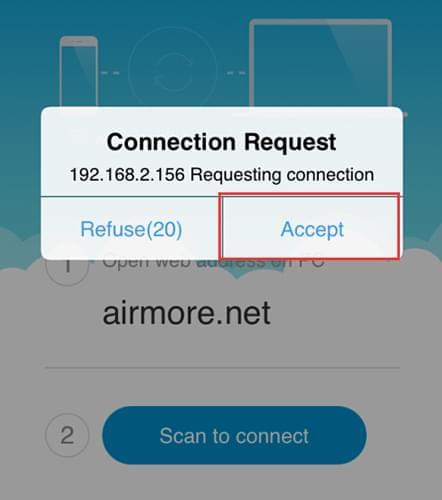 Tips: To get a successful connection, please set up your iPhone and PC in the same Wi-Fi.
Step 3: How to transfer photos from iPhone to Windows 10
Choose "Pictures" icon on the app interface of PC, from which you can move photos from iPhone to Windows 10.
Tick photos you want and then hit on "Export" button. Within seconds, these photos will be copied to your PC if your network's pretty smooth.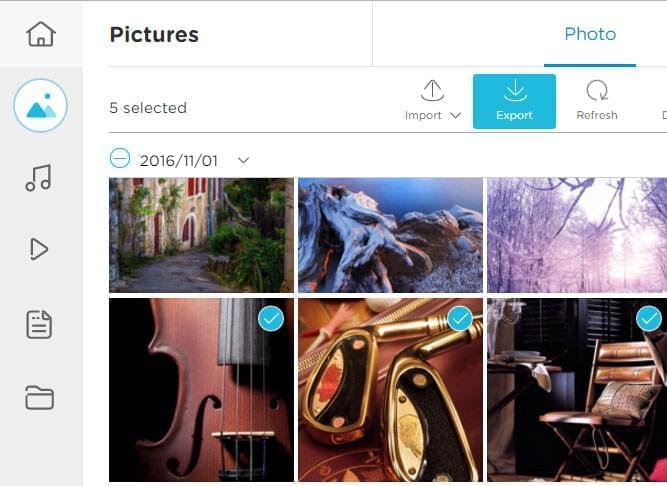 Pros:
Without using iTunes and USB cable.
Import/Export function.
100% free.
Cons:
It relies on smooth network.
Sometimes your PC and iPhone's network might be not stable. In this case, you may try the third method.
Method 3: Windows 10 File Explorer
File Explorer is a built-in function of Windows PC with which you can view and manage files in your devices and drives. As to this function, Windows 10 has a more outstanding performance than Windows 8 and Windows 7. Let's see how it works.
Step 1: Connect your iPhone to your Windows 10 PC using the USB cable provided by Apple. Check your iPhone screen now and a notification with "Trust" option will appear. Choose "Trust" option to continue.
Step 2: Open Windows File Explorer. You can press the Start key on your keyboard and you'll see the "File Explorer" icon on the left pane.
Step 3: Under "This PC", you should see your iPhone as a drive. Double-click the icon for your iPhone here. You will also need to open "Internal Storage" > "DCIM", then another folder inside to get access to your photos.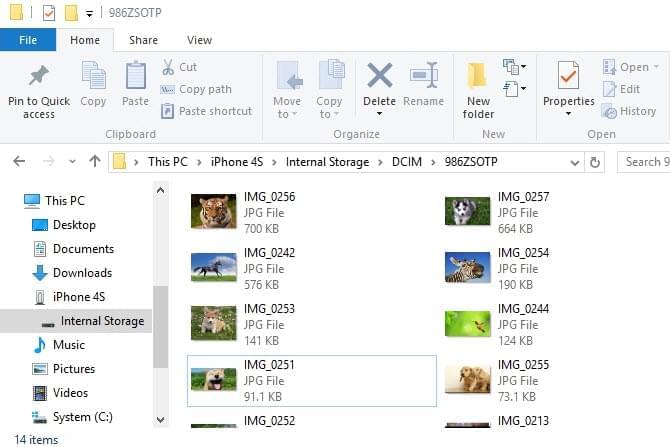 Step 4: Photos and videos taken on your iPhone should now be visible. Then you can select the photos to transfer them to Windows 10.
Pros:
No additional apps needed.
Easy to achieve.
Cons:
It relies on USB cable.
It fails to read all photos of iPhone.
Conclusion
As we can see, all methods mentioned above allows you to transfer photos from iPhone to Windows 10 PC. However, taking all aspects into considered, AirMore will be your best choice. Because AirMore enables users to wirelessly transfer photos and other files between iPhone and PC. In addition, using AirMore, you can easily add files or delete unnecessary files in just one click. All in all, with this smart tool, you can manage nearly all your iPhone data with very ease.