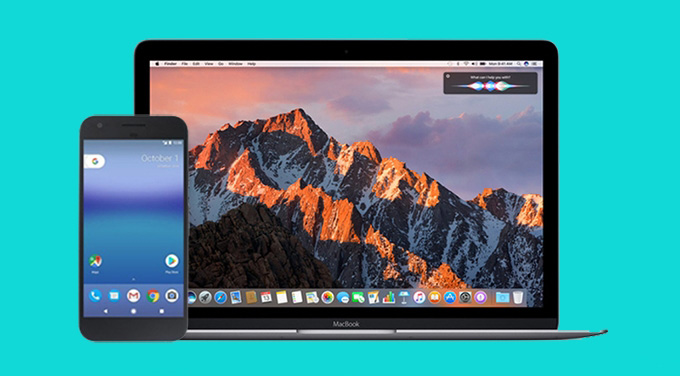 Ever since the latest Mac version, which is macOS Sierra, was released, it has received huge popularity. With its new features like managing storage, better working among different iOS devices, smarter Siri and other convenient functions, many people have updated the Mac OS in excitement. For iPhone users, transferring files between phone and Mac is quite easy using iCloud or iTunes. However, things could be tricky for Android holders. As is known, Android File Transfer is a common tool one uses to transfer files from Android to Mac and vice versa. But there are many inconveniences forcing people to seek for alternatives to Android File Transfer. Below are two handy apps you can try!
Apps to Transfer Files between Android and macOS Sierra
Web-based File Transfer App
AirMore is an easy-to-use application for file transfer, compatible with both Android and iOS. Working on the web, this tool doesn't require you to install any clients on your computer. As long as you have installed one of the commonly-used browsers on your PC: Chrome, Safari, Firefox, IE and Microsoft Edge, you are almost ready to begin the transfer process. Before the further introduction of how to transfer files from Mac to Android and the other way around using AirMore, please make sure that you have connected your phone and Mac to the same WiFi. Now just follow the steps here.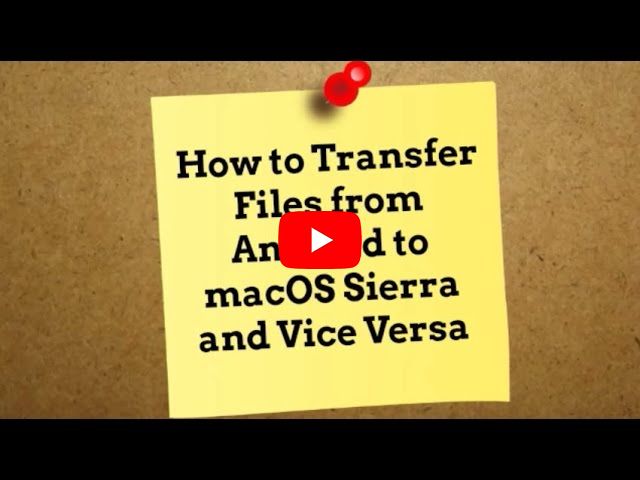 Download and install the app on your Android from Google Play. The button below will lead you there directly.
Visit "web.airmore.com" on the browser. A QR code will appear.
Open AirMore app on your phone. Tap "SCAN TO CONNECT" and scan the QR code on web. After successful link, you can find there are many tabs including Pictures, Music, Videos, Contacts, Messages, Apps, Documents, Files, Reflector, Tools.
Enter one tab you'd like. Choose "Import Files" to transfer files from Mac to Android, and select "Export" to transfer files from Android to Mac. The drag-and-drop function works, too.
The operation is easy and the transfer is fast. Once you download three items or more on Mac, they will be compressed into a zip so as to shorten the time. That's why you'd better have an application to unzip the files. Other than its main feature of syncing data, the app can also help you to manage contacts, send SMS from the browser and even reflect your phone screen on the Mac (requiring Android 5.0+).
Cloud Service
The rising prosperity of cloud service during these years has changed people's digital life. The conveniences of storing large files, transferring files among different devices and sharing files with others make it very welcomed. Similar to the famous iCloud, Dropbox is another cloud service for Android and iOS users. Once you have created an account, which would be very easy if you have a Google account, then you can get access to the service easily.
You can either download the Dropbox application or open its webpage on the browser. Its app is needed on your Android, though.
To transfer files from Mac to Android:
Open the application or visit its website. Sign in with your account. Drag and drop files into the "Dropbox" folder on Mac or into the browser.
On your Android, log in with the same account. Then you will see all the files. Tap the check button on top and choose the files to transfer. After that, tap the three-dot button and then select "Save to Device".
To transfer files from Android to Mac:
On your Android, open Dropbox and log in. Tap the "+" button at the bottom. Choose "Upload photos or videos" or "Upload files". Select the files from your phone and upload.
On Mac, log in your account on the application or the web. Drag the files and drop them into a folder or on the desktop.
Final Conclusion
Frankly speaking, both apps are helpful to transfer files from Android to macOS Sierra and vice versa. Since they work in different mechanisms, maybe they will be suitable for different people. For example, AirMore is in need of the same WiFi network, while Dropbox doesn't. AirMore is for direct transfer between Android and Mac, but Dropbox is in an indirect way. That to be said, you can choose either one according to the conditions you have.