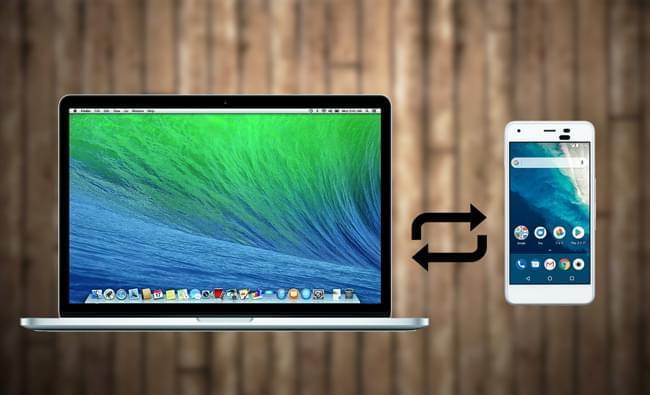 If you are a Windows PC user, transferring files from your Android phone to PC is indeed no-brainer. All you need to do is to connect your mobile device to PC via USB. This tool lets you browse and move files between your smartphone and computer without any hassle. However, for Mac users, it will be another case in a more difficult way. To solve the problem of transferring files from Android device to Mac, the Android Team has developed an application called Android File Transfer. Even with this app, you may also want some other app as an alternative to Android File Transfer to make the file transferring to Mac easier.
Best alternative to Android File Transfer
Android File Transfer
With this lightweight program, Mac users can now transfer files between their phone and Mac just like working with Windows. This utility is fully compatible with all Mac running OS X 10.5 or later, and supports Android Phones with version 3.0 or later. However, this approach still fails short in some aspects, making users wonder the alternative to Android File Transfer.
Pros:
Lightweight and free
Comes clean with no bundled software
Can transfer pictures, movies, music, documents and more
Cons:
Error problems are emerging from time to time
A bit difficult to install
File transferring is limited to 4GB
If you are experiencing the above difficulties and wants to try another top Android File Transfer alternative, check out this application after the jump.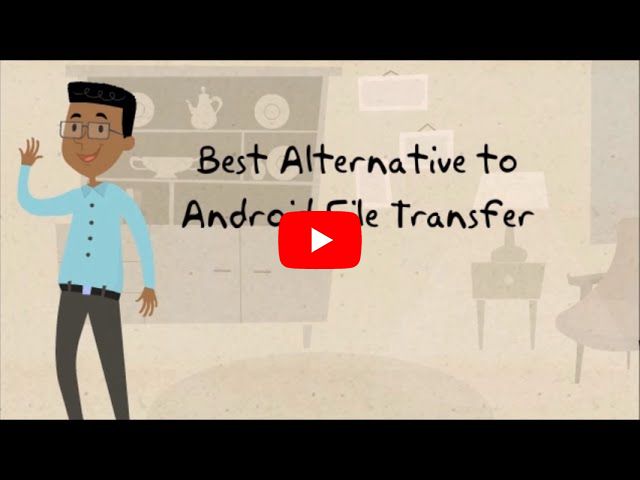 AirMore – best Android File Transfer alternative for Mac
The main features of AirMore
Unlike other file transferring apps which need to access your device from a computer via USB cable, AirMore tackles things in a more stylish way. Instead of using USB cables, it's able to read and manage files on Mobile with a wireless internet connection. As long as they are both in the same network, your computer and smartphone can sync data without any hiccups.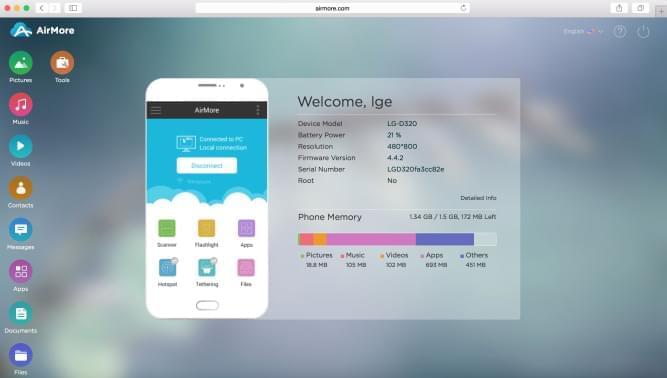 With this web application, you can easily transfer music, videos, photos, applications, files, documents and all other data between your mobile device and Windows/Mac computer. Additionally, this software can manage mobile data, send text messages, organize contacts and do many more within your phone directly on your computer. All these can be done without the hassle of wires.
Pros:
Free to use with no file size limitation
Uses Wi-Fi instead of USB cable for file transferring
Comes fully compatible with Windows, Mac, iOS and Android gadgets
Easy to use especially for beginners
No extra application needed on PC
Cons:
Requires internet connection to work
Takes time to transfer very large files
AirMore is brimming with wonderful features and it works just like Android File Transfer. Better still, it does not need a cable connection to transfer a dozen files.
How to use AirMore
Before using this top Android File Transfer alternative, it is important to note that your device and PC should be connected within the same wireless network. Also, make sure that you have a stable internet connection as this will play an important role when transferring large files.
Installation
Search "AirMore" on Google Play Store, then download and install it on your phone. For those who want to use this app on iPhone, search it instead on the "App Store".
Once you have successfully installed the program on your phone, open "airmore.net" on your computer's browser. Open AirMore app on your mobile and click the "Scan to connect" button. Then aim your phone's camera on the QR code.
A notification pop-up will appear on your mobile device, simply tap the "Agree" button. Upon successful connection, AirMore's sleek web interface will open up on your browser.
Concrete operation
To start using this Android File Transfer Alternative for Mac, click the appropriate icon located on the left pane of the program. Here you can select from pictures, music, videos, contacts, apps, documents, files, etc. Depending on the file you need to transfer, simply select the right category. On the other hand, if you want to explore the contents of your Android phone, click the "Files" icon on the left panel.
To transfer files from your android phone to computer, just highlight the file and click the "Export" button on top. The file would then be automatically saved on your PC. For uploading files from your computer to Android phone, click the "Import" button instead.
Extra Tips: Other Powerful Apps like Android File Transfer
If you want a more powerful tool that can do more than just file transfer, you may want to check out the ApowerManager. This app comes fully compatible with all Android gadgets with Android 4.0 and higher for Windows and Mac.
You can use this application to smoothly transfer data between your phone and PC or Mac, sync phone contents, create backups, do file restoration, manage mobile data, project mobile screen directly on PC, take mobile screenshots, and many more.