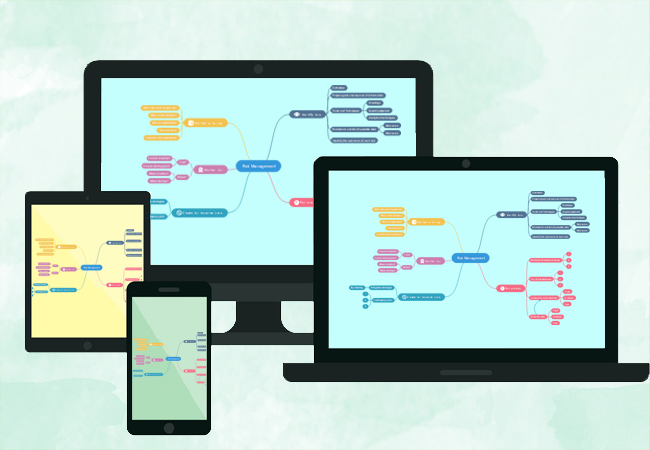 Mind mapping is a unique and creative way to organize, collect, capture generate and present ideas. It does not only allow you to simplify complex topics but also enables you to make it memorable by adding pictures and shapes to give more meaning. Beginners can actually start drawing mind maps using pen and paper. However, you may quickly run out of space and the editing process requires a lot of work. Unlike with mind map software, everything is customizable and there's no limitation to space or drawing canvas. Today, we will be sharing with you some of the best free mind map software programs which are available on different platforms.
Top 20 Best Free Mind Map Tools
Best for Online
Best for PC
Best for Mobile
GitMind – All-in-one Cross-platform Mind Mapping Software
Platform: Web, macOS, Windows, Linux, Android, iOS
Pricing: Free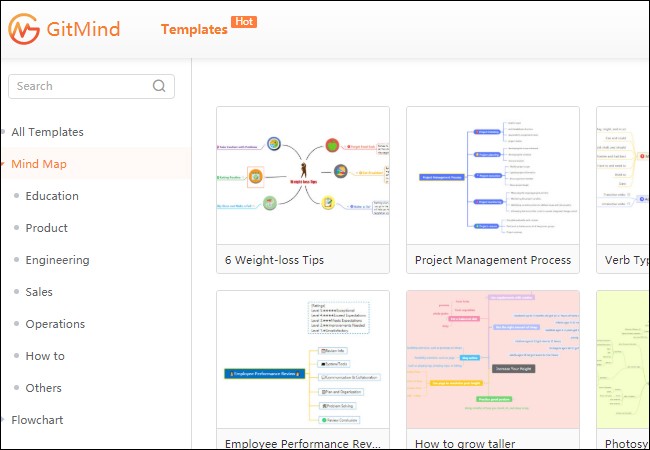 Click the above image to download free mind map templates
GitMind provides robust mind mapping capabilities and comes with an intuitive interface that can be mastered by any user in a matter of minutes. This program allows you to download mind map templates, enjoy unlimited access to features, and tools for making diagrams, charts, and processes. Although the program is cloud-based and lightweight, it has numerous templates for mind maps and flowcharts. In fact, you can even use it to collaborate with multiple users so that teams can work together and keeps everyone in sync.
Mindomo – Simple and Innovative Software
Platform: Web
Pricing: Free (basic features); Premium – $6/ month; Pro – $15/ month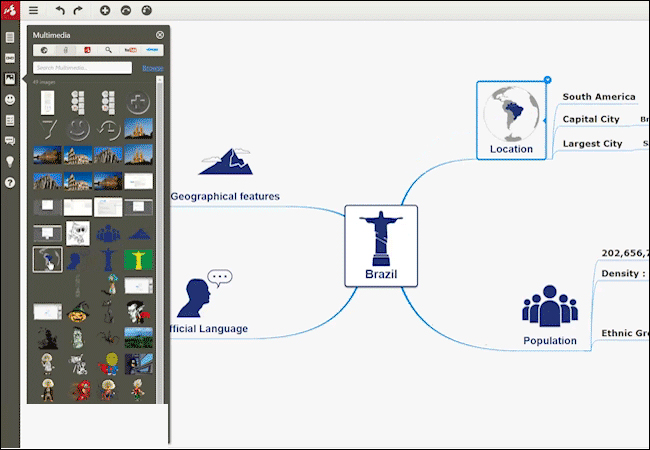 Mindomo is also a good free mind map tool that offers a great range of features. Though the interface is not quite updated, you will notice that it has more advanced functions compared to other similar apps. Its free tier gives you the ability to turn mind maps into interesting presentations. Aside from that, it allows you to add a layer of security to your projects using a password in case there is confidential information included in your mind maps.
Coggle – Collaborative Mind Map and Flowchart Application
Platform: Web, Android, iOS
Pricing: Free (3 private diagrams); Personal or Pro – $5/ month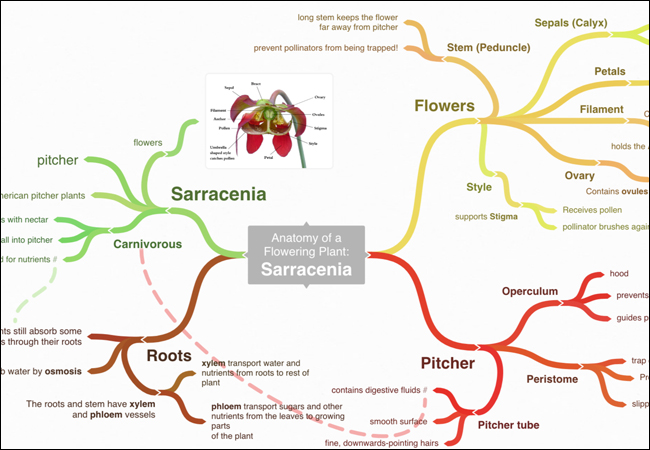 Another browser-based diagramming program that is worth using is Coggle. This tool can produce meaningful and colorful mind maps because it allows you to add text boxes, attach images, option loops, and multiple starting points. Also, the animation looks cool such as the branches sprouting and the color scheme. Moreover, Coggle allows you to customize mind maps with more than 1600 icons to choose from. In addition, it has a full change history which lets you view your previous revisions.
MindMeister – Highly-customizable Visualizing Tool
Platform: Web, Linux, macOS, Windows, Android
Pricing: Free (limited to 3 mind maps); Personal – $4.99/ month;
Pro – $8.25/ month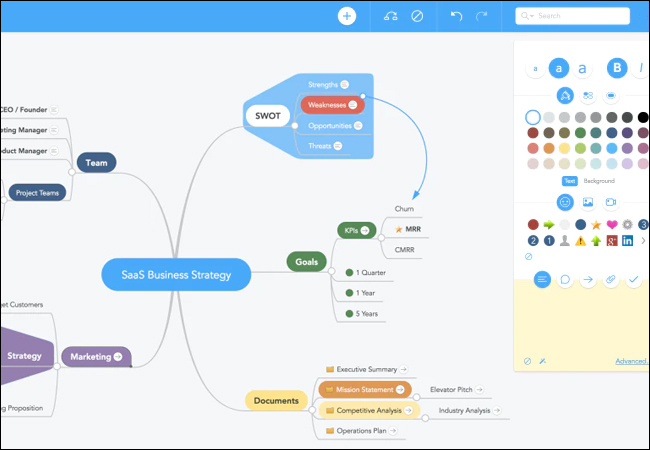 Next on the list of free mind map software programs is MindMeister. This program works online on any browser which can also be installed on both iOS and Android devices. It supports different styles of mind maps, notes, images, and icons to create an appealing visual structure. You also get to export mind maps in 10 file formats, plus access to collaboration features like team chat, reports and more.
Cacoo – Online Mind Map and Flowchart App
Platform: Google Chrome Extension, Web
Pricing: 2 months of free trial; Pro – $4.95/ month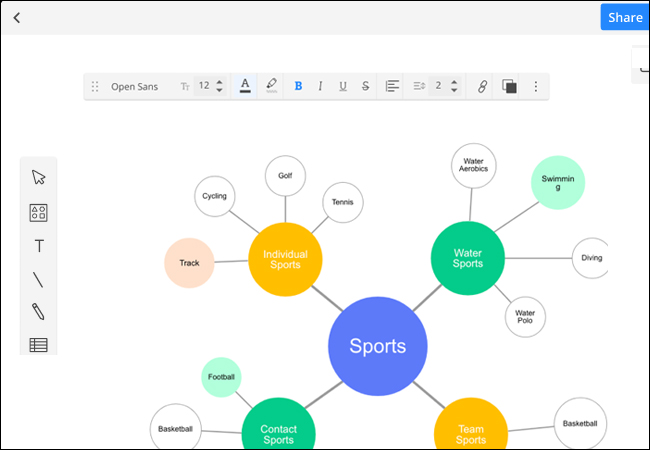 Want to create a shareable mind map? Then you should try Cacoo. This free mind map app is capable of creating beautiful and yet shareable mind maps. Additionally, everyone can edit the mind maps in real-time while working with images, notes, links, charts etc. Also, if you are a team working on other platforms, Cacoo is fully integrated with apps like Google Drive, Confluence and Dropbox.
Bubbl.us – Simple Cloud-based Mind Map Service
Platform: Web
Pricing: Free (no collaboration feature); Premium – $4.91/ month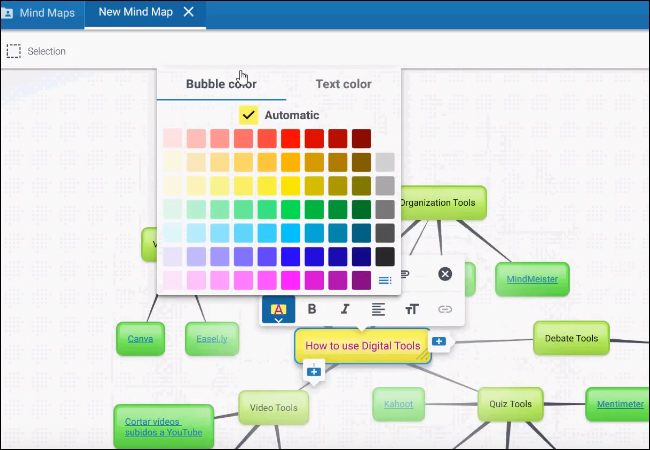 If you are looking for an easy-to-use mind mapping tool, you might probably opt to Bubbl.us. The is entirely web-based so there's no software to download. Also, when you choose to customize your mind map, you can freely move the bubbles around the way you want the structure to look like. Once done creating a mind map, you can actually share your project by exporting it as an image file.
Ayoa – Mind Map and Task Management In One Space
Platform: Web, Windows, macOS, Android, iOS
Pricing: Free (basic features); Advanced – $10/ month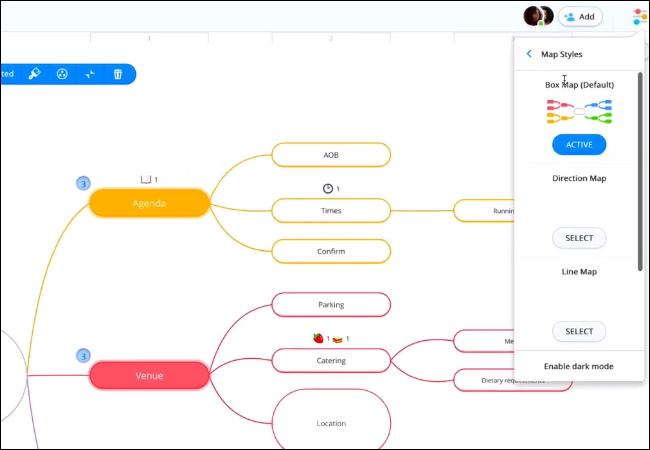 Creativity and productivity can be easily achieved through the help of Ayoa. This free mind map tool offers support to keyboard shortcuts which allows you to instantly add branches and sub-branches. It also comes with an idea bank usually found on its left side interface. This feature helps you quickly record thoughts whenever an idea strikes, drag and add these ideas onto your mind map later on. On top of that, you may group related ideas with categories to arrange ideas at a glance.
MindMup – Browser-based and Straightforward Tool
Platform: Web, iOS, Android
Pricing: Free (for six months); Advanced – $2.99/ month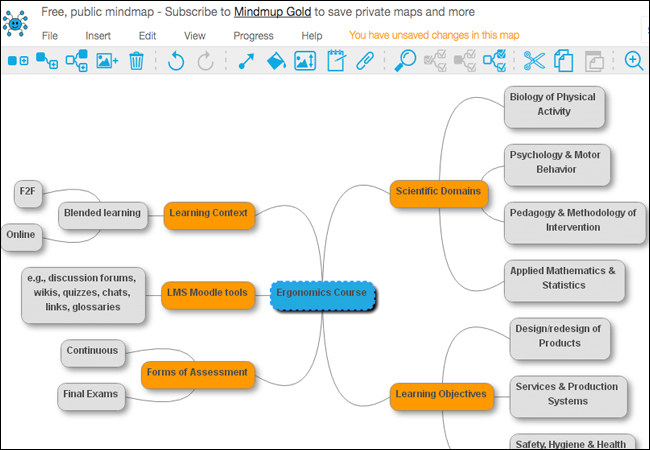 For beginners who want another free program when creating mind maps, MindMup has got you covered. Unlike the other programs, this enables you to create an unlimited number of maps without any registration needed. You may also export maps up to 100KB and keep it for six months. Otherwise, you may save larger maps to Google Drive which is supported by this free mind map app.
SmartDraw – Beginner and Professional Diagram Designer
Platform: Web, Windows, iOS
Pricing: Free (5 trial limit); Premium – $5.95/ month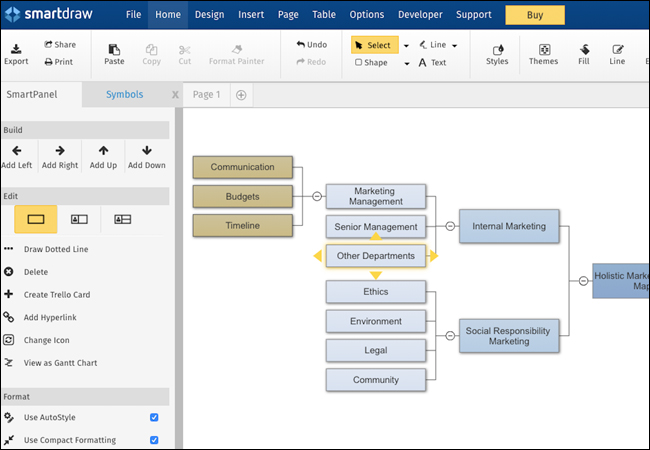 SmartDraw is fundamentally developed to create diagrams for industries like landscaping and design to IT. It provides over 4500 pre-defined templates for more than 70 types of diagrams like mind maps, CAD diagrams, decision trees, flowcharts and so much more. Also, sharing ideas and designs is not an issue since the tool comes with real-time collaborative drawing.
SimpleMind – Free and Simple Structuring Tool
Platform: Web, macOS, Windows, iOS, Android
Pricing: Free (30-day license); Pro – $27.17 (perpetual)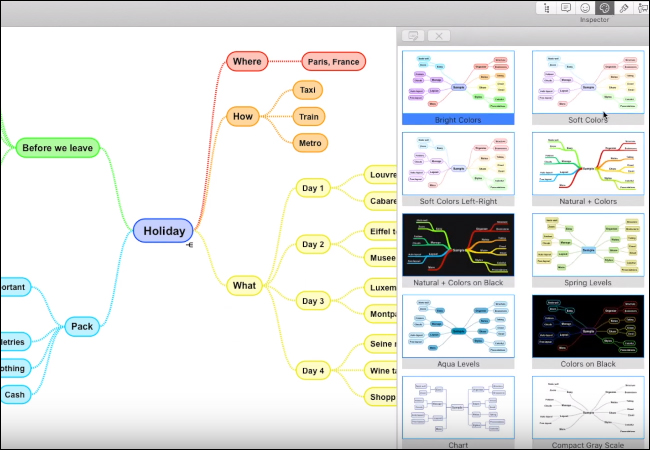 SimpleMind is a free mind mapping software that you can use on different platforms. However, it's best to use on PC to maximize its features. It has various styles that you can use to customize the look and feel of your mind maps. Adding photos or images are supported as well as insert stock or custom icons. Using this tool, you may personalize mind maps according to your preference or use the app's automatic map layout functionality.
XMind – Mind Mapping and Brainstorming Software
Platform: Web, macOS, Linux, Android, iOS
Pricing: Free (limited functionality); Pro – $39.99/ 6 months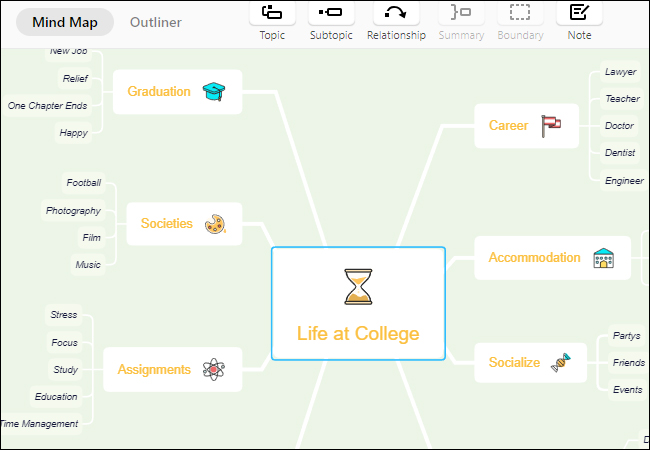 Xmind is one of the best free mind map software with a user-friendly interface perfect for advanced users and beginners. This tool allows you to adjust the structure of the mind map or change the style of each branch according to your needs. Apart from that, the app is available in a dark mode which allows you to work comfortably without so much light in the background.
Freeplane – Basic and Open Source Application
Platform: Windows, macOS
Pricing: Free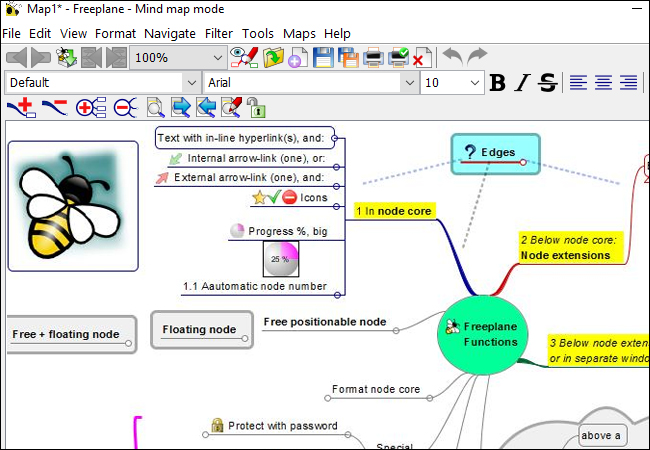 You might also settle for Freeplane if you are into entirely free software yet gives access to basic functionalities. This app runs on any computer OS as long as the current version of Java is installed. Though its interface is a little outdated, the app is packed with bells and whistles like grouping nodes with visual containers and accolades or summary node. It also supports different types of hiding content when changing views. This includes folding branches, roll-up of details filtering, and hiding extensions in tooltip.
MindMaster – Versatile Mind Mapping App
Platform: Web, macOS, Android, iOS
Pricing: Free (limited functionality); Pro – $327 (perpetual)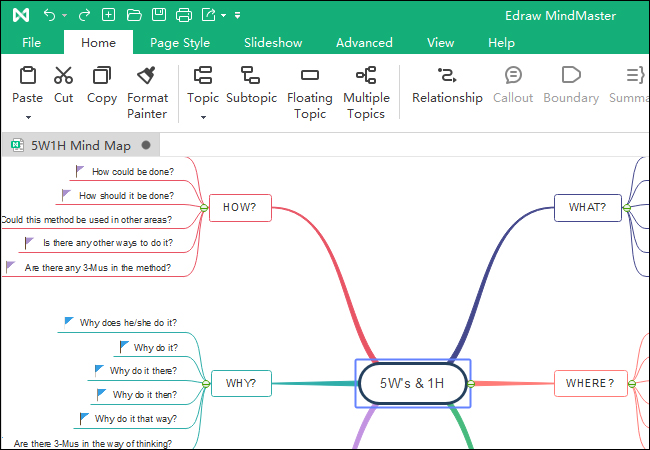 Another worth mentioning free program for mind mapping is MindMaster. This tool is focused mainly on business enterprise allowing users to produce extremely professional mind maps. Whether you are working for a summary of a book or delivering a presentation for a corporate meeting, this software is suitable for all purposes. Besides, this free mind map tool is incorporated with Microsoft office that makes it easier for Word or Powerpoint users to master the tool in no time.
MindNode- Visual Brainstorming and Mind Map Tool
Platform: Mac, iOS
Pricing: Free (2 weeks); Mac Users – $39.99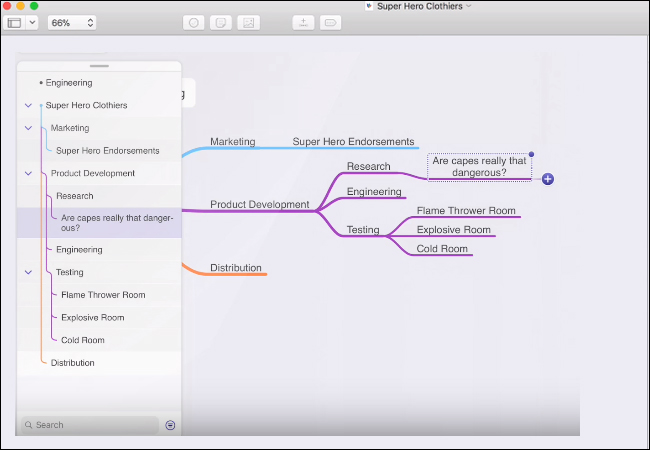 MindNode is also a good alternative when it comes to best free mind maps for PC. This tool has a quick entry feature that makes everything simple as it allows you to instantly add ideas on its clean user-interface. Moreover, its drag and drop interface allows you to pull out content from other apps or programs. When the map is large and you want to focus on specific parts, the tool comes with focus mode to help you out.
MindGenius- Project Management and Mind Map Software
Platform: Windows, Mac, Web
Pricing: Free (14 days); Pro – $256 (perpetual)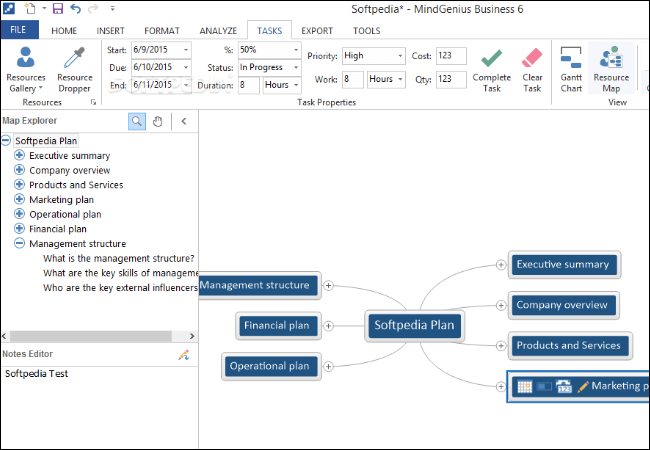 MindGenius is a great free mind map app primarily developed to design the structure of your project and plan with it effortlessly. It is loaded with built-in templates designed to implement your ideas much faster. Furthermore, the tool has useful facilities for project management such as categories view, priority view, Gantt charts, resource management all in a single place. Overall, the tool makes it easy to breakdown project ideas and understand the goals of the project by using mind maps.
Mindly – Minimalistic and Intuitive Tool
Platform: Mac, iOS, Mac, Android
Pricing: Free (3 mind maps); Pro – $6.99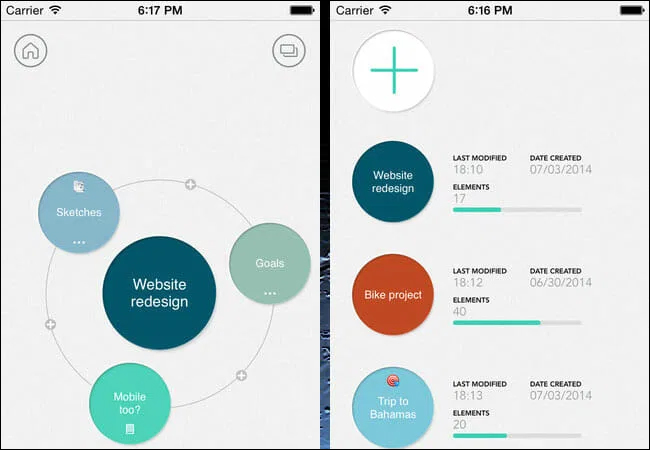 For mobile users who want to have access to mind maps on the go, you should give Mindly a try. The app has a very simple and yet interactive interface built perfectly for mobile devices. You easily stretch out nodes and layers as you like at your fingertips. It also supports gestures like zoom in or out allowing you to focus on particular parts of the map.
Popplet- User-friendly Idea Organization Tool
Platform: iOS, Web
Pricing: Free (lite version); Pro – $4.99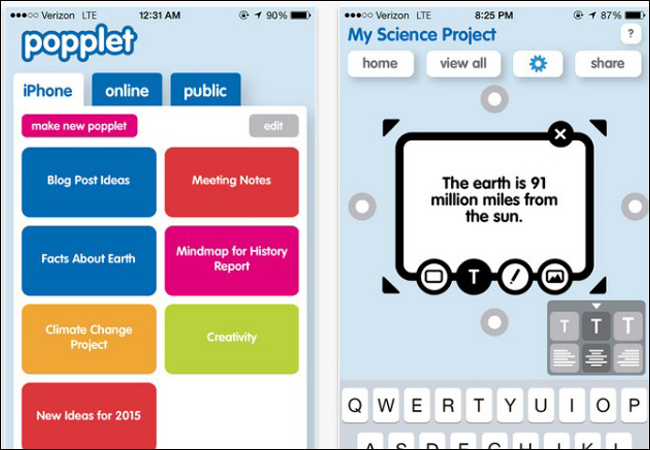 Popplet is an excellent software with a free mind map app available on mobile devices. With this tool, you can take notes in the classroom and turn it into a unique and understandable mind map. You can also incorporate images in your mind maps to make it more memorable. In addition, the tool is equipped with multi-language support allowing different users to navigate through the app well.
Mind Vector – Mobile Idea Management Software
Platform: iOS, Android, Web
Pricing: Free (3 maps only); Pro – $9.99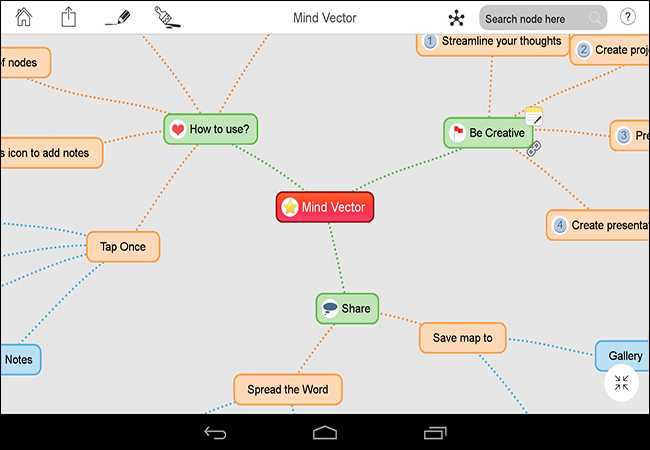 Mind Vector is a handy program everyone can use to create meeting minutes, classroom notes, site map and more with the use of mind maps. Users can create, edit, and share mind maps. Similarly, it offers support to different gestures like tap and hold when grouping ideas. Also, this free mind map software grants access to multi-touch feature for zoom, pan, and drag & drop.
Lucidchart – Fully-functional Mind Mapping App
Platform: iOS, Android, Web
Pricing: Free(7 days); Pro – $9.95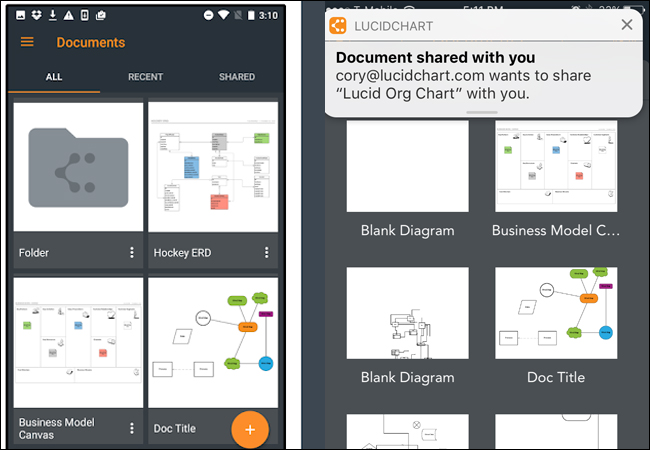 Another good alternative mind map software you can use on your mobile device is Lucidchart. Creating mind maps is attainable with a lot of pre-built templates and shapes to choose from. Whether you are online or offline, you can preview your recent diagrams on the go. Furthermore, your diagrams can are saved and synced on any device provided that your Lucidchart account is signed in to the device.
miMind – Multi-purpose Mind Mapping Software
Platform: iOS, Android, macOS, Windows
Pricing: Free (limited features); Pro – $5.99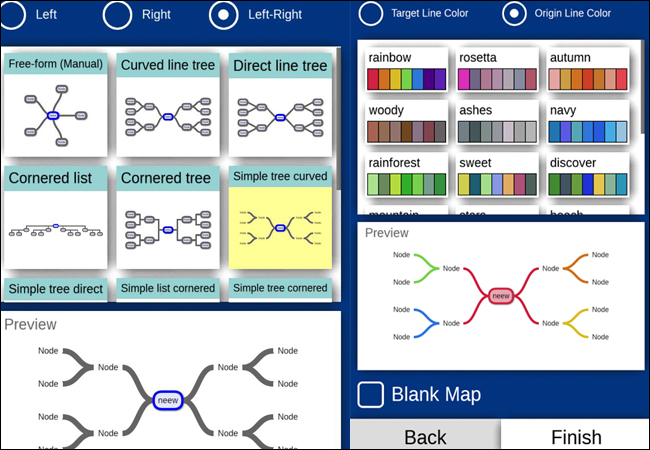 miMind is one of the best free mind map software for mobile users to collect and organize thoughts. It has a bunch of layout schemes that you can apply to your mind maps. Also, its smartphone-optimized user interface makes creating mind maps more convenient. This app enables you to zoom scroll, crop rotate, drag-n-drop, collapse expand and undo-redo. You could also apply rich text formatting as well as add audio, images and may more.
Conclusion
In general, mind map is an essential tool to organize your thoughts and ideas. Even better, most mind map software programs are developed with collaborative tools for teams to brainstorm and visualize workflows improving efficiency and productivity. Hence, if you want greater clarity with your work or studies, these programs can get the job done.