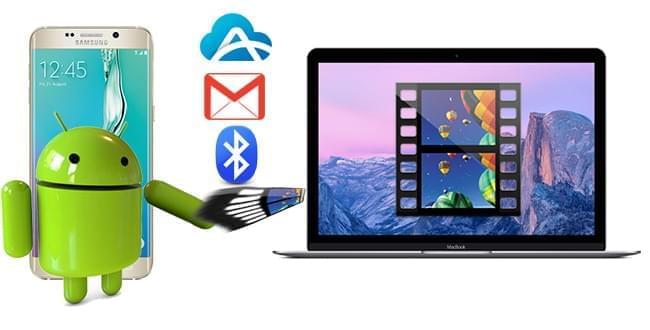 So far, it seems that iPhone is the best phone for its luxurious design and high quality. However, it is a fact that Android is still the most popular phone as it's more open and economical in price. Especially when Samsung unveiled its distinctive handset – Samsung Galaxy S6 edge+, an increasing number of people prefer to purchase the Android phone rather than an iOS device. But there is a problem with Android, that is, you're not able to transfer files from Android to Mac using USB directly. For instance, if you want to copy Android videos to Mac with USB, you have to install a third-party tool on Mac. Now, here are easy ways to transfer Android videos to Mac which don't need USB cables.
Three ways on how to transfer videos from Android to Mac
AirMore – transfer everything from Android to Mac with ease
AirMore is a super mobile devices management tool based on web. It can help you manage all your Android data online like a breeze. Let's see how it transfers videos between Android and Mac.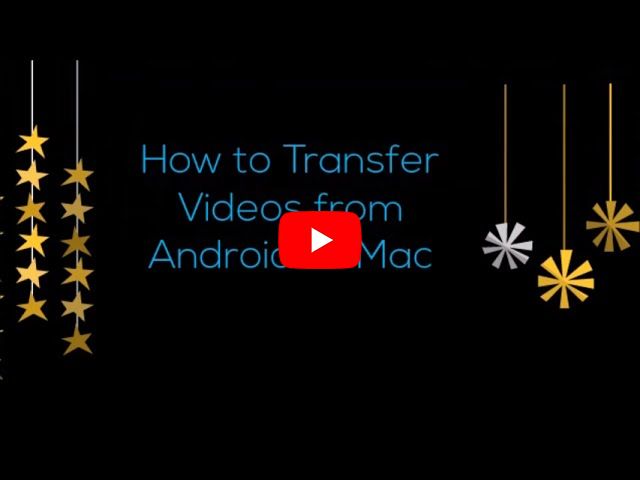 Connect Android to Mac
Before connection, please set up Android device and Mac in the same Wi-Fi network.
On your phone, search "AirMore" on Google Play store, then download and install this handy tool on Android.
On PC, go to AirMore Web page by visiting "airmore.net" through Google Chrome, Firefox or Safari. At this time, a clear QR code will be loaded.
Run this app on your phone and click "Scan to connect" to scan the QR on Mac. If a dialog box pops up on Android screen, just tap "Accept" to continue.
How to transfer video from Android to Mac
Within seconds, they will be connected successfully and your phone's main information will appear on the web interface. Then you can download videos from Android to PC.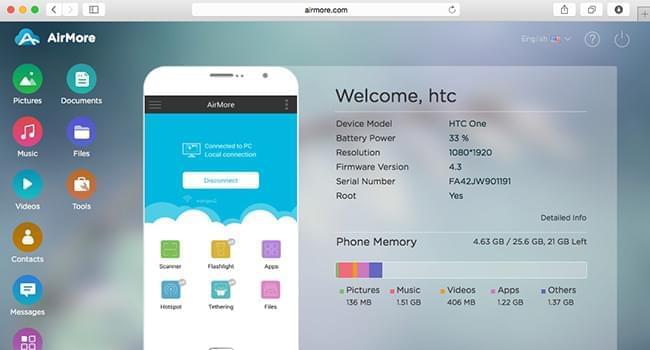 Click "Videos" icon from the left pane.
Select the items you want to transfer and hit "Download" button on the top. Provided your network is smooth, the transfer will be finished in just a few minutes.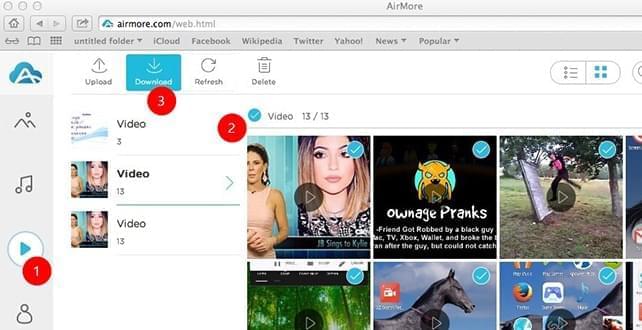 If you don't want to download any app on your phone, you may try the two methods below.
Email – send your videos to Mac as email attachments
With this method, you don't need to install any app on Android and Mac. But you should have a Gmail account.
Long press the item you want to transfer on Android and tap "Share" option. Then select "Gmail" on the list to send this item to your Gmail.
Sign in the same account on Mac. You can view your video on web page or download it to your Mac.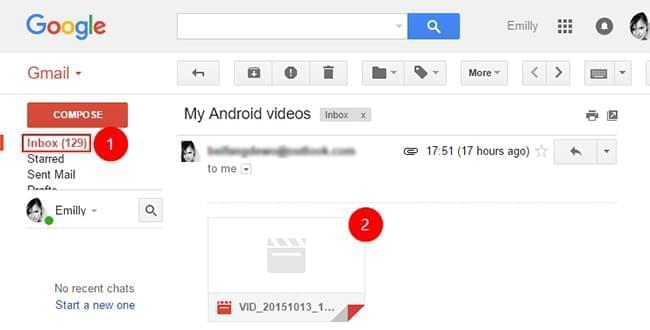 Cons:
You should sign in the same account on your Android and Mac.
It fails to transfer many files at a time.
Sometimes, your Android and Mac may not have network connection. Then you may prefer the third method.
Bluetooth – the default transfer tool
With Bluetooth function, you can also transfer data between phone and Mac wirelessly. Here are the steps.
Step1: Turn on Bluetooth on Android and Mac.
Step2: Long press a video of your phone and select "Share" > "Bluetooth" > "Mac"(or other name of your Mac).
At this moment, a window with transfer information will pop up on Mac screen. You can check this video once the transfer is over.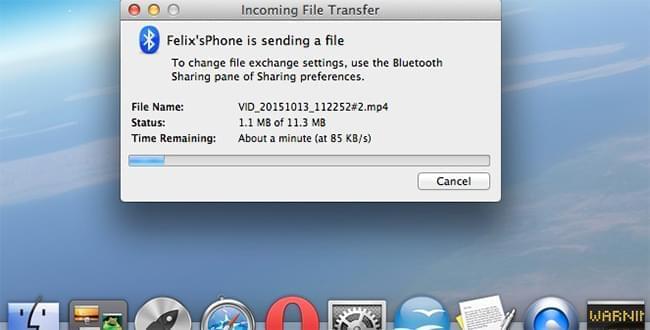 Pros:
It doesn't need network connection.
Cons:
It has difficulty in transferring two or more items simultaneously.
You have to search and select videos manually.
As you can see, all the three methods above enable you to transfer videos from Android to Mac wirelessly. But on the whole, AirMore is your best choice. In fact, with this handy tool, you can also transfer other files between Android and Mac. For instance, if you want to enjoy Mac music on your phone, you can transfer music from Mac to Android with AirMore.