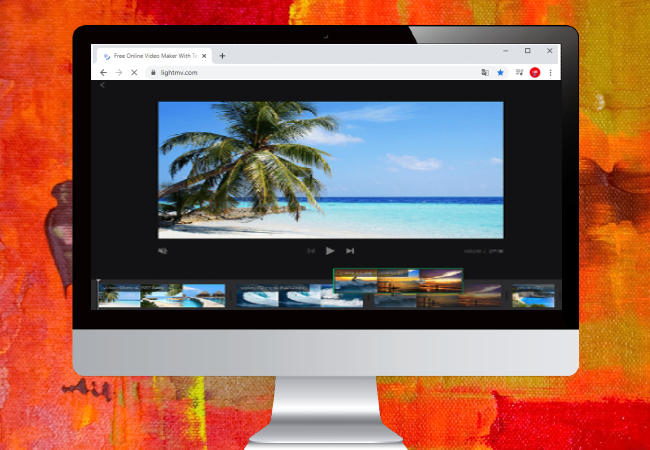 Most people want to take photos while they're traveling, in meetings, and to recount remarkable memories. Creating a slideshow of photos is one of the greatest ways to compile unforgettable moments in your life. Having the best photo video program enables you to customize and produce an eye-catching photo video with background music. However, there are very limited web-based programs capable of creating professional quality photo videos with music. For those who are looking for the best photo video maker with music that you can utilize with ease, check the following tools listed down below.
How to Make a Video with Photos and Music
LightMV
LightMV is an excellent web-based program for editing photo videos with music. Its intuitive interface enables beginners to produce a stunning photo video with ease. Create a photo video using its mobile version for iOS and Android smartphones. Not to mention, this online tool offers video templates to produce a video for multiple purposes. You can also save the video in Full HD and share it directly to multiple social media platforms. Here are the steps you can follow to make a video with pictures and music using LightMV.
On your computer, launch any web browser to visit the official website of the tool.
Next, select your desired video templates to proceed with its editing functions.
Tips: Click the picture below to watch this amazing phot video template.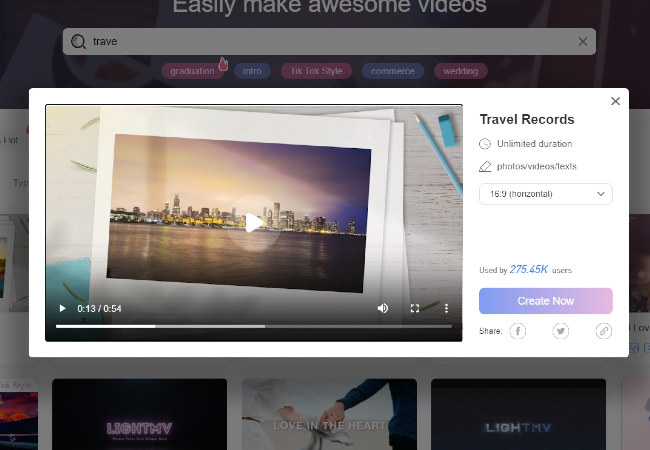 From here, click the "+" icon to import the photos on your computer that you want to include in the photo-video presentation.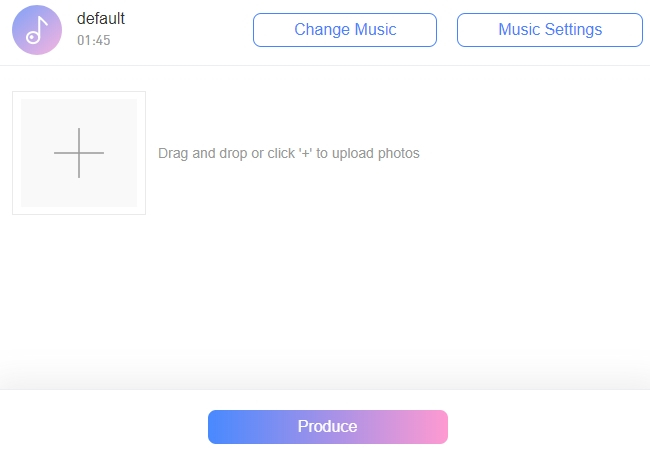 After that, go to the "Change Music" option and select the "Add music" button to upload the background music you want to use.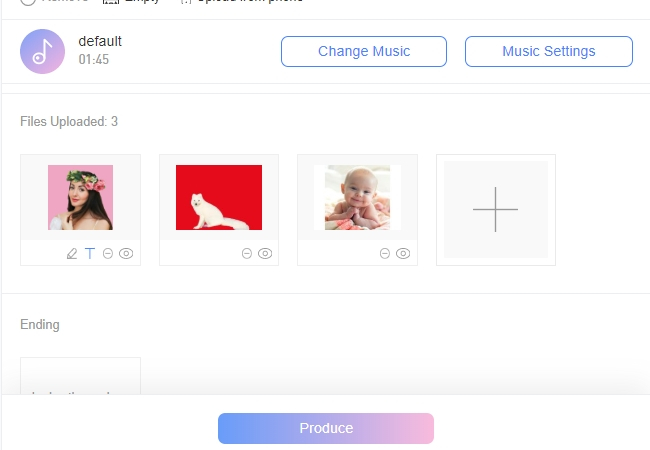 Once done, hit the "Produce" button below to render the video. Lastly, click the "Download" to save the video on your computer.
Kizoa
Second, we have Kizoa. This is another online photo video maker with songs easily accessible from multiple browsers. Furthermore, there are hundreds of special effects you can insert to enhance the quality of the photo video presentation. Include personalized GIFs to the video in just a few simple clicks. Aside from that, its other features enable you to edit a movie and create a photo collage. Lastly, you can save the video as an MP4 file or burn it to DVD directly.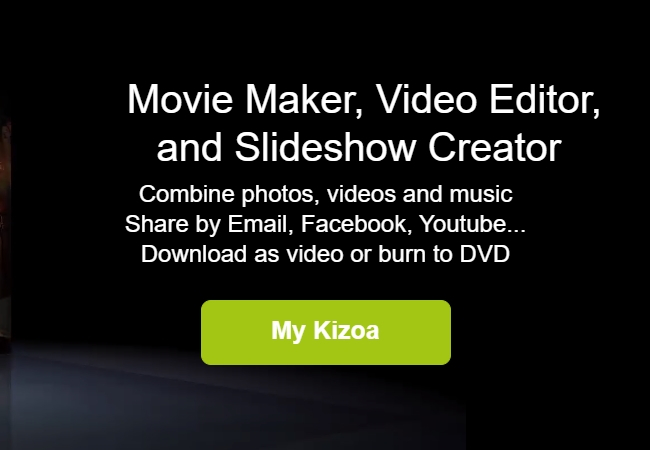 Features:
It enables you to insert customize logos.
Provides intro and outro videos.
Can import photos from Facebook directly.
Capable of burning the video file to DVD.
Animoto
Here is a free online video maker with music and pictures named Animoto. This online video editor enables you to produce good looking photo videos for your social media accounts. Its simple video editing functions allow you to crop, rotate, and trim the video to remove unwanted parts on the scene. Also, it has a rich collection of designs, text layouts, font styles, and music that you can use to improve the quality of the video.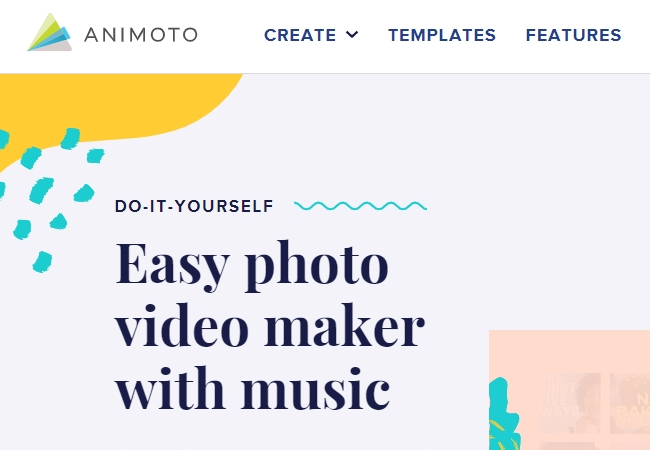 Features:
Easy drag and drop user interface.
Wide range collection of video templates.
Offers stock photos and videos by Getty image.
Enables you to add voiceover to the video.
Smilebox
If you're looking for a photo video maker app with songs that you can use to create a video from your pictures, here is Smilebox. This tool can also produce a video invitation, e-cards, collages, flyers, and many more. Also, its video templates enable you to create photo video for multiple purposes with different aspect ratios. Furthermore, it has a user-friendly interface that allows you to edit photo videos, even as a first-time user.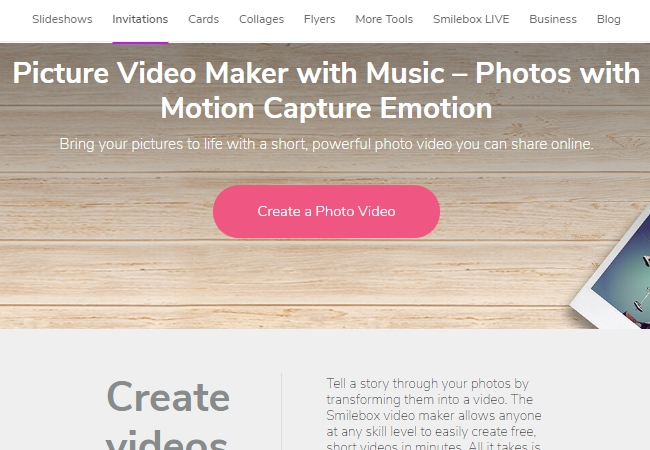 Features:
Upload images directly from Facebook and Instagram.
Can convert videos to photos.
Share videos on social media platforms instantly.
It has a vast collection of music clips.
Animaker
Lastly, we have Animaker. Using this online video maker with photos and music allows you to produce an animated photo video presentation. Its high-end editing functions can drastically improve the video. You can insert multimedia files like photos and videos using its free stock media library. Also, you can add multiple elements like characters, shapes, stickers, emojis, and more to make your photo video presentation more attractive.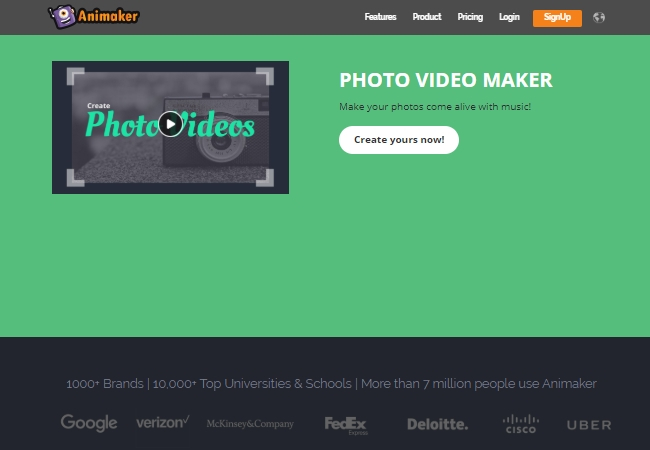 Features:
User-friendly interface.
Capable of creating animated character.
It has a text-to-speech feature.
It offers special effects and animations.
Conclusion
The tools mentioned above are the best photo video makers that can help you on how to make a video with photos and music. However, we personally recommend LightMV because of its wide accessibility to multiple devices and web browsers. Aside from that, its intuitive interface and extensive collections of video templates enable you to produce photo videos with ease. For more suggestions, feel free to comment down below.