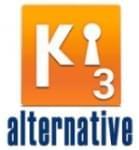 As is known to most Samsung users, Samsung Kies is a freeware produced by Samsung Company. It is supposed to connect manufactured Samsung phones such as S5/S6, Note 4/Note5 to PC so that you can easily manage your phone data on the desktop. Ideally, it is able to sync your contact, calendar and tasks with Outlook. Besides, you can use it to back up and restore all kinds of data including personal information, such as contacts, messages and call logs, phone contents, like videos, music and photos, and account information. However, its functions are hardly satisfying. Below concludes the main complaints from people who have used this software.
Connection problem. Many Samsung users find it irritating to connect their phones using this tool. Either it fails to connect the device or the connection is often disrupted and you have to reconnect repeatedly.
Slow data loading. The process of loading phone data is really unbearable. You need to wait for a long time until it completes.
Limited features. Kies can only manage music, photos and videos. This cannot meet people's needs to manage contacts, apps and documents.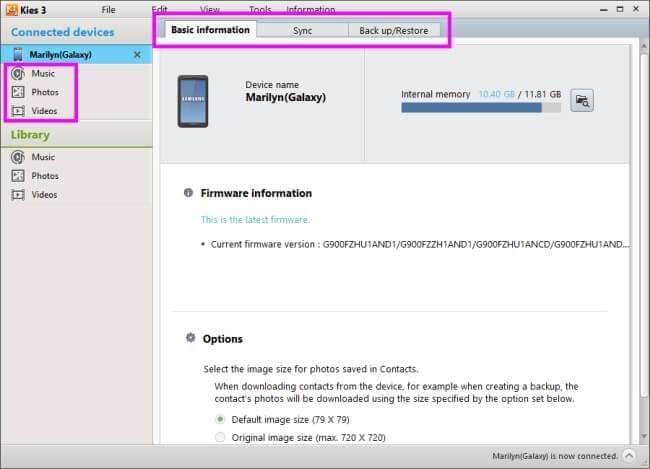 Due to its terrible user-experience, people are forced to look for other alternative to Kies. In the current market, there are indeed many applications which perform much better than Kies. Now, here are some popular alternatives you may find useful.
Best Kies Alternative
1. AirMore
AirMore – Free web-based file transfer app
This tiny tool enables you to manage your phone data on web, thus unchaining you from USB cable, desktop client and computer system. With a Chrome or Firefox browser, you can easily transfer all the files from your Android/iOS devices to PC and vice versa. To see how this best Kies alternative works, please read the following guide.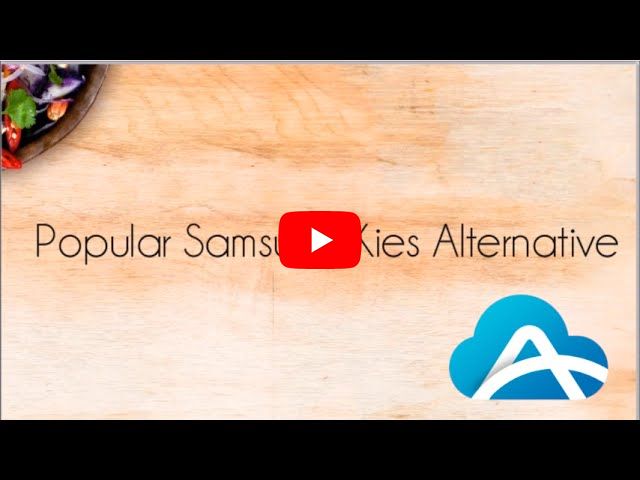 Open the browser on your computer and go to address "airmore.net", where a QR code will appear.
Launch the app on your mobile and tap "Scan to connect". Then scan the QR code on the browser.
After that, a dialog will come out on your phone. Just tap "Accept" to connect.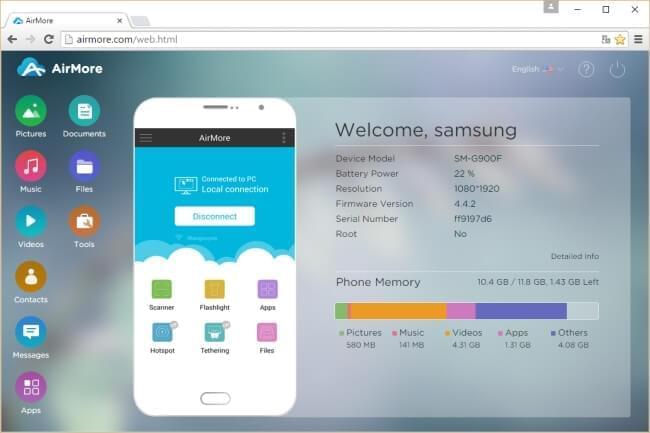 As long as your handset and computer are connected successfully, you can freely utilize its amazing features.
For iOS users, you can transfer music, pictures, videos and documents between your phone and PC with ease. Though it is not capable of managing the original files stored on your iPhone yet, you will still find it helpful as you are able to create new folders and import files into them.
On the other hand, those who use Android could enjoy more functions, including installing APK files or uninstalling applications, and dealing with all the files on your Android. What's more, it allows you to manage your numerous contacts and send messages from computer effortlessly.
AirMore supports various kinds of phone brands. Therefore, besides Samsung Kies, it is also a great alternative to HTC Sync Manager and other similar software.
Apowersoft Phone Manger – professional mobile management software
If you want to possess a powerful phone management tool, this application is suitable for you. Supporting both Android and iOS devices, it empowers you to manage all kinds of files on PC, such as photos, videos, music, contacts, messages, notes, bookmarks, apps, files and more. Apart from that, to backup and restore phone data with one click has been in common usage. Thanks to its user-friendly interface, you can easily master the skills to use it. To connect your phone to PC with the help of this Samsung Kies alternative, please follow the process below.
Download this phone manager on your computer. Run the program afterwards.download
Connect your mobile to PC with USB. If you're using Android devices, make sure its USB debugging is checked. Then click "Trust" or "OK" to permit the software to read your phone data.
Wait for a while until this application is downloaded on your Android automatically. Check on your phone to see if it is installed successfully. This step is not necessary for iOS users, though.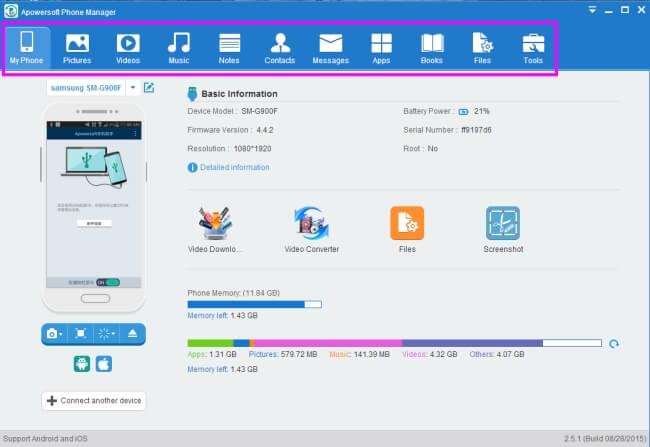 Once it's done, you are free to use all of its wonderful functions. Besides USB cable, you can also connect your phone to PC via Wi-Fi, which will be much more convenient. But note that the phone screen will not be displayed in this way.
SideSync – phone data sharing application for Samsung devices
If you own a smartphone and computer both produced by Samsung, you may try this free data and screen sharing tool. It builds a convenient channel among Samsung devices. By using it, you can display your phone screen on PC in real time and control your mobile with keyboard and mouse. Like others, this alternative to Samsung Kies can be applied to backup data and transfer files between mobile device and PC simply by drag-and-drop. However, to utilize this gadget, the process is very complicated. The below guide is shortened.
Download it on your computer and smartphone. For some Samsung computer models, it has been preloaded. For the mobile phone, another app called Phone Screen Sharing is also essential.
Connect your phone to the computer via USB cable or Wi-Fi.
After connection, choose the method you want. And click "Keyboard/Mouse Sharing" button so that you can use this function. But pay attention that the Keyboard/Mouse Sharing feature and Phone Screen Sharing feature cannot be used synchronously.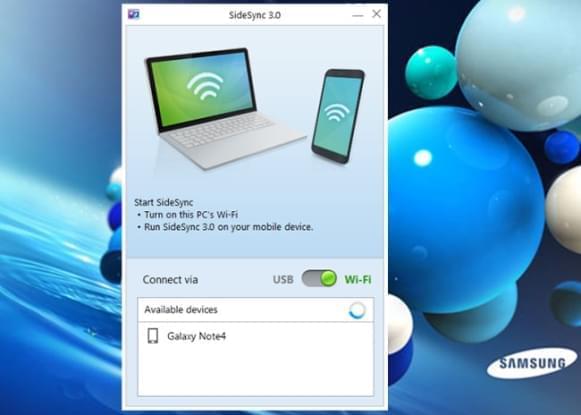 All in all, these applications are very popular Samsung Kies alternatives available on the market right now. Whichever you choose, you will be impressed. The first two tools are more widely-used, though, for they are not limited to Samsung computers.