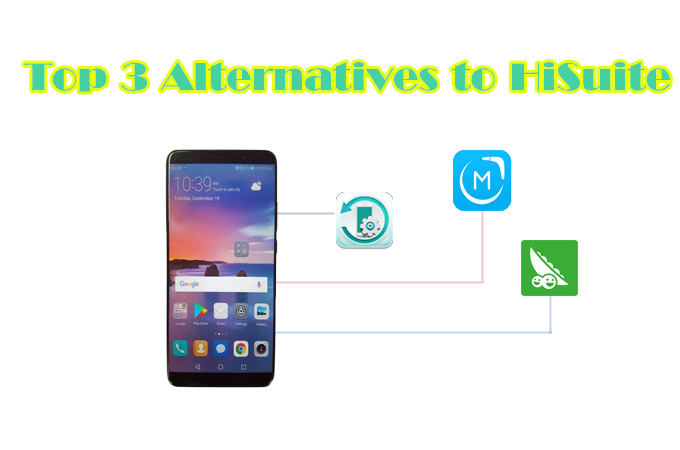 Huawei Mate 10 – along with the Huawei Mate 10 Pro, which aroused a general concern among the users, has also been released recently. As we all know, HiSuite is a program for Huawei mobile phone which allows users to efficiently use a desktop control center to manage data stored on their Huawei mobile phone. By using it, you can easily install and uninstall apps, backup phone data and restore them conveniently. Other features include taking screenshots, exporting and importing contacts and updating Android system efficiently. This diversified service therefore helped HiSuite win lots of reputation among Huawei users.
However, many people find it difficult to satisfy their specific needs. On the one hand, the music stored on your Android phone can't be imported and exported to your computer. In other words, HiSuite doesn't provide the service to manage the music on mobile phone. It is obviously a pity for those who are keen to listen to music. On the other hand, the detailed information it displays is not specific. You cannot gain more specific information about your Android phone. Therefore, many users are searching for the alternative to Hisuiter. Here are the best three alternatives which have better performance in regard of their features.
Best Alternatives to HiSuite
Apowersoft Phone Manager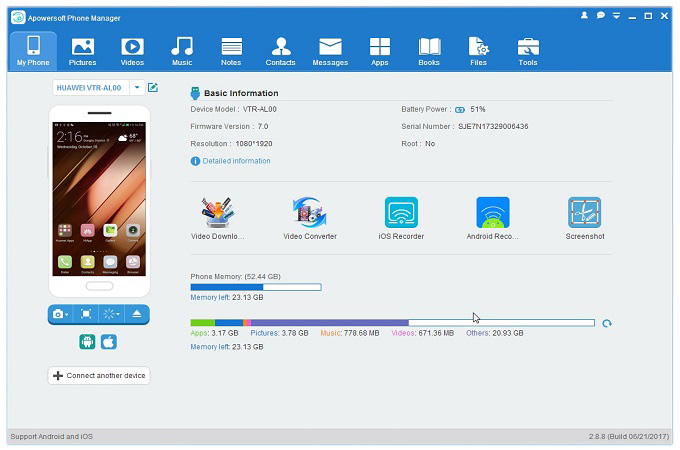 Apowersoft Phone Manager is a HiSuite alternative application for users to manage all of their data on their phone, including music, photos, contacts and videos. It is also a helpful tool to transfer files between mobile phone and computer. What's more, the phone screen can be mirrored on your PC in real time.
With this tool, you can import and export the music and set any music you like as your ringtone. The information of song is displayed in terms of name, size, time, artist, and album. Meanwhile, your photos, notes and videos can be imported and exported with one simple click. If you have countless photos on your phone, you can click on "Select All" to delete them or export them to the computer in a combined fashion which can make their modifications easier. On the Contacts panel, contacts can be created and deleted. More importantly, you can edit the basic information of the contacts, such as email, address and company. Moreover, the Message function allows you to edit a message and duplicate, delete together with transmitting messages. Apowersoft Phone Manager therefore makes it possible to manage all the data on your phone in an efficient way. On the button below you can download it directly.
Pros:
Backup and restore data
Detailed information
Multiple features
Cons: apps can't be downloaded and updated online.
Wondershare MobileGo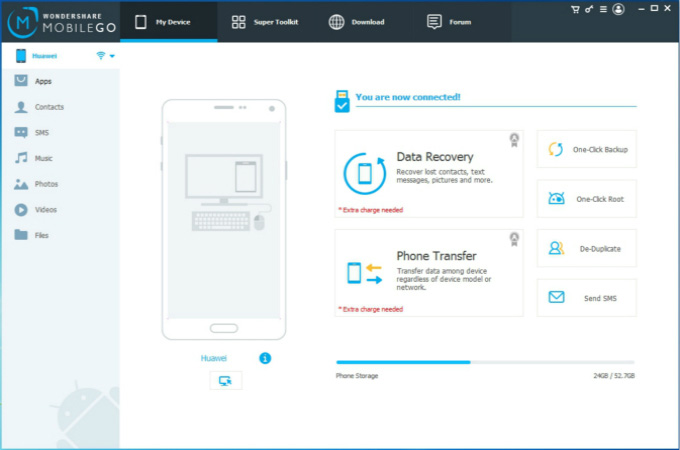 Another similar software to HiSuite is Wondershare MobileGo. It is a professional program which makes it easy to manage the data on your Android device. It is also a superb program which can help to backup and restore the data effectively and conveniently.
MobileGo enables you to transfer and manage files between Android phone and PC. Also, you can go to the interface of Apps to install and uninstall your apps. More importantly, apps can be moved to SD card and internal storage as you like. Therefore, you don't need to be concerned about your phone storage anymore. Similarly to the software mentioned above, all the photos, music, videos and documents can be imported and exported easily. It also allows you to send and reply to text messages directly from the computer. The most remarkable feature is One-Click Root which means you can root Android device with ease. Android users who have no iTunes may find it useful for making regular backups and managing phone data.
Pros:
One-click root
Manage and backup data
Cons:
No detailed information about mobile phone
Apps can't be downloaded and updated.
SnapPea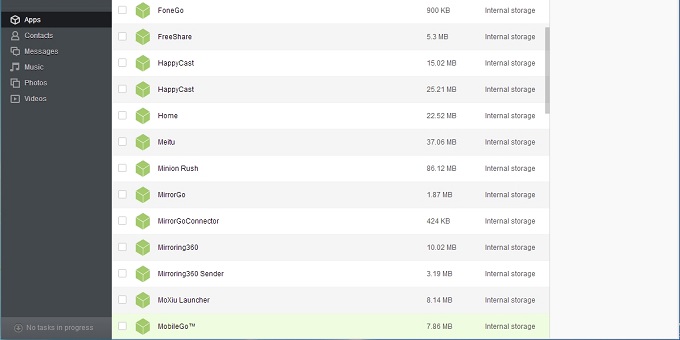 SnapPea, another alternative to HiSuite, allows you to manage files and content on your Android device. Just like the other two applications, SnapPea is a good assistant for you to manage Android phone and enables you to get access to your phone from the computer without USB cable. Once connected, you can enjoy available different functions freely.
The apps section allows you to install and uninstall Android applications. Moreover, you can download new apps through your computer which means you may save much time. All the media files on your phone can be shown in the program and you can import and export them between SD card and internal storage conveniently. Additionally, you can enjoy a slideshow on Photos panel and you can remark a message as read when you go to the interface of Messages.
Pros:
Apps can be downloaded online
Simple and easy interface
Cons:
Unstable connection via Wifi
Contain many annoying ads
Conclusion:
To sum up, you can choose any of the presented HiSuite alternative from the programs mentioned above. Obviously, if you want to mirror your phone screen to PC, you can choose Apowersoft Phone Manager. MobileGo is suitable for those who want to root their Android phones conveniently. SnapPea can be chosen by those users who prefer to download apps online. Overall, you can choose other similar programs when you are tired of using HiSuite.