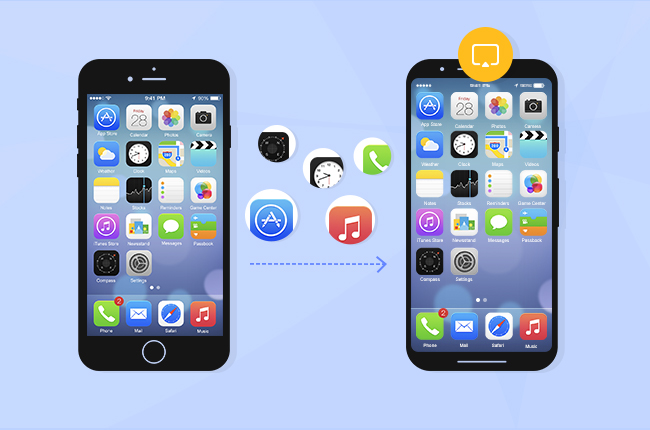 Phone screen sharing and cross-platform control have already been integrated into mobile operations. Nowadays an increasing number of people seek ways to mirror iOS devices to Android devices so that they can get more enjoyment and functionality from their digital life. The following information will introduce you to what we believe is the most accessible and practical software for mirroring iPhone and iPad content to your Android device.
Good Tricks to Mirror iOS Devices to Android Devices
ApowerMirror – Wirelessly and Smoothly Mirror iOS to Android
ApowerMirror is a cross-platform screen mirroring app that allows you to share your iPhone or iPad screen with Android devices, Windows PC, and Mac. Not only can you use it to stream many types of media files, but you can also apply it to mirror multiple Android devices on PC. For any iOS device with AirPlay capability, you can even mirror those devices to Android devices running version 5.0 or higher from the palm of your hand. Now let's take a look at the guidance below on how to mirror iOS devices to Android devices.
To activate the connection, you should set your Android and iOS under the same WiFi network.
Open ApowerMirror on your iOS device and click "M" button. It will start searching for available device. After your Android device is shown on the interface, tap on it.

Swipe wipe up from the bottom of your iOS screen to open Control Center.
Choose "AirPlay Mirroring" and "Apowersoft + Android device name". After that, you can mirror iPhone screen to Android.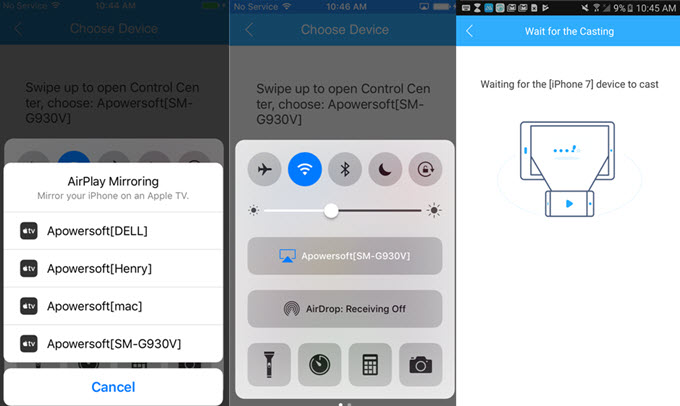 You can also use ApowerMirror to mirror iOS to PC and Mac. Besides its strong screen sharing functionality, ApowerMirror is also designed with other useful features. For example, you can use it to take screenshots or record iOS screen on PC/Mac.
LetsView – Mirror iOS Devices to Android Devices
Another good app for cross-platform screen-sharing is LetsView, which allows you to display your iOS device on an Android phone or tablet without any cables or intricate setups. As long as your Android runs version 4.1 or higher, you can mirror in real-time any iPhone or iPad. With it, you can easily stream the content of your iOS device to your Android. For example, you can mirror iPhone to Android TV for game playing and movie enjoyment. The following steps teach you how to mirror iOS device to Android device.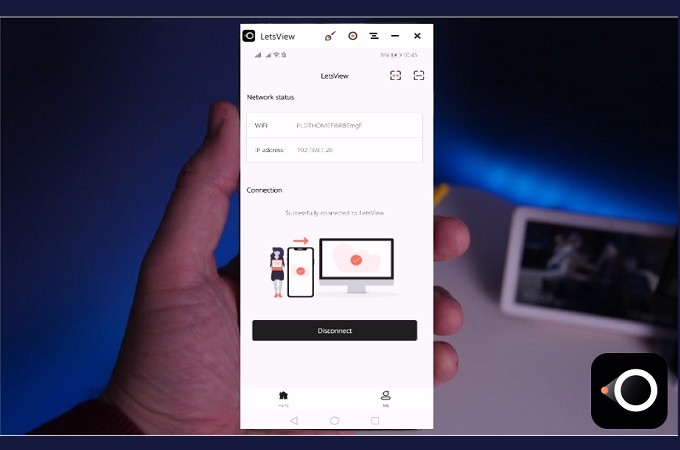 Launch it and connect your Android and iPhone to the same WiFi network.
The app will begin searching for the available devices.
Swipe up from the screen bottom of your iOS device to open the Control Center.
Open the "Screen Mirroring" option and tap the Android device's name from the list. Then you can mirror iPhone screen to Android.
Conclusion
There is a wide variety of workable solutions available on the internet for those who are seeking to mirror iOS devices to the Android platform. However, we believe ApowerMirror and LetsView are the most user-friendly and stable options currently on the market.