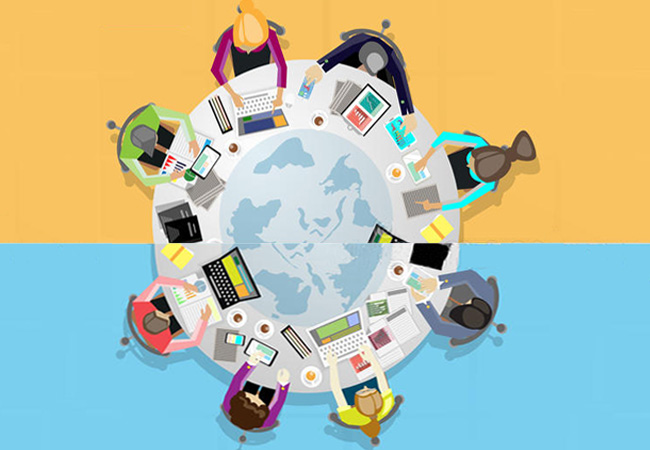 Challenges are already part of our daily business. You need to deal with different problems like "How can we improve our service?". However, most of these problems can not be solved alone. As such, a diverse team or small group is needed to effectively solve the challenges. To accomplish this, all members are encouraged to participate by supplying thoughts with no restriction on the quality of ideas. This technique is known as 'brainstorming'. Yet to fully maximize the benefits of brainstorming, you need mind-mapping software or brainstorming tools to capture ideas. That being said, we listed out best free brainstorming tools for teams to collaborate more conveniently.
Best Brainstorming Apps and Tools
GitMind – Intuitive and Collaborative Mind Mapping Tool
Key features:
1. Ready-made templates.
2. Intuitive toolbar.
3. Collaboration support.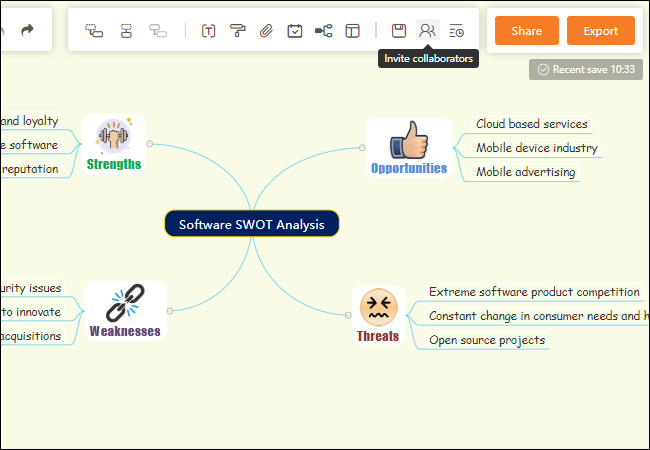 GitMind is a free mind map software that allows you to design and organize your ideas using the mind mapping and flowchart templates. It also comes with an intuitive toolbar where multiple options are properly arranged according to their categories. More importantly, the tool is integrated with a collaboration feature that allows remote colleagues to add, edit, and delete elements without cluttering the structure. The tool is great for beginners and advanced users making it the best brainstorming app there is.
Deskle
Key features:
1. Intelligent teamwork.
2. Built-in timer.
3. Categorized templates and icons.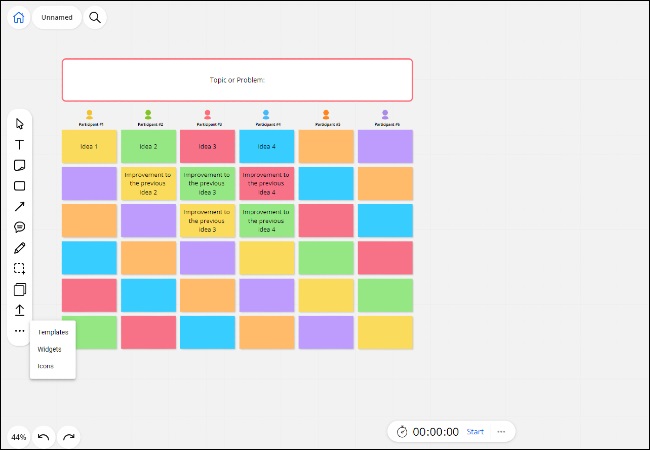 Deskle is a real-time collaboration and project management tool that allows each member of the team to add in their ideas. Apart from that, this tool offers several templates, widgets, and icons to help you create the exact visual representation of your ideas. Plus, you won't have to use another chat or video conferencing app as you can use Deskle itself for this purpose. Moreover, if you want to link another document or whiteboard, you may add a nested board on the original file.
Miro – Collaborative Whiteboard Platform
Key features:
1. Insert images, documents, and files.
2. App integrations.
3. Screen sharing feature.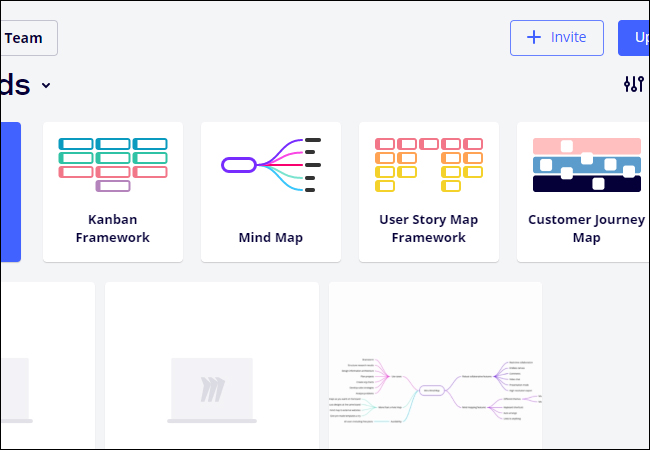 Miro is an online whiteboard that allows you to create diagrams and mind maps when brainstorming ideas with the team. You can directly insert your files, documents, spreadsheets, screenshots and more. Additionally, this allows you to export and import projects from and to a variety of tools like Google Drive, Dropbox, Jira, and Slack. Furthermore, you can invite others to view or edit your map in real-time using its screen sharing function.
Coggle – Online Mind Map and Brainstorming Tool
1. Multiple starting points.
2. Auto-arrange diagrams.
3. Save revisions.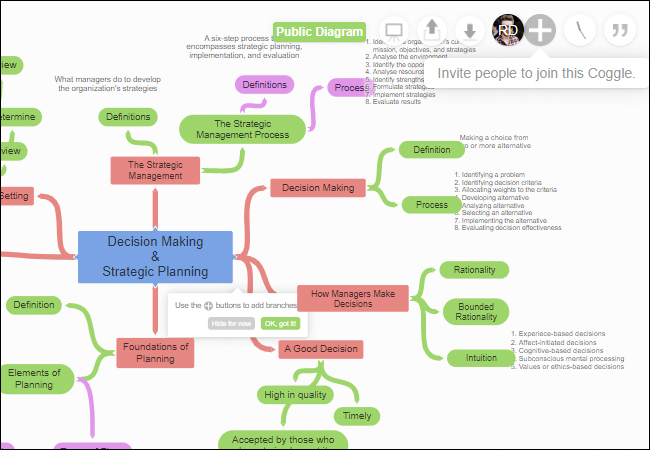 Coggle is one of the best online brainstorming tools that provide multiple options for ideation. This features multiple starting points wherein you can add many central items to a diagram and connect them to related topics in just a single workspace. Another good thing about this app, is that you can easily organize all the ideas in just a single click using its auto-arrange feature. Aside from that, you may also browse through all the changes and copy from any point of revisions to revert to the chosen version.
WiseMapping – Open Source Brainstorming Software
Key features:
1. Different customization tools.
2. Invite collaborators to brainstorm.
3. Embed mind maps on blogs.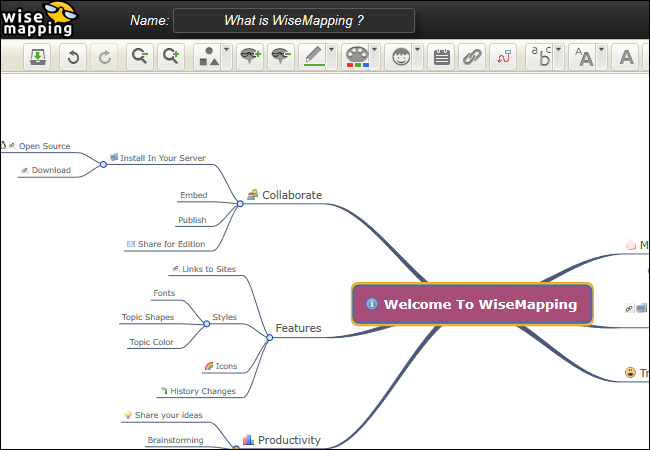 We also have WiseMapping in the list of free brainstorming tools. Although the program is totally free, it does not fall behind in terms of mind mapping options. With it, you may customize text and color formatting, and add beautiful icons. Besides, it offers collaboration tools to collect ideas and bring them to life. On top of that, it lets you embed mind maps from WiseMapping to blogs and webpage of your choice.
MindMeister – Cross-platform Mind Map Tool
Key features:
1. Web and mobile apps support.
2. Share maps in various formats.
3. Vote on ideas.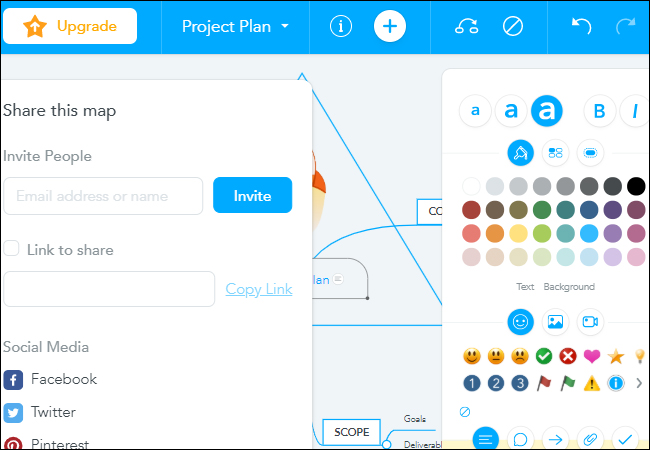 Create, brainstorm, and share ideas from different devices and platforms. No matter what OS you are working on, MindMeister ensures that users can conveniently collaborate anywhere without any constraints. It also integrates multiple export options including PDF and export it on your website. This best brainstorming app has a collaboration feature that includes comment and vote on ideas which is a simple and effective way to evaluate brainstorm ideas.
Conceptboard – Team Collaboration Workspace
Key features:
1. Whiteboard interface.
2. Unlimited users and boards.
3. Video chat feature.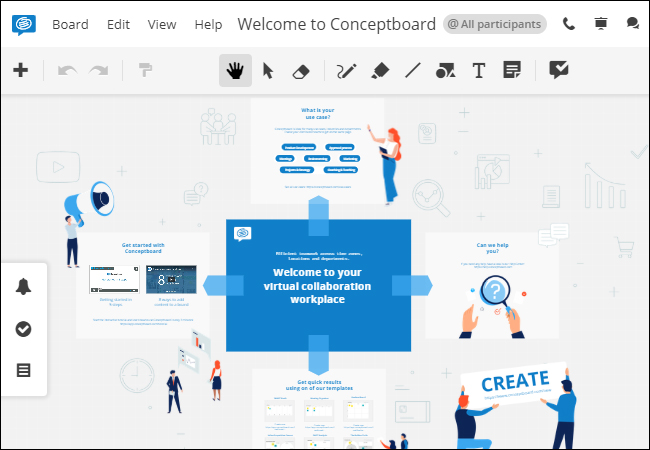 If you are accustomed to do team brainstorming using whiteboards, Conceptboard is probably the app for you. It comes with a whiteboard-based interface where the team can draw, insert sticky notes, and other markup content. Furthermore, there's no restriction to users for collaboration as well as boards for different types of projects. On top of that, it features video chat where collaborators can communicate with each other anywhere and anytime.
Stormboard – Flexible Brainstorming App
Key features:
1. Web-based program.
2. Instant meeting notes.
3. Pre-defined business structures.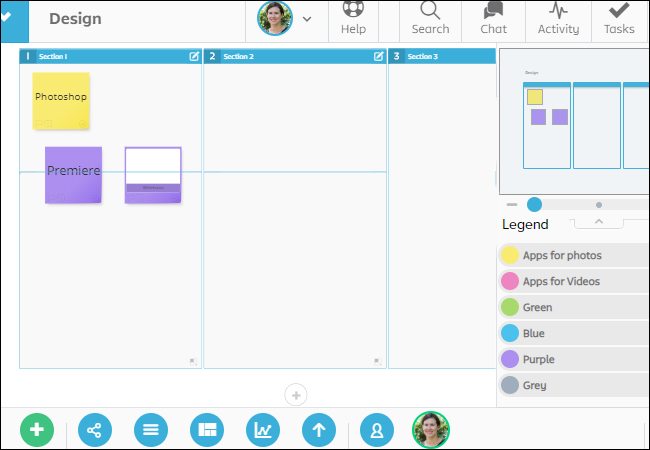 There's no doubt Stormboard is one of the best online brainstorming tools out there. This allows teams to capture and organize ideas using just a browser and it runs on almost all platforms which means, you can collaborate whenever and wherever you are. Using this tool, you can quickly add meeting notes, pictures, videos, documents and even report using sticky notes on an infinite canvas for a single workspace. Also, it has built-in business templates to help you structure your collaboration and get started instantly.
Milanote
Key features:
1. Commenting tools.
2. To-do list functionality.
3. Sync projects across devices.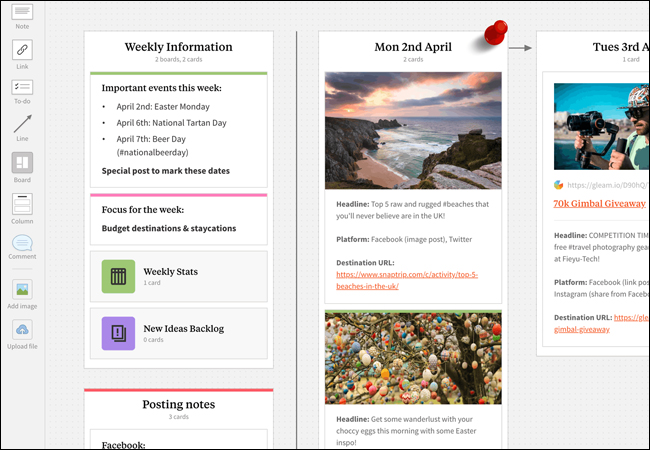 If you are a team of creative professionals, Milanote is the best brainstorming app you should go with. This provides a workspace where creative illustrators, photographers or designers can improve their designs by building mock-ups. Each collaborator is also given the capability to give feedback and share thoughts. When working individually, you can create a to-do list using this app to track your progress and keep them handy wherever you go with its real-time data sync feature.
IdeaBoardz
Key features:
1. Web service app.
2. Vote function.
3. Keyword search capability.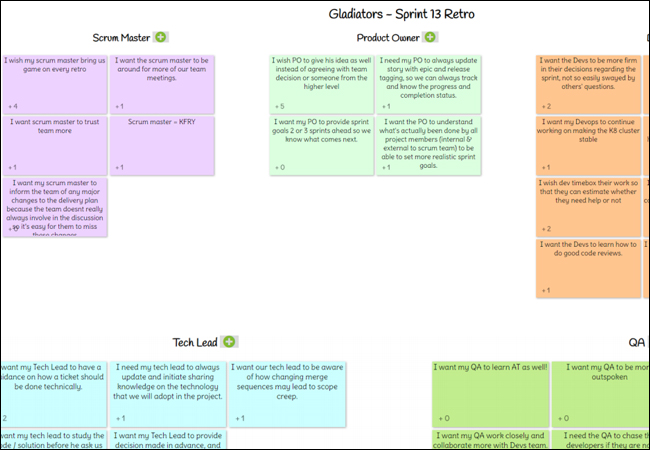 Take control of your brainstorming session with one of the best free brainstorming tools called IdeadBoardz. This is a web-based program that allows everyone from the team to add stickies for sharing ideas or giving feedback. Similarly, participants can vote up on ideas which they think should be prioritized and need to be pursued. Moreover, the sticky notes are arranged in sections to avoid confusion or you can use its keyword search function to instantly look for specific stickies.
Conclusion
Great ideas come from collaborative efforts. You can make a great team and come up with innovative ideas if you can learn to embrace the ideals of brainstorming with these free brainstorming tools on the list. Among the tools mentioned, it is highly recommended to try Gitmind, as it provides free templates with neat designs and easy to navigate interface.