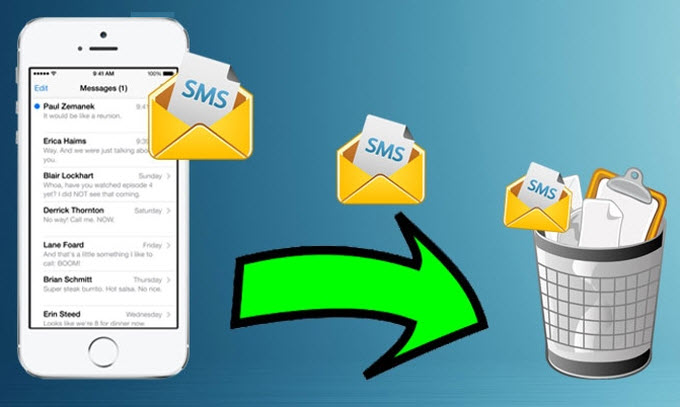 When it comes to high-tech and elegant-looking smartphones, iPhone is without a doubt considered as the king of modern handsets, which accounts to more than 50% of global smartphone users. But even if the iPhone is complete with modern features and highly capable hardware, this gadget still comes short with minor inconveniences. One particular issue that many users are reporting is the lack of ability to delete all messages from iPhone at a time.
General tips to delete messages on iPhone
As we all know, if you want to remove the text messages from your iPhone completely, you need to scan each entry and swipe your fingers to the left and tap the "Delete" button. Or you can also tap the "Edit" button and delete each message one by one. This will be a time-consuming job for users who are receiving tons of text messages every day.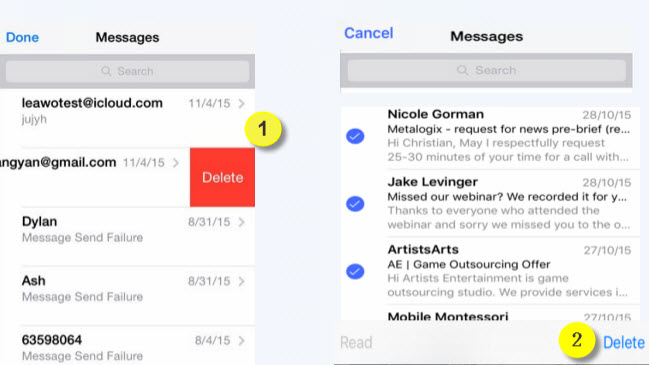 With the pending release of the rumoured iPhone SE or the upcoming iPhone 7, will the newest smartphone from Apple finally have the "Delete All" button? There is no way to give an indication right now, but if not, what is the most efficient way to erase all messages at the same time? Check the solution below.
Delete all messages from iPhone at once Using Cydia
We did a lot of search on the market, but no luck, there are no tools that can delete all text messages from the non-jailbroken iPhone in just one tap. Provided that you don't want to wait Apple to upgrade this very inconvenient feature, you can jailbreak your iPhone and use Cydia to get it done. By simply setting up the app, you can install cool DeleteAllMessages tweaks that would render your device much user-friendly.
Open Cydia on your iPhone.
Tap the "Search" button below and look for DeleteAllMessages tweak.
Follow the on-screen prompt and install it on your device.
Wait until your device restarts.
That's it! No need to edit preferences and go over options. Right after DeleteAllMessages has been installed on your device, you will find a "Delete All" button in the messages app. It will automatically erase all saved messages from your iPhone after hitting the button, without any prompts or warnings.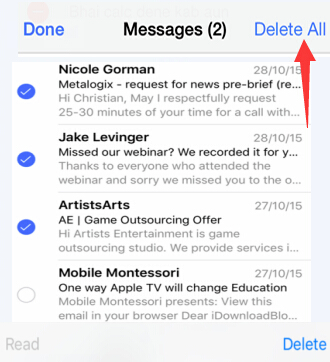 Warnings – Demerit of Using the Cydia
Installing Cydia on your iPhone got both merits and demerits. One major drawback is that it will definitely void your warranty. Moreover, if you used it incorrectly, Cydia can reformat your iPhone erasing all saved data including messages, contacts, videos, music, photos and more.
To avoid losing valuable contents from your iPhone, it is wise to backup your iPhone before installing Cydia as well as the DeleteAllMessages tweak that can delete iPhone messages at once. We recommend the Apowersoft Phone Manager for an easy, no-hassle data backup.
It is a one-stop application made fully compatible with all iOS gadgets. It has the ability to easily transfer files from phone to PC and vice versa, manage mobile data, mirror iPhone screen to PC in real time, and do file backups that you can later restore when needed.
Follow the steps below for easy backup:
Install Apowersoft Phone Manager on your computer.
Connect your iPhone to PC using the USB cable. A dialog box will prompt and tap "Trust" to build the connection.
On the main interface, click "Tools", and then hit the "Backup" icon, select the files you wish to back up by marking each checkbox.
Click "Backup now" and wait until the process completes.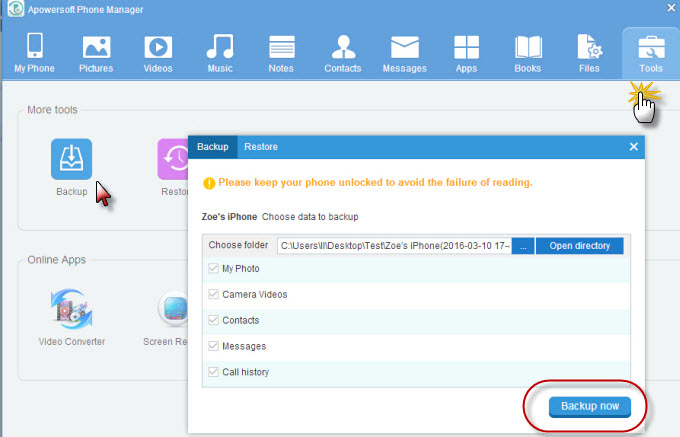 Installing the "DeleteAllMessages" Cydia tweak is definitely useful for those who want to delete text messages from iPhone with just one tap. However, you need to use this app with great caution. Creating backup is a must with the help of reliable programs. So that if something wrong happens, you can always restore your iPhone on its pre-installation working condition.