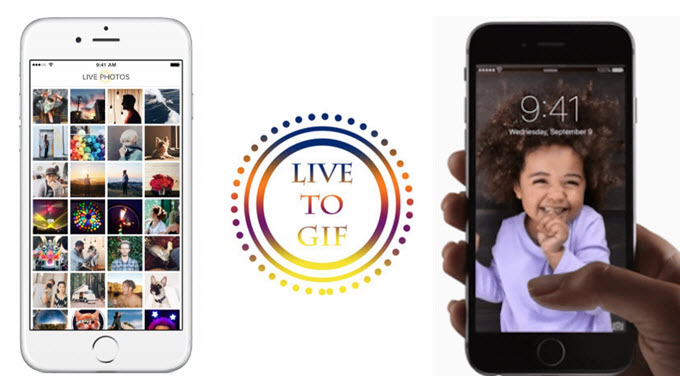 One of the most notable features introduced in iPhone 6s and kept in later iPhone versions is the live photos. True to its name, this feature attempts to bring life to your photos as it captures the movement made before and after the picture is taken. Basically, it creates a video-like picture which is more exciting when compared to a still image. The only problem with this is that it can be only viewed on iPhone6s or later versions. Hence, you can't post this on social media or send it to any other devices. Luckily, some applications allow you to convert live photo to GIF. In this manner, you can freely share it with other people and view it anytime of the day using any device. So, what are you waiting for? Have a look at our compilation and find the right application for you from our list below.
3 Best Live Photo to GIF Apps
Lively – Make GIF from Live Photo
The first one that you may use is Lively. It is designed to create GIFs and movies using your live photos as raw material. Not only that, it can also capture a still image from your live photos and then export it to your gallery. What makes this app even more recommendable is it has a built-in editor. In this way, if there's an unnecessary part of your clips, you can easily trim it out. You may also reverse your clips and adjust their speed.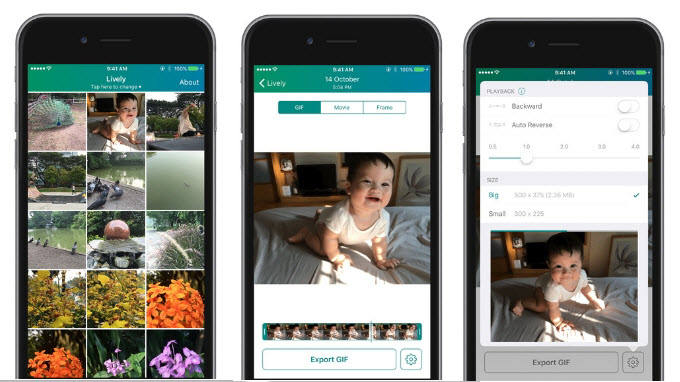 This app makes it sure that people from any age can access its features via its very user-friendly interface and setup. Overall, it gives you full control over creating your own GIFs. Lively is a free application but if you want to get rid of the watermark, you have to purchase the pro version at $2.99. Afterwards, you won't need any other GIF maker app for iPhone anymore. With Lively, you can make full use of your photos when you come to turn live photo into GIF. Follow the next steps for an overview of how to use Lively:
Launch this app on your iPhone. If it's your first time to open the app, please allow it to access your photo album.
Once the app detects your live photos, select the ones that you want to convert.
Select between GIF and movies and click the settings icon beside the export button to access the editor.
When done, click "Export as GIF/Videos", "Free Export" and then choose where to save your file.
You may store your finished GIFs to your gallery, mail, Facebook, Twitter, and other social sharing sites. Furthermore, sending via iMessage directly is also feasible.
ImgPlay – Convert Live Photo to GIF
ImgPlay is another useful app that you can effortlessly use to make shareable GIFs from live photos. Aside from live photos, you may also create GIFs from images, videos, as well as burst photos. Moreover, the app includes an editing tool which gives you the abilities to enhance your GIFs by adding captions, frame, and filters, too. Similarly to Lively, ImgPlay has a smooth interface that can be easily controlled by the users. The app is free of use but to remove the watermark, you need to pay $1.99. Here are the steps you need to know in order to use this live photo to GIF app.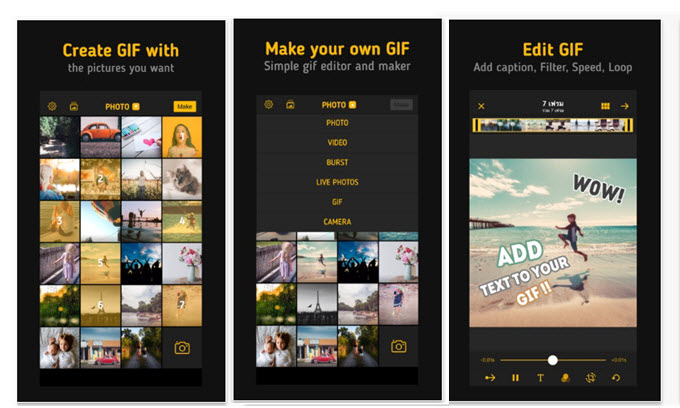 Open ImgPlay on your device and choose live photos.
Once your images appear, select the file you want and the editor will load it for you.
From here on, make the adjustments that you need, and then tap the arrow in the upper-right corner of your screen.
Choose where you want to publish your GIF. You may store it on your gallery or send it to your friends on Facebook, Messenger, iMessage, Viber etc.
LivePix – Turn Live Photo into GIF
The last but not least on the list is LivePix. This application enables you to easily view your live photos with its automatic play function. In addition, what makes LivePix stand out from other apps is that it has a Frame View feature. This feature allows you to extract still images frame by frame. Furthermore, it can make GIF from live photos that you can share on Facebook, Twitter, or with your friends and colleagues. You may also edit your live photos by adjusting the speed, changing the frame, trimming parts, and muting the audio before converting them. This also works even if your iPhone does not support live photos. This is through the use of Shared Albums on iCloud. In order to use LivePix, the steps are again outlined below: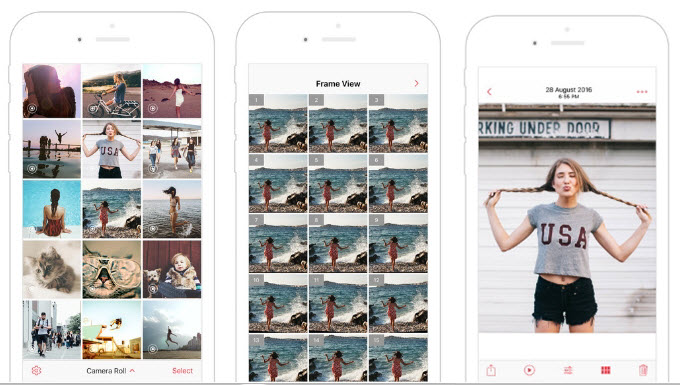 To begin creating your GIF, open LivePix on your iPhone and click to select the live photo of your choice.
Once the app loads your file, you can directly hit the "Save" button to export it to your phone.
If you still want to edit your clip, click on the "Edit" button before saving it.
Comparison of the Top 3 Live Photo to GIF Apps
| | Lively | ImgPlay | LivePix |
| --- | --- | --- | --- |
| Price | $2.99 or a free version with watermark | $1.99 or a free version with watermark | $1.99 |
| Interface | Easy to use | Easy to use | Easy to use |
| Sharing/Saving | Accessible with Photo Gallery, iMessage, Facebook, Twitter, Slack, Tumblr, and more | Accessible with Photo Gallery, iMessage, Facebook, Twitter, Messaging App, Weibo, Instagram, and more | Accessible with Photo Gallery, iMessage, Facebook, Twitter, Messaging App, Weibo, Instagram, and more |
| Additional Features | Snap still images from Live Photos | Create GIFs from burst photos, still images, and videos | Frame View |
With the help of these three applications, you can easily convert live photo to GIF and share it with any friend, family or colleague whose phone cannot see live photos.