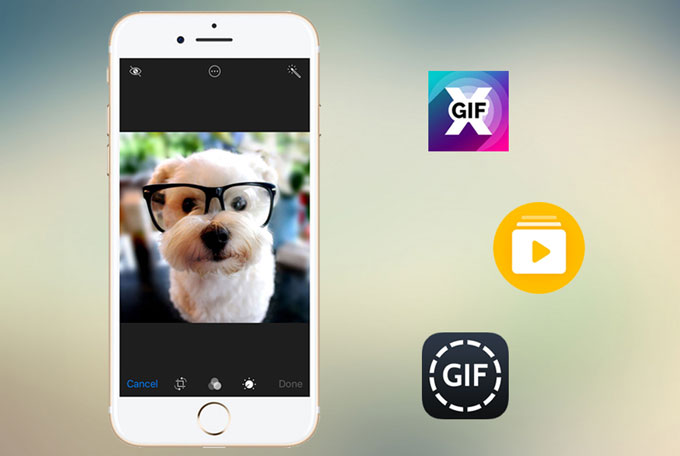 GIFs bring more fun to viewers since they present dynamic activities which can result in humor to us. However, they can be more interesting if you make them by yourself as in this case you have a freedom to express what you want. For instance, in case you want to exaggerate how fat your friend is, you can simply grab a clip from his video where he is doing a slide on a pool and then grab another from a tragic movie like 2012 where the village was hit by a flood; and simply combine them together with a transition from the pool jump to the arrival of the flood and it will appear as if your friend's weight is the reason why the flood came. Depicting such humorous actions can be more fun in case you share them in the form of a GIF and not just combining them into video clips by some video editing apps because GIFs are fast motion and continuously playing content and therefore they exaggerate the happening much more. Did you know that you can actually create GIF from the comfort of your bed or couch by just using your iPhone? Yup! Below are the best GIF apps for iPhone you can use.
Best GIF Apps for iPhone
1. Gifx
Gifx is the first on the list. In this application, you'll be able to create animated GIFs by adding audio to photos and even combining videos. Moreover, you may always have the chance to get pre-made GIFs from giphy.com. The best thing that you can do with this application is customizing your GIFs. You can change its opacity, size, and you may also mask out areas of the GIF file. Furthermore, you can also add another layer to your project for better creativity. Save it as GIF afterwards. To use this GIF creator app for iPhone, all you need to do is launching the app on your iPhone and afterwards importing your photo or video file. Next, Add GIF effect onto it and then customize and add a mask to the GIF effect. Lastly, you can freely add music to the file before finally saving it.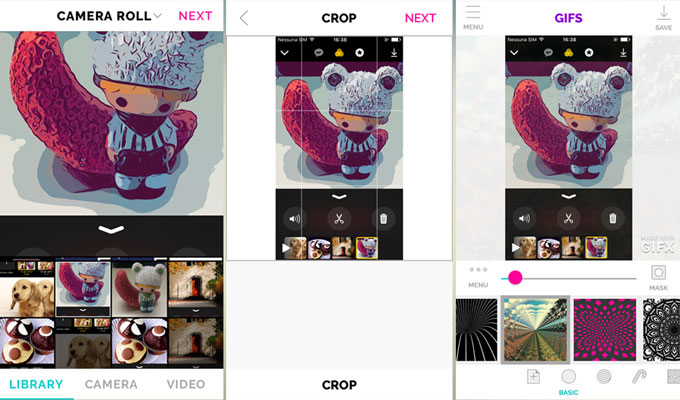 2. ImgPlay
ImgPlay is another iPhone app that can help you create GIFs or videos using photos and live photos with great ease. You can turn a part of a video or a live photo after combining with another one into GIF. Aside from that, you may also add effects, filters, frames, music, and caption to your GIF. This app is less complicated compared to other GIF makers that you can find in the AppStore. To use it, all you need to do is launching the app and choosing the file that you want to use on its interface. Afterwards, you can edit it and save it once you're ready.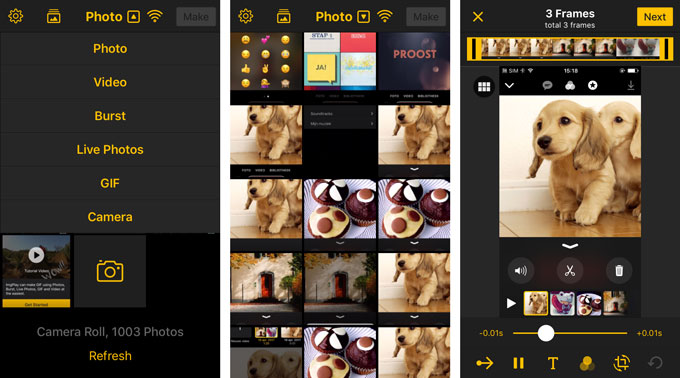 3. GIF Maker
Another popular GIF creator app for iPhone available in the AppStore is GIF Maker. Just like the first two on the list, this tool is also very easy to use with great features in it. You can turn your videos or photos into GIF file quickly and easily. Furthermore, you can also capture live video and then turn it into GIF. You can also select pictures from your Library or Facebook account to make GIFs, live photos or even videos. You may also choose playback effect, filter and add text to your GIFs. To start using it, launch the application on your iPhone and then choose what you want to use among the options: video to GIF, images to GIF, selfie GIF, animal GIF, GIF clone or Text animation. After that, choose the file that you will use and then edit it. You can then click on "Next" and then select the speed of the GIF. Lastly, click on "Create" to preview the file and click the share icon on the upper right corner to share or save the file onto your phone.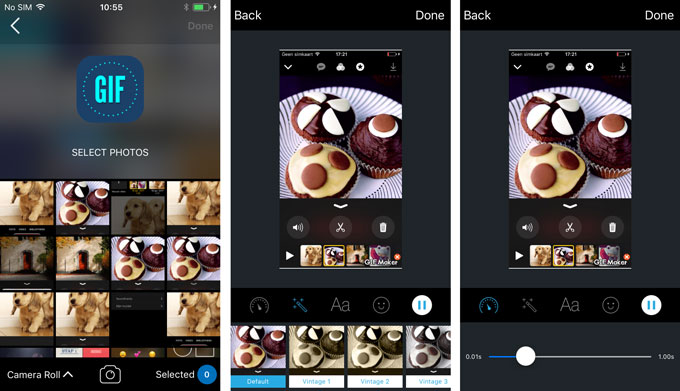 Those are the top 3 GIF making apps for iPhone that you can use in creating your own GIF. You may now use any of your resources and turn them into fun and exciting GIF files. Any of those three given above are easy to use, therefore it is up to you to choose the one that fits you the most. After you finish making the GIF, you can share it with your friends directly. Also, if you want to transfer your GIFs to your computer or store them on PC to free up your phone space, you can use Apowersoft Phone Manager to realize it. With this phone manager, you can transfer your photos, videos, and GIFs freely from iPhone to computer and vice versa with the original quality.