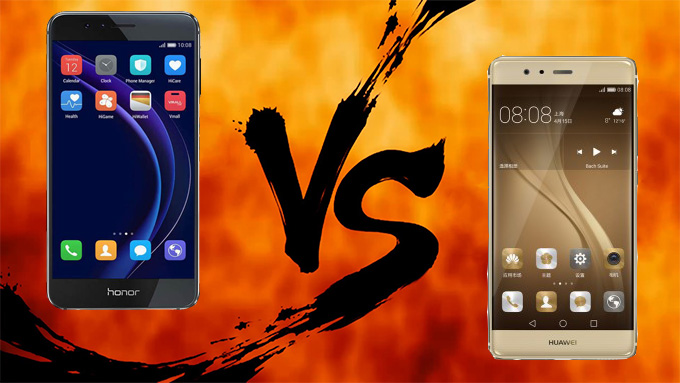 In April, Huawei released its new model of smartphone, Huawei P9, which offers great specs for mobile users. Honor also released its mirrored version of P9 in July, the Honor 8. Consumers are now talking about Huawei Honor 8 vs Huawei P9 as they observe numerous similarities in features between the two. However, the aesthetic style of Honor 8 stuns the market more as compared to Huawei P9, its counterpart.
Will the distinct style of Honor 8 from Huawei P9 makes it a better smartphone? Let us review some of the features of Honor 8 and Huawei P9.
Huawei Honor 8 vs P9: Specifications Comparison
Huawei Honor 8 vs P9: Display and Design
Honor 8 and Huawei P9 have more differences than similarities when it comes to their appearance. Honor 8 is designed with a 15-layered all-glass fascia which refracts light, while the P9 has a 2.5D glass on its front part and is covered with a full metal chassis. The visual aspect of Honor 8 might be stunning but it makes the phone less resilient than the P9. And the back of phone can easily get dirty if it doesn't wear a case. The P9 weighs 144g with a measurement of 145×70.9×6.95mm, while Honor 8 is 153g and measures 145.5x71x7.45mm.
In terms of display, both of them are equipped with a 5.2-inch screen, having a resolution of 1080×1920 pixels. However, Honor 8 has the feature of Eyesight protection mode, making it a bit different from Huawei's P9. Its function is to filter out blue light for a more comfortable viewing.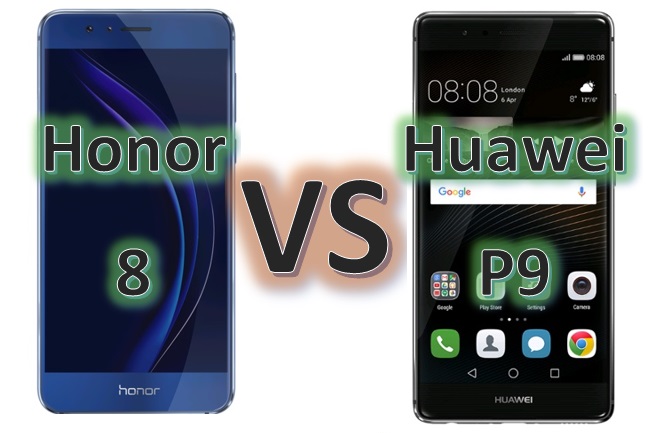 Huawei P9 vs Honor 8: Hardware
While the two smartphones vary on their display and design, they are not at all different from the inside. The two cell phones run under Android 6.0 Marshmallow with EMUI 4.1 installed. Each phone utilises a built-in battery of 3000mAh that is characterized by long battery life and fast charging. Furthermore, both contain Micro SD card slot, two SIM card ports, USB-Type C Port, and 32GB storage with maximum expandable memory of 128 GB. Both are equipped with fingerprint sensor at the back, however, Honor 8 has smart button that can program this feature.
The most distinct difference between the two smart phones lies on its processor. Huawei P9 is supported by Kirin 955 with 3GB RAM while Honor 8 is equipped with Kirin 950 octa-core chip (backed up with 4GB RAM), a less powerful processor. But the different balance on the processor and memory makes the two smartphones perform almost similarly on a daily basis. Hence, there isn't a big gap in terms of performance between these two.
Huawei Honor 8 vs P9: Camera
It is not enough to have a high-performing smartphone, and one should have a camera that would capture high-quality images. As people love to take pictures, both phones ensure that they perform well in shooting. Hence, both employ IMX286 Sony sensor that has dual lens to capture monochrome and RGB images. The rear camera captures a 12-megapixel image with LED flash while the front camera is set to 8 megapixels. While Huawei P9 teams up with Leica branding for its camera, the Honor sticks to its own. In return, the quality of the monochrome photos produced by P9 has a higher contrast than that of Honor 8. Meanwhile, the quality of RGB images is similar for both cameras. When you slide to right, you will find several modes on both phones, such as Photo, Panorama, Beauty video. But the icons on the two phones are different and Honor 8 has Good food mode and 3D panorama mode that P9 doesn't have.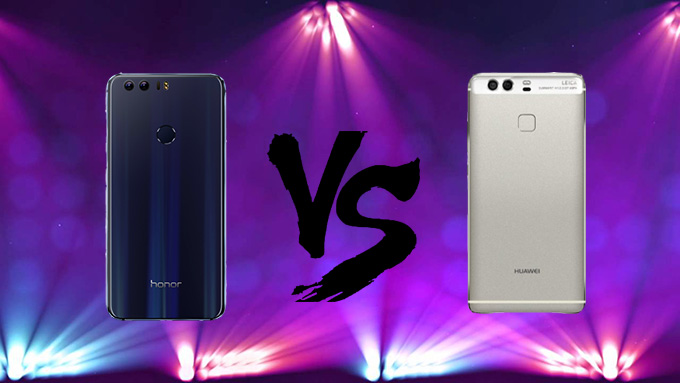 Honor 8 vs Huawei P9: Price
Even though the aspects and features of these two phones grow similarly, the Honor 8 is relatively cheaper than the Huawei P9. Honor 8 can be bought at roughly $399 while the Huawei P9 is sold at around $449.
Conclusion
Huawei P9 vs Honor 8? Which one do you think is better? As far as I am concerned, Honor wins, as you can experience the features of Huawei P9 at a relatively low price. But be extra careful on Honor 8 as the 15-layered glass design makes it more delicate than the fully metal chassis of P9.