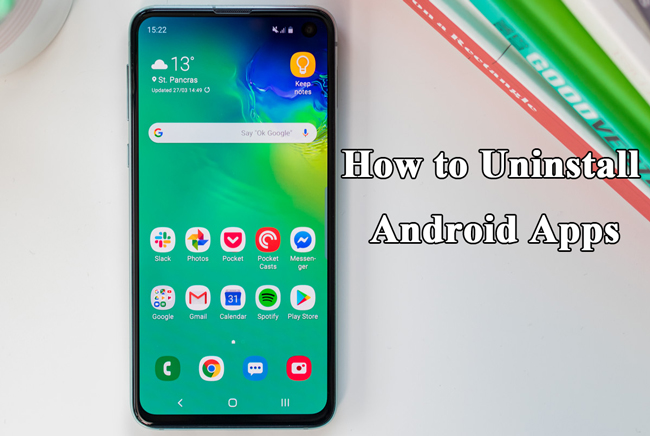 To fully make use of your Android phone, you need to download various kinds of apps on it. In most cases, apps can benefit you under different circumstances. For example, some allow you to listen to music, while some enable you to read e-books. However, not every app is useful for you. Sometimes, you may download an app you do not want by mistake, or you want to delete some apps you do not use much to free more space. Here, I would like to introduce you several best ways to uninstall Android Apps.
Easiest Ways to Uninstall Android Apps
Method One: Uninstall Android apps using AirMore
If you are looking for a way to access your mobile device on PC wirelessly, AirMore is absolutely your best choice. It is a great tool for you to manage device data from browser on the computer. It does not require USB cable and client, which makes the connection process much faster and easier. This application allows you to stream media files on Android including music, pictures and videos to web within seconds. Besides, you are able to manage apps and other files at ease. Now, in order to remove apps from Android, please follow the next steps.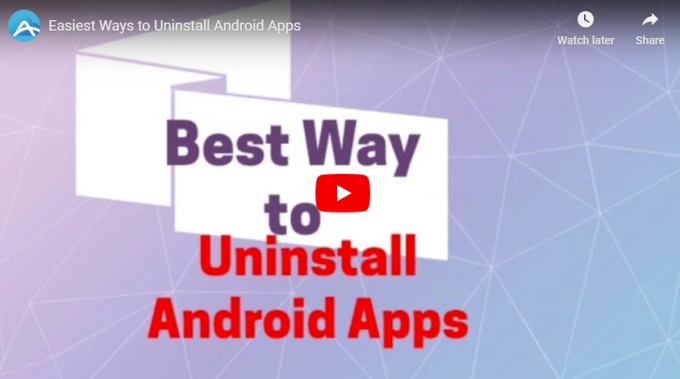 Open AirMore web from the browser on PC.
Scan the QR code on AirMore web by using AirMore app to connect.
Connected successfully, click "Apps" and all the apps installed in your Android will be listed on the screen. Choose the ones you want to delete and click "Uninstall".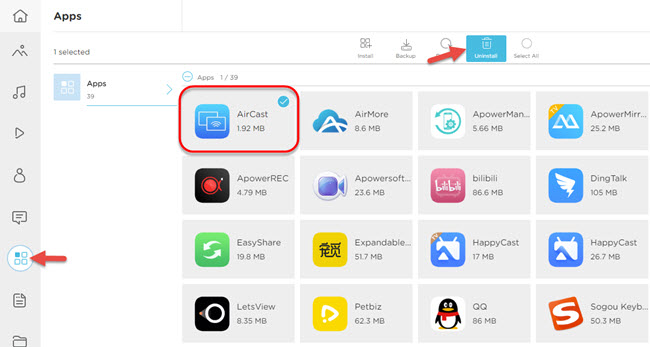 See? It is really quite convenient. This useful software also enables you to install new apps and back up apps on the computer effortlessly. However, due to the restrictions of Android phones, when you uninstall apps, a request will be sent to your phone and you need to complete the process by clicking "OK". If you find it a little complicated, you may try ApowerManager, which is a professional desktop phone management application.
Pros:
No need for USB cable.
Requires no desktop client.
Easy connection by scanning QR code.
User-friendly interface.
Cons:
Needs to tap your phone to uninstall apps.
Method Two: Uninstall Android apps manually
If you do not want to install any software on your Android, you can try to remove Android apps manually. It is very fast and convenient if you would like delete a few numbers of them. Nevertheless, there are some system apps or malware that cannot be deleted directly from the phone. Try the simple guidance below.
Go to "Settings > Apps".
Tap the app you want to remove.
Click "Uninstall".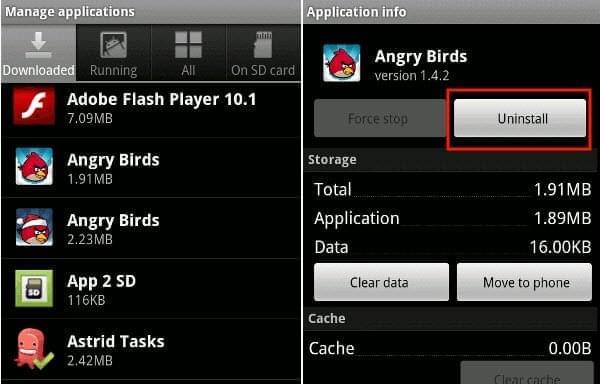 Pros:
Does not require any installation on your phone.
Very fast if you delete only one or two apps.
Cons:
Complicated if you uninstall many apps.
Cannot remove malware apps.
In fact, after you install AirMore on your Android phone, you are able to use it to uninstall apps from Android directly, too. Just open the software and click "Apps". All the apps installed in your phone can be seen there. Choose the unwanted ones and delete. It is also very simple.
Above are three best ways for you to delete apps from your Android. You can choose any one which is to your preference, though AirMore is more recommended because of its powerful functions, fluent operation and amazing interface.