HTC is a popular Taiwan company that manufacture smartphones and tablets. Known for its sleek design and cutting edge technology, even HTC had joined the booming popularity of Android gadgets. And to compete with giant companies and highlight its advantages, HTC create a free application to make syncing of data from mobile phone to computer much easier. Dubbed as the HTC Sync Manager, this tool aims to bridge the gap between HTC phone and PC.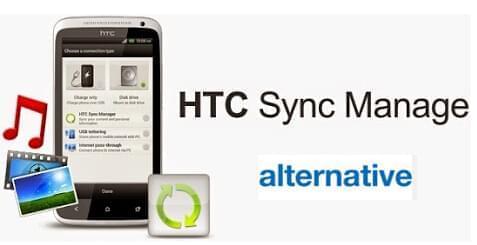 While the main purpose of this program is good, it is filled with loopholes that make some users wonder other HTC Sync alternative.
Unable to detect the phone sometimes.
Errors installing the app sometimes.
Depending on the situations, the app sometimes is unable to read phone contents, frequent hangs, automatic restarting of the application.
Those are just some of the many errors reported when using HTC Sync Manager. Gladly, there are programs that function the same as HTC Sync Manager, but even much better than it. Discover them all right from here.
Top Alternatives to HTC Sync Manager
AirMore
One of the great alternatives to HTC Sync Manager is AirMore. It is an online application that needs not to be installed on your computer and it requires an internet connection to run. With this tool, you can transfer and manage media contents like photos, music, videos, apps, messages and more.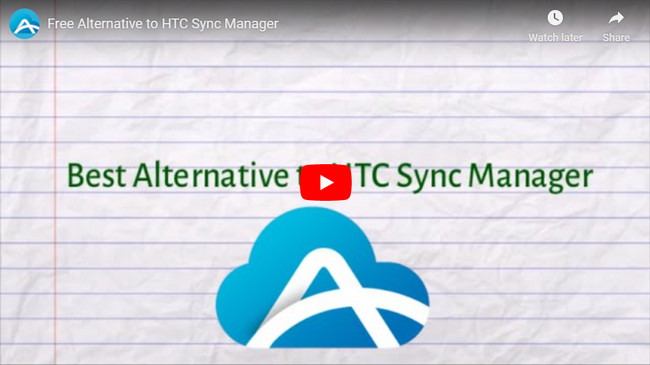 What makes AirMore a wonderful HTC Sync alternative is its great features:
Ability to transfer files wirelessly without the use of USB cables.
Free to use and needs not to be installed on your computer.
Very user-friendly and easy to navigate.
It comes with versatile functions such as fast data transfer, management, etc.
How to Use:
Click the "Launch AirMore Web to Connect" button.
Open the app on your android phone and scan the QR code with your camera.

Tap "Accept" to connect and execute the task you need to carry out.
Pros: It can transfer files wirelessly, free with no limits, needs not to be installed on PC.
Cons: Your phone and PC should be connected on the same network. It may take some time to transfer big files.
ApowerManager
Another best alternative to HTC Sync Manager is the ApowerManager. This tool is equipped with tons of features you will truly enjoy. You can use it to transfer mobile contents such as contacts, pictures, videos, music, applications, documents and many more. Likewise, it is also capable of managing mobile data and creating backups which you can later restore when needed.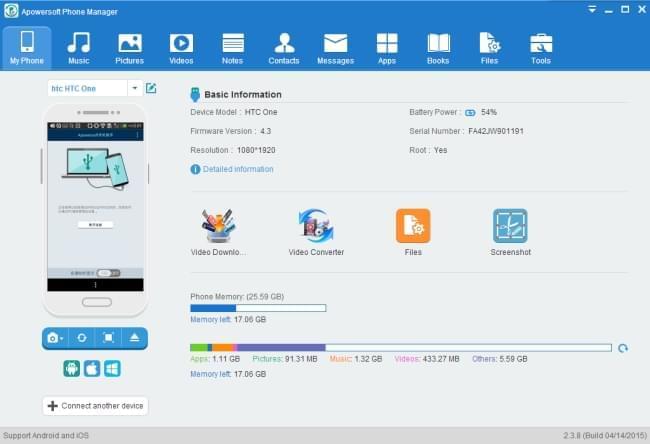 With this program, you'll get these benefits which are not available on HTC Sync Manager:
This program can manage all the Android or iOS gadgets including HTC devices.
You can use it to connect your Android phone to computer in 2 ways – through USB cable or Wi-Fi network.
This program can take mobile screenshots directly on your computer.
This HTC Sync Manager alternative can project your mobile screen on computer in real time
How to Use:
Download and install the application below.
Navigate to the data category on top menu such as "Music", "Videos", "Pictures" and more depending on what you need to do.
Wait until the process completes, and then safely disconnect your phone.
Pros: 100% safe to use, no limitations and restrictions, supports both iOS and Android gadgets.
Cons: There's no Mac version right now.
Moborobo
Moborobo is yet another HTC Sync Manager alternative you can try. This tool covers data transfer such as contacts, photos, videos, documents, etc. while you can also use it to organize mobile contents. And just like the two programs mentioned above, data backup and restoration is likewise available.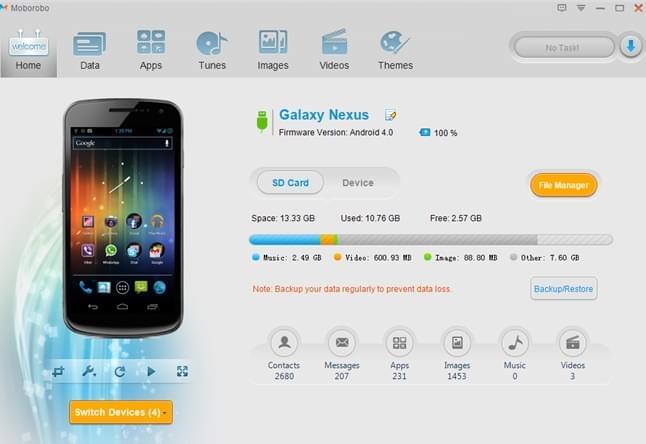 Some of the functionalities you will enjoy with this app are as follows but not limited to:
There are free mobile applications offered within the program.
Supports both android and iOS smartphones.
Free to download with no memberships required.
How to Use:
Install Moborobo on your PC and smartphone.
Open the application on your phone and tap the "Connect to PC" icon.
Scan the QR code shown on your PC or enter the verification code.
On the main interface, click the corresponding icon such as apps, music and more to perform a task.
Pros: Free to use and can wirelessly transfer files.
Cons: Irritating ads, unnecessary program bundled with the app.
Since you have read HTC Sync Manager review posts, you might have found that the software has its disadvantages and loopholes. If you are after fast data transfer and mobile content organization, certain software like the Apowersoft Phone Manager is duly suitable and also provides with other benefits. If you're unhappy using that manufacturer software, don't be afraid to try online application – AirMore.