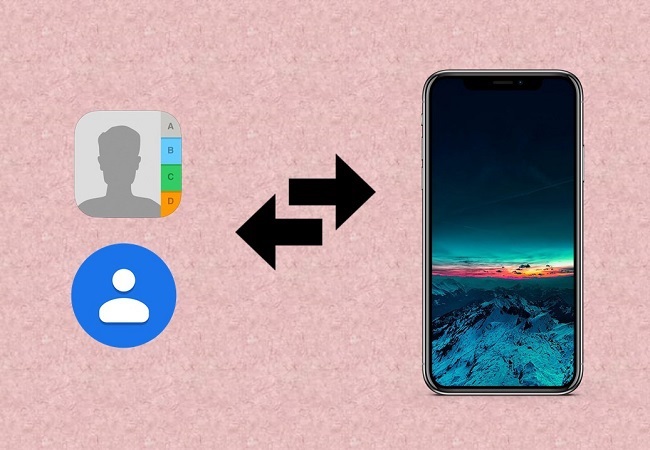 iPhone 7 and 7 Plus has been released for years and preceded with the latest models of iPhone such as iPhone 8, X, XR, XS, XS Max. Some people might decide to buy a new iPhone or have already bought one and they are especially curious about how to transfer contacts to iPhone. After all, contacts are so important that they want to import immediately when getting a new phone. This post summarizes several methods.
Ways to Transfer Contacts to iPhone
Transfer Contacts Between iPhones
As we all know, iPhone could not export contacts to SIM card, so you can't transfer contacts just through inserting the card from previous phone to the new one. But thanks to applications like iCloud and iTunes, you can use their functions to get contacts on your new iPhone. Here provides a way using iTunes.
Connect your old iPhone to PC with cable and double click to open your iTunes.
On iTunes, choose your device and click "Info" on the right side.
Click "Sync Contacts" and then "Apply" to copy contacts.

Disconnect old phone and link new iPhone with PC.
Open "Sync Contacts" function under "Info" and choose "Contacts" under the "Replace information on this iPhone" of "Advanced" option.
Click "Apply" to transfer contacts to iPhone.
iTunes offers more than one way to help you move contacts. You can also use "Backups" function under the "Summary" to backup data including contacts on old iPhone and restore it on your new one.
Transfer Android Contacts to iPhone
If you used Android phone before and now buy an iPhone, exporting phone numbers to SIM card and putting the card into your iPhone might be a good way. However, it often happens that Android's SIM card isn't suitable for iPhone's card port. In this case, an app named ApowerManager can help. You can get it from the button below.
This software can work whether the network is available or not. It helps users to manage their mobiles, backup files and transfer pictures, music, videos, contacts as well as apps between devices. It not only suits Android, but also fits iPhone. Now let's figure out how to transfer contacts to iPhone.
Open the application on your computer. And use a USB cable to connect your Android to PC.
Once connected, go to "Manage" > "Contacts". Under the "Contacts" tab you can selectively choose the contacts you wish to transfer.
Click "Export" and choose a format (.xml, .vcf, .csv) to download Android contacts to PC.

Connect your iPhone to PC using a lightning cable. Again, click "Manage" > "Contacts".
From there, click "Import" and select the contact files you just transferred from android to your PC, then click "Open" to successfully transfer your contacts to iPhone.
With this method, the application links phone with computer via USB and lightning cable, and you can transfer files even there is no WiFi.
Transfer Contacts from PC to iPhone
You might have already backed up the contacts to your PC before and want to import those to new iPhone. In this way, you just need to use iCloud to transfer.
iCloud is a cloud service that helps you wirelessly back up all files and acquire these files on your Apple devices with the same account. And if you turn on Wi-Fi, selected data will be uploaded to iCloud automatically. Follow the instruction below, you can transfer contacts from PC to iPhone.
On the computer, browse iCloud.com and sign in the same account of your new iPhone.
Open "Contacts" and click setting button on the lower left corner.
Choose "Import vCard" and pick out contacts you need.

On your phone, open "Settings" and tap on "iCloud".
Turn on "Contacts" under the "iCloud" and choose "Merge" to get the contacts.
In this way, you can acquire contacts you need from computer, but before transferring, you need to make sure that your contacts backup is in ".vcf" format.
Conlusion
Using iCloud and iTunes could be helpful to transfer contacts to iPhone, while ApowerManager could solve problems much better. This application is compatible with iOS and Android. You do not need to worry about network condition. By simply connecting your devices to PC through a cable, you can transfer your contacts easily.