Top 3 Solutions to Screen Mirroring for Huawei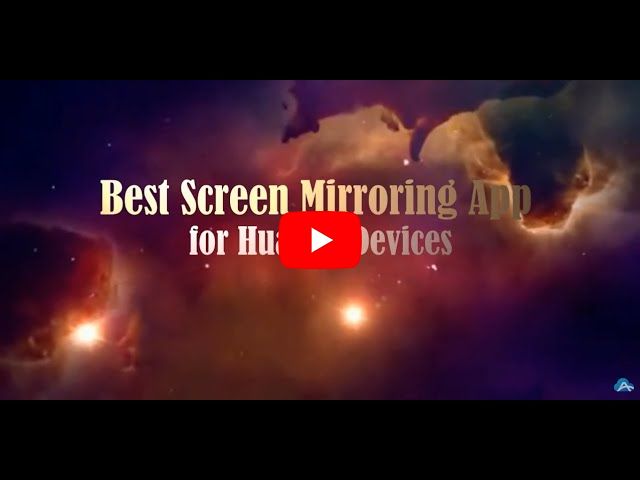 ApowerMirror – Popular Screen Mirroring App for Huawei
ApowerMirror is a mature application that enables Android and iOS users to mirror their screens to their Windows PC and Mac. It supports different types of devices including the most popular ones from Samsung, Huawei, LG, and HTC. With this tool, you can stream music, videos, pictures, games, and applications stored on your phone. Not only can its screen mirror Huawei phones to computers, but it can also mirror Android phone to PC. Furthermore, enabling the control mode from PC, you can manage your device using your mouse and keyboard. In addition, there are capturing buttons on the side menu that can take screenshots, record screen activities, and highlight or draw symbols and figures. Here's the guide on how to use this screen mirroring app for Huawei.
Download and open ApowerMirror on your computer.
Install and launch the app on your Android device.
Ensure that your phone and computer are connected to the same WiFi network to build a successful connection.

Simply open the app on your mobile and afterwards press the M blue button located at the bottom of your Android screen. When your computer is detected, tap on it to establish connection.

When a box pops up on your phone, click "Start Now" to begin screen mirroring Huawei on your computer. You will see that your Huawei screen is being casted to your PC in the real time.
Disable the connection on your Android by clicking the yellow icon beside your computer's name.
LetsView – Free Screen Mirroring App for Android
Another way to accomplish screen mirroring is through the free screen mirroring app which is LetsView. Not only it helps you to connect your phone to PC, but also allows you to control PC from Android phone. It allows you to project movies, videos, pictures, and gameplay on your smartphones. Hence, you can share your favorite films with your colleagues or make a tutorial. To screen mirror Huawei with this, read the process below.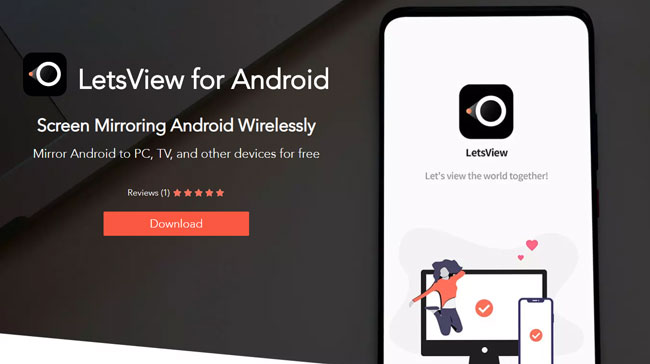 To begin, download LetsView on your PC and phone.
Connect your Huawei phone to the same WiFi.

Open the app on your phone and select the name of your computer on the list.

Then your Huawei screen will be displayed on the computer. You can enjoy the big screen now!
HiSuite – Screen Mirroring for Huawei
If you think the above two applications are not yet enough, you can try HiSuite. It is a phone manager designed specifically for phones manufactured by Huawei. This tool is essentially designed for managing and organizing files on mobile devices including transferring files. Moreover, it has other useful features and you can turn it into a Huawei screen mirroring app. In order to use this program to cast your device to PC, check out the instruction here.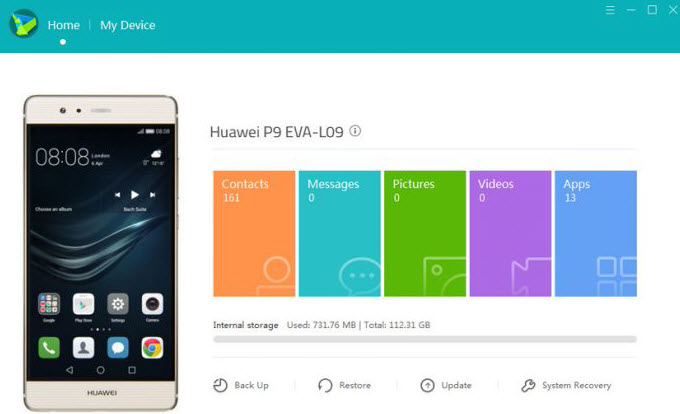 Download and install HiSuite on your computer.
Once installed, launch the program and enable the USB debugging mode on your Android.

Get your USB cable and plug in one end to your computer and the other to your Huawei.
Upon establishing the connection with your device, you will see your mirrored screen on the left side of the application.
Conclusion
These three applications mentioned above provide you various ways for understanding how to screen mirror Huawei to different sources. To conclude, casting your devices should not be tiresome and tedious. If you only choose the right tool for screen mirroring Huawei, you don't have to waste your time and effort. For instance, ApowerMirror offers a simple and straightforward way to project Android devices on Mac and Windows PC.