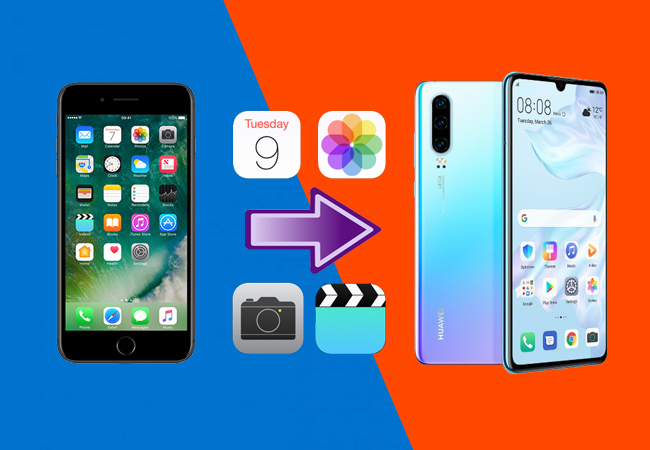 More and more users prefer the handsets developed by Huawei. The latest Huawei release, the Huawei P30, is set to compete with the high-end handsets of 2019. Equipped with an extremely fast chipset, the Huawei P30 has an incredible camera offering a wide range of capabilities. Taking note of all of this, you surely have an urge to switch to this new device. One concern, however, is that if you are an owner of iPhone making a switch to an Android device, it might take a little effort to transfer all your valuable data. A third-party cross-platform app can certainly assist you with this task. In this article, we have discussed two of the best tools you can use to transfer data from iPhone to Huawei P30.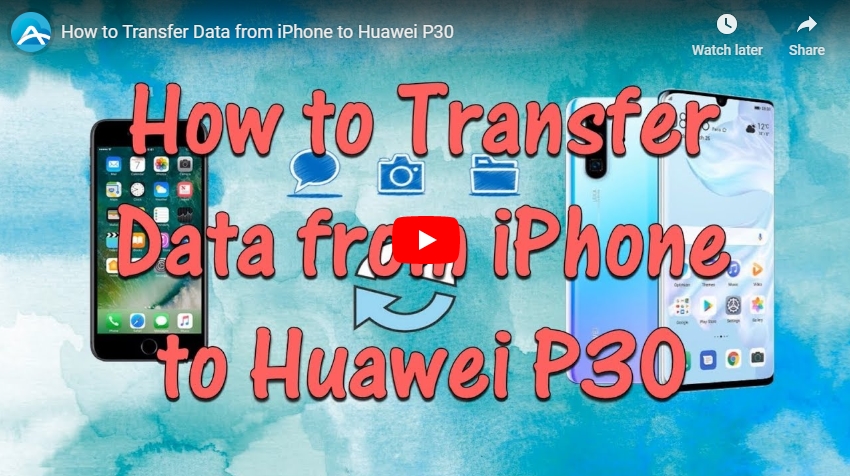 Quick Ways to Transfer Data from iPhone to Huawei P30
AirMore
If you are looking for a fast and safe way to transfer files from your iPhone to a Huawei 30, consider doing so using the free app named AirMore. This a mobile application that offers solutions for those who want to switch to a new device and transfer data between two devices. Your files, such as music, videos, photos, and documents are arranged in organized folders. This means that you can easily sort out files and free up some phone space. In addition to freeing up space, this program comes with free cloud storage whereby users are able to save, upload and download files. On top of that, the uploaded files are accessible from other devices provided that your devices use the same logins. Proceed to the steps below to learn how to transfer data from iPhone to Huawei P30 using AirMore.
Install the AirMore app from the App Store on your iPhone. You can also get its Android version from the Google Play Store. Be sure to connect the two devices under the same network.
Once the installation is done, launch the program on both devices and look for the "More" tab.
From this interface, tap the "Phone Transfer" icon to allow the tool to search for devices.

On the detection tab on your iPhone, tap the name of your Huawei P30 then hit "Accept".

Once connected, you can now transfer your files from your iPhone to your Huawei P30. Simply choose the file type then put a check mark on the item you need. After that, press the "Send" button at the bottom of the interface.
Note: In case you need to transfer files from iPhone to Huawei P30 in large quantities, you may require fast and reliable internet connection to instantly move data.
ApowerManager
As we know, due to Apple's limitations, you can't easily sync iPhone contacts to an Android device. But with ApowerManager it is now possible. It allows you to access and transfer not only media content but also contacts, messages, and notes. You can also manage your files using its import, export and delete functions. Additionally, you can use this app to completely backup your valuable data and it even lets you take a preview of the backup files before restoring them. Another feature of this app is that it allows you to connect and display your mobile device to a PC through the help of it. Here's a simple guide to help you move data from iPhone to Huawei P30.
Download ApowerManager on your computer and install it afterwards.
Install its mobile version from the Google Play Store and the App Store. Alternatively, you can connect your phone to PC, and the latest version of the phone manager app will be installed on your phone automatically.
To connect your iPhone to a PC, you can use a lightning cable or WiFi. Go to the "Manage" tab once your phone is connected. From the left panel, select what type of data you want to transfer and click the "Export" button at the top to save them to your computer.

Once this is done, connect your Huawei P30 to your PC and from the main interface, click the button at the lower left corner to switch the device from iPhone to Huawei P30.

Return to the "Manage" tab and enter the media where you have exported files. Then, click on "Import" and locate the exported files from your computer. Once you have successfully transferred the file, you can now access it on your Huawei P30.
Conclusion
There are many available file transfer tools you might have come across online. However, very few support transferring between iPhone and Android device, since these are a completely different operating system. If you are still wondering which one is the best method, allow us to recommend both. AirMore is great if you only want to transfer media files. However, if you still need your contacts and text messages then go with ApowerManager.