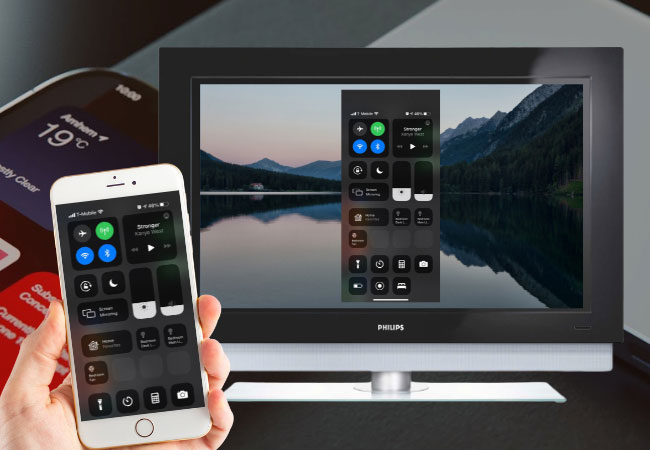 Five Ways to Mirror iPhone to Philips Smart TV
Third-party app- ApowerMirror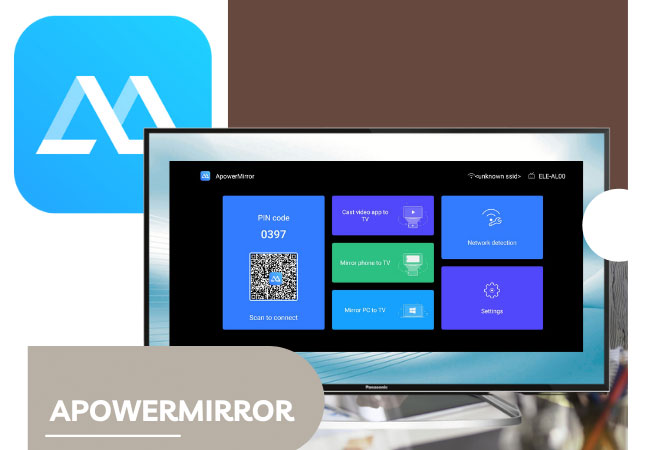 You can try mirror iPhone to TV using a third-party program to connect your computer to TV. Although via HDMI is also easy. But this tool is not your ordinary mirroring app, ApowerMirror is renown to be one of the best app to mirror your iPhone to Philips TV. You can follow the instructions below to do see.
First, download and install the app on your iPhone and PC. Then launch the app on both.
Second, connect both devices under the same Wi-fi network. Now connect your PC to your TV using an HDMI cable and set the TV source into "HDMI" mode.

Third, connect your phone to your PC by clicking the "M" button then select "Phone screen mirroring".

Finally, go to your control panel and click "screen mirroring" and tap the name of your PC. Since the PC is connected to your TV, it will automatically mirror your iPhone.
LetsView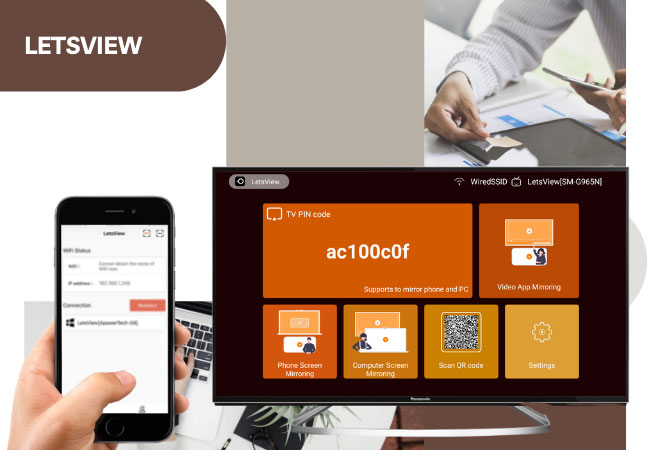 Another independent app similar to ApowerMirror is LetsView. This tool has certain similarities with ApowerMirror. It is also a mirroring app that contains screen recording function, screen capture, and annotation feature without spending a penny. Yes, you read it right. The tool is free. All those features offered by the tool is incredibly free. You do not need to register to be able to use it. This tool is available on iPhone and Android devices, so its easier for you to mirror iPhone to Philips TV. To do so, here is a guide to follow.
Download and install the app on your phone and PC. PC is needed to be the bridge between your phone and TV.
Connect your PC and iPhone to the same wireless network to make the tool work.
Launch the app on your phone and tap the name your PC to begin mirroring.

Now get an HDMI cable and connect it on your TV and PC. On your TV change the source into "HDMI". Your phone will then be displayed on your TV.
AirServer – Professional Way to Mirror iPhone to Philips Smart TV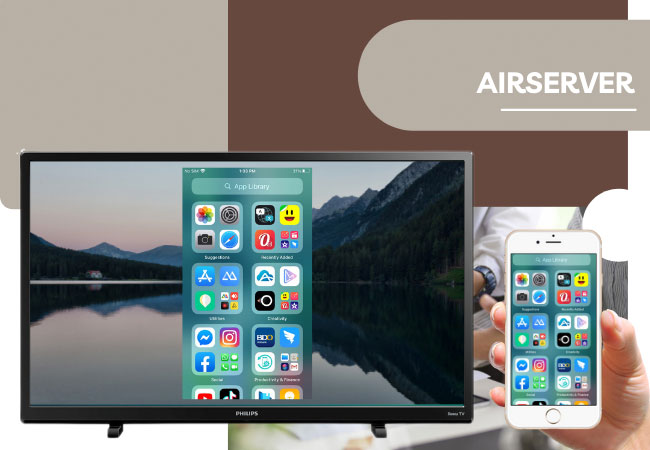 The third way to send your iOS screen to your TV is through AirServer. The developers introduced an exclusive version for Philips TV as they optimized the applications to adapt the display to the mentioned device. This is one of the most popular screen mirroring applications that enables users to stream mobile content on another server. It also offers support on renowned apps like YouTube, Spotify, and Apple Music without any threat of losing internet connection, as it creates a network for guests. Moreover, the app doesn't require any personal information on your end before connecting your device to your TV. However, AirServer is not free so you are going to purchase it for $49.99. Follow the guide below to mirror iPhone to Philips Smart TV via AirServer.
Download and install AirServer on your iPhone and TV.
On your phone, access Control Center and hit the AirPlay icon to view the available devices on your network.

After that, tap on your TV and this will start streaming your device. In this way, you can mirror your device to Philips TV.
TV Assist – Free and Easy Method to Mirror iPhone to Philips Smart TV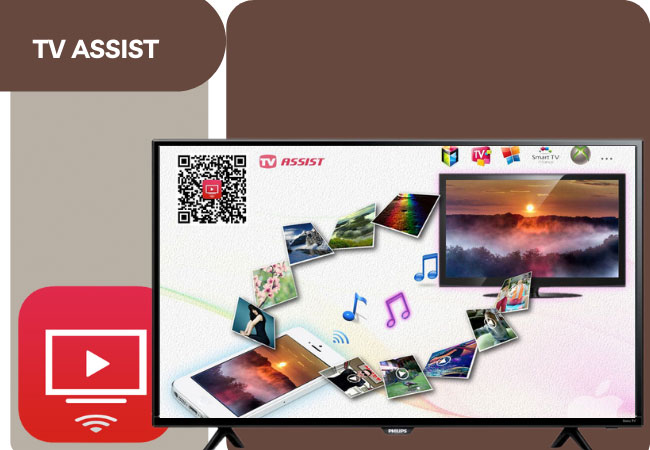 Another way to cast iPhone to TV is by utilizing TV Assist. This is a free application from the App Store, which can be installed on devices running iOS 8.0 or later. It works over Wi-Fi and you have to make sure that your devices are connected to the same network before screen casting. With this, you can stream pictures, videos, and audios stored on your iPhone to various televisions including LG, Sony, Panasonic, and of course Philips. It enables you to cast media files on social media accounts like Facebook or Instagram and community sharing sites such as YouTube and Vimeo. The app also detects and plays videos or music on web pages. Furthermore, there is a recorder that allows you to capture and play voice narration from your TV. One disadvantage of using this is it can't play videos on other applications and does not support all kinds of files. Regardless of this, here's how to mirror iPhone to Philips Smart TV.
To start, download and install TV Assist on your iPhone and launch it once done.
Next, connect your device to your TV.
At this point, open the mobile app and choose what media file you want to cast to TV. If you select videos, tap "Play Videos".
Finally, click the file of your choice and enjoy watching it with your friends or family members.
iMediaShare: Must-have App to Mirror iPhone to Philips Smart TV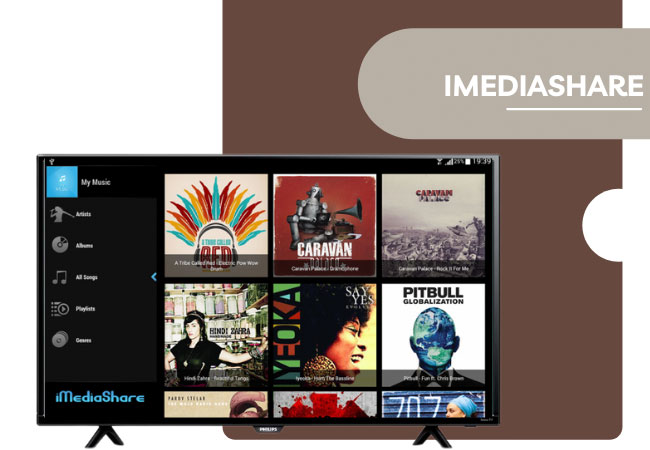 The last application that you can rely on to stream iOS devices to TV is iMediaShare. Like TV Assist, it's a free application that is available for iOS devices running iOS 8.0 version or up. iMediaShare supports the streaming of videos, photos, and music coming from your phone. The good feature of this app is its ability to automatically discover devices that you can readily connect to. Moreover, it can serve as a remote control as it has buttons for changing the volumes, playbacks as well as for switching videos. Thus, you won't need to reach for your TV's remote control to change the settings of your media files. Check out how screen mirroring iPhone to Philips TV works.
Begin by downloading and installing the iMediaShare app on your iPhone.
Connect your devices in the same Wi-Fi connection and open the app on your phone.

From the app, select the file that you want to stream and tap your TV's name under "Choose a Screen" option.
Conclusion
Judging the best among these apps is on you. It is better to try them all so you can decide considering your standards and expectations. If you find this helpful or you have suggestions, please do not forget to leave a message below.