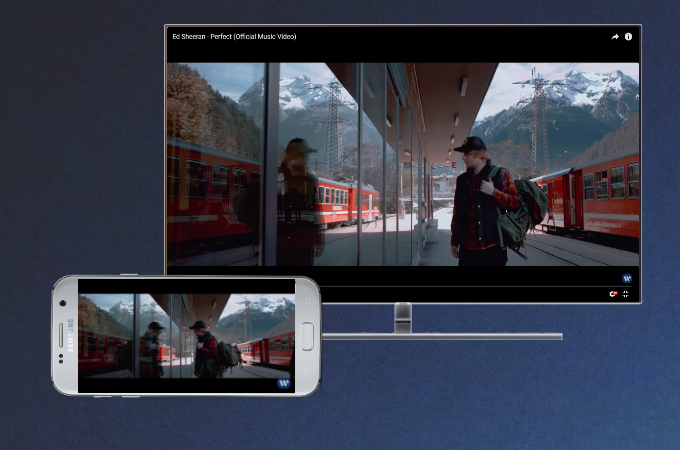 Oftentimes, we prefer to save videos on smartphones so that we can play them wherever we are. However, there might be times when we wish to watch the shows with our friends, colleagues, or family members. So, we look for a way to cast our devices to the television for a much better view on a bigger screen. Samsung has been one of the leading providers of televisions across the globe because of its superb display quality. So, if you own any unit and you want to screen mirror Android to Samsung TV, choose from the methods below.
Ways to mirror Android to Samsung TV
ApowerMirror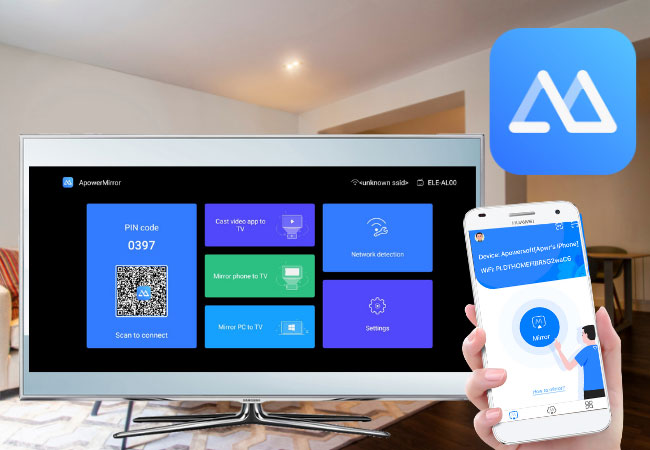 In case you only have a computer that you can use as your receiving device, you may use ApowerMirror to display your screen. This is a professional screen mirroring application that streams Android devices, as well as iPhone, to Windows and Mac. It allows connecting a phone wirelessly and using cables. With this, users can also control their phone with the mouse and keyboard. This makes it easier to send messages and compose long notes to be saved on your smartphone. Furthermore, it has other screen capturing capabilities that can take screenshots and record screen activities.
Download and install the app on your phone and PC. Get an HDMI cable and connect your your TV and PC. Change the source of your TV to "HDMI".
Now Connect your phone to your TV by launching the app.
(Please make sure that they are connected under the same Wi-Fi network for it to work)
On your phone, wait until the name of your PC appears.
Once seen on the main interface, tap the name of your PC and the mirroring will begin.
Since the PC is reflected on TV ahead of time, the reflection of your phone is also transmitted.
LetsView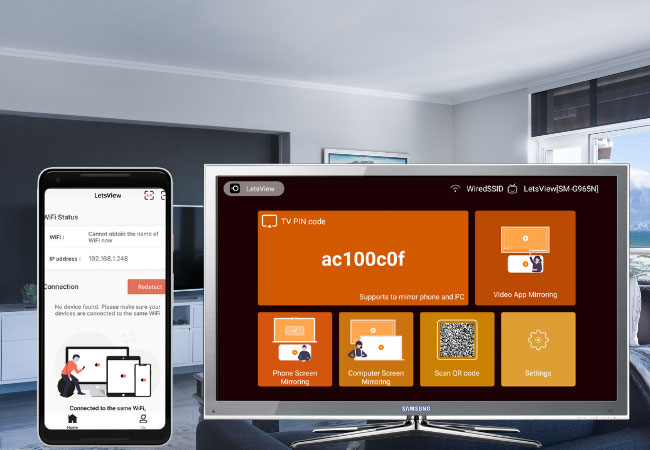 Want a free one? Try using LetsView. It has significant similarity with the Apowermirror when it comes to features and protocol. They offer the same functions but with LetsView it is for free. No sigh ups needed and no limitations in usage. You can use all features without restrictions.Likewise this works with all devices platforms.Meanwhile, to mirror Android to PC.
Get the app on your phone and your PC.
Connect your TV to your PC by sung an HDMI cable.
Now that your PC is connected on your TV, its now time to connect your phone to your PC.
Launch the app on your PC and phone. On your phone, tap the name of your PC and the mirroring will begin.
Screen Mirroring or Smart View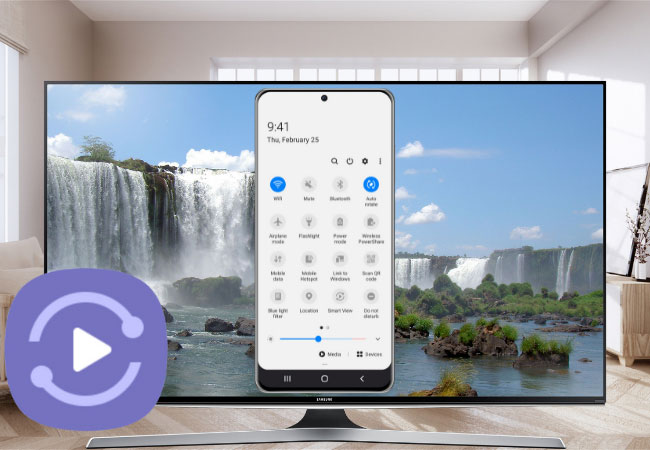 Screen Mirroring or Smart View is a default feature of most mobile devices developed by Samsung. It is capable of casting your screen to your TV and sending your mobile content. This supports streaming of videos, both saved on your phone and on the internet, viewing pictures, and listening to music. Furthermore, it allows you to play PUBG games and other games installed on your Android. The first Samsung TV that accommodates this screen mirroring feature was the F Range released in 2013. So, if you have an older unit, you can still connect your Android by referring to the other apps listed below. In the meantime, here are the steps to mirror Android to Samsung TV.
First, make sure that both devices are connected to the same Wi-Fi network.
Next, setup your TV before you cast your phone. To do this, choose "Menu" on your TV remote and navigate to "Network". Click on "Select" and scroll down until you find "Screen Mirroring". Hit the "Select" button again to enable the function.
After configuring your television, scroll down on your mobile phone to view your notification menu.
From here, tap on "Screen Mirroring" or "Smart View" to start scanning for devices that can serve as your receiver. Once your TV appears from the list, click on it.
Upon establishing a connection, you will now be able to display your mobile screen on TV.
Miracast Screen Sharing App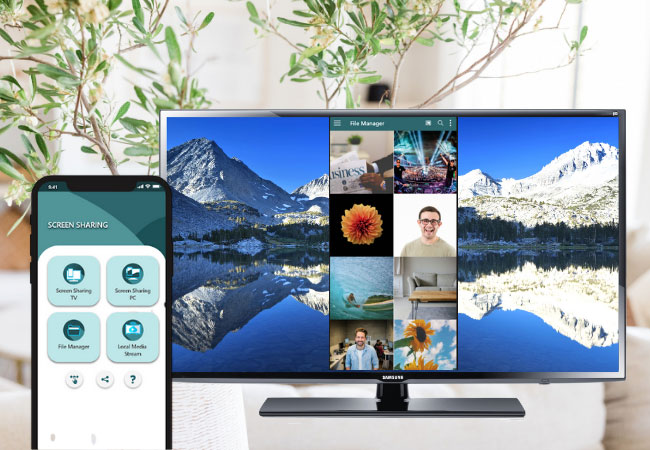 Another wireless way to share your Android screen to TV is through the Miracast Screen Sharing App. This application works like the previous one and provides an easy alternative to launch your smartphone on a wider screen. At the moment, the app is available on devices running Android 4.0.3 and later. Miracast can be downloaded on various mobile devices like Samsung, LG, Xiaomi, HTC, and Vivo. Check out the guide on how to mirror Android to Samsung TV.
Visit the Google Play Store on your mobile phone and search for Miracast. Install the app and connect your devices to the same network.
On your TV, enable Miracast display from your settings.
Open the Miracast Screen Sharing App and tap on "Screen Mirroring". Select your TV from the list of detected devices to connect.
Mirror via HDMI cable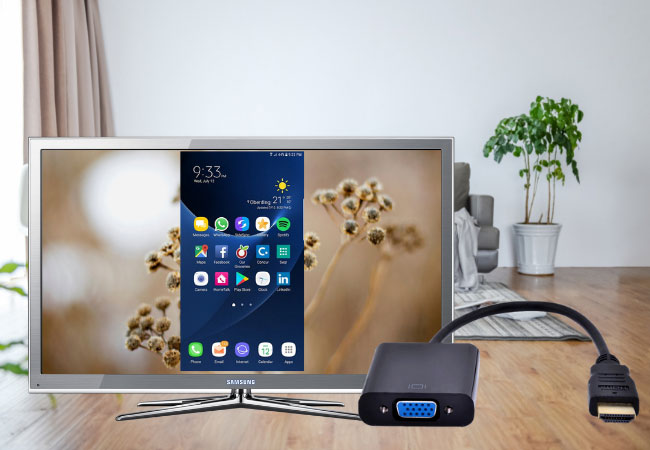 If you don't want to wirelessly cast your phone, then you can use an HDMI cable. This has been used as the typical method to connect two devices before streaming apps were developed. As such, it gives a reliable and stable connection. Just be careful not to disconnect the wires. Anyways, read the instructions to cast Android screen to Samsung TV.
To begin, connect your device to the HDMI cable using an OTG USB adaptor.
After connecting one end, locate the HDMI port on your TV and plug the cable.
Lastly, open your television and choose the channel where your HDMI is plugged into.