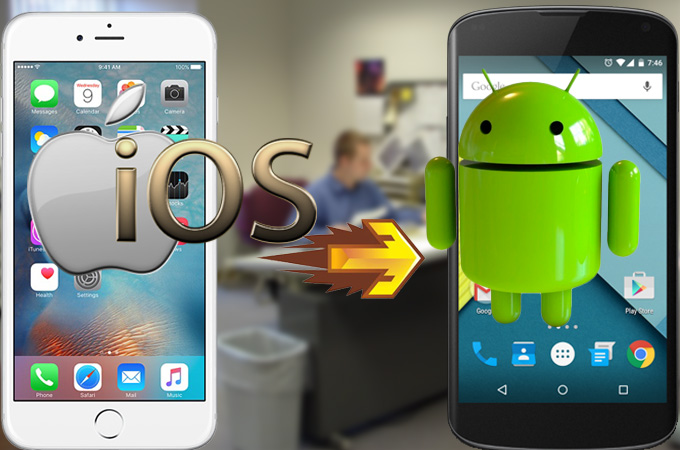 Though iOS defeats Android in many aspects, it's true that iOS has many limitation which brings much inconvenience to users. So, you may want to switch from iPhone or iPad to user-friendly Android devices. However, iOS and Android are two completely different systems. Transferring data between them is not easy. Luckily, here are super tools you can utilize to solve this problem.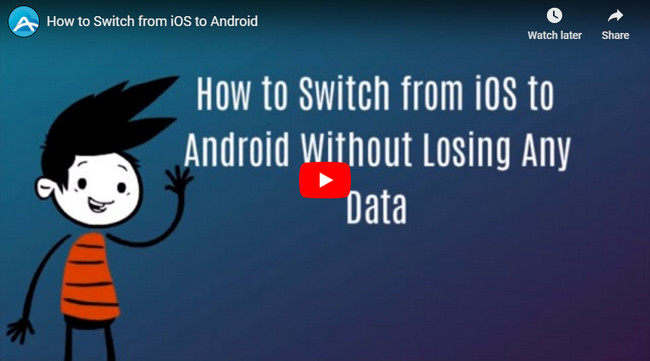 Two Ways to Switch from iOS to Android
ApowerManager – Manage Mobile Data Comprehensively
As we all know, Android is a very open system. If you want to access all its data, you just need to connect your Android device to PC with USB cable and then manage all your data from File Explore. However, this method doesn't work on iOS device for Apple's limitation. Although you're allowed to manage part of your iPhone or iPad data by making use of iTunes, this tool is not easy for many iOS users. In this case, you may turn to a third-party tool which can read all your iOS data and manage them with ease.
Download it on your Windows PC by clicking this button here.
Connect iPhone or iPad to PC with attached USB cable. Tap "Trust" when iOS screen pops up a window. Within seconds, your iOS device will be connected to PC successfully and its major information will show up on the phone manager interface.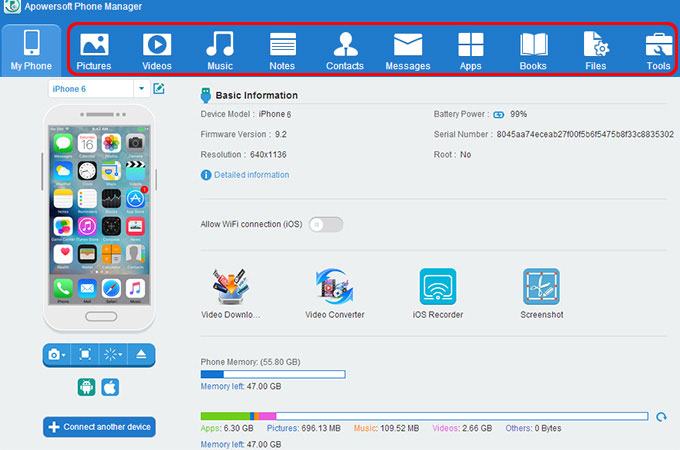 Note:
Please make sure you've installed iTunes on your computer.
Now, you can manage all your iOS data from PC. In order to migrate iPhone to Android, you have to firstly transfer all iPhone data to PC.
Photos
This tool can get all your iPhone photos, no matter what they are in Camera Roll, My Photo Stream or other photo folders.
Click "Pictures" icon on the top.
Tick "Select All" or "Name" to select all photos on your iPhone.
Click "Export" to transfer them to your computer.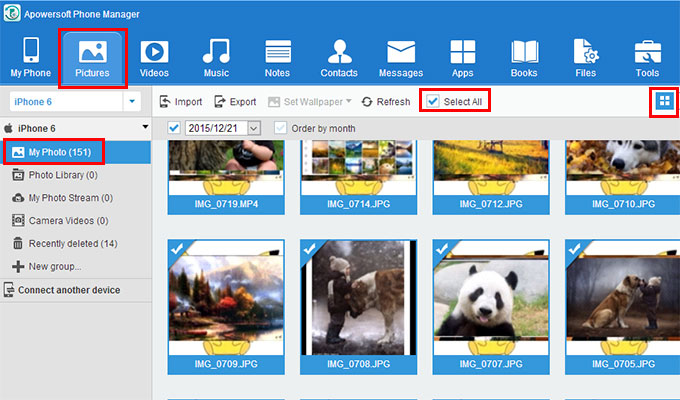 Videos
There may be many camera videos, TV shows and movies saved on your iPhone. They all can be copied to PC by using this phone manager.
Click "Videos" icon on the top.
You'll see some labels at the left pane, such as Movies, TV Shows and so on. Check each label respectively and export all videos included to PC.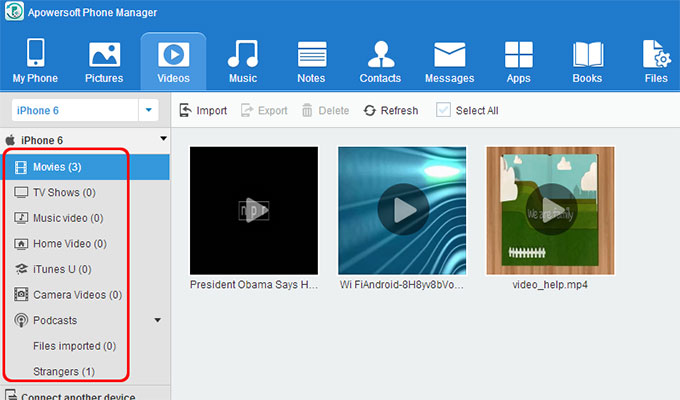 Music
Nearly all users enjoy listening to music using their iPhone. So, you could have downloaded and saved a number of songs on your mobile. Instead of syncing them to iTunes, phone manager can help you to transfer iPhone music to PC directly.
Click "Music" icon on the interface.
Select all songs by ticking "Name". You can also copy iPhone ringtones to PC.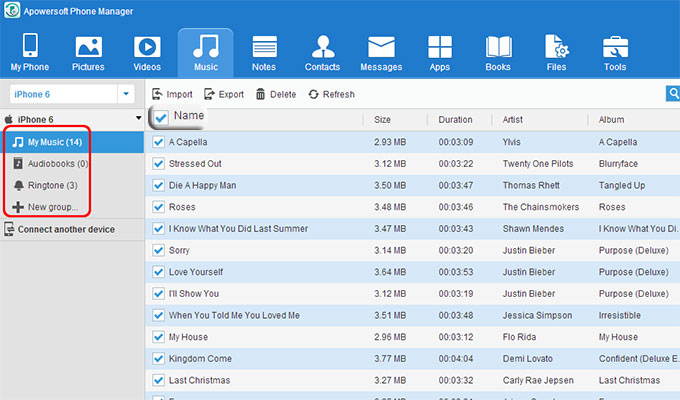 Apps
There's no doubt that you've installed all kinds of apps on iPhone, such as Facebook, Twitter, OneDrive, Word, Excel, games and so on. However, owing to the format of iPhone apps is ipa which is different from that of Android, so they cannot be used on Android. Nevertheless, you are allowed to download these apps of APK version on Android devices.
Other Data
With this amazing tool, you can also back up all your contacts, messages, books, documents and other files to PC effortlessly. Thus, phone manager can help you to switch from iOS to Android without losing any data. Once you've transferred all iPhone data to PC, you can connect your Android to PC and import all data from computer to Android using this phone manager.
AirMore – Manage Mobile Data from Web
This handy tool enables you to connect iPhone or Android to PC through Wi-Fi and manage much of iPhone data from web. Fabulously, if your Android device runs 5.0 or 6.0, you can also mirror Android screen to PC.
On PC browser (Chrome, Firefox, Safari, Edge or IE), go to "airmore.com" and click "Launch AirMore Web to Connect". At this moment, a clear QR code will appear on the web page.
Run AirMore on iPhone and click "Scan to connect" to scan the QR code. Please set up iPhone and PC in the same Wi-Fi network before scanning.
Once connected, you can download pictures, music, videos, documents and other files to PC.

Disconnect iPhone and connect Android to PC in the same way. Then you can upload those downloaded files to your Android device.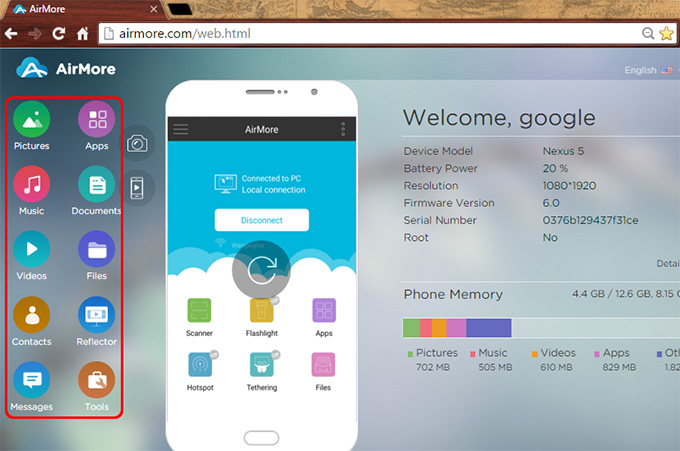 Conclusion
After reading this guide, you'll know how to switch from iOS to Android. AirMore is a free and wireless mobile management tool. But it's not able to get all iPhone data. For the sake of managing iPhone data comprehensively, you'd better turn to the professional phone manager.