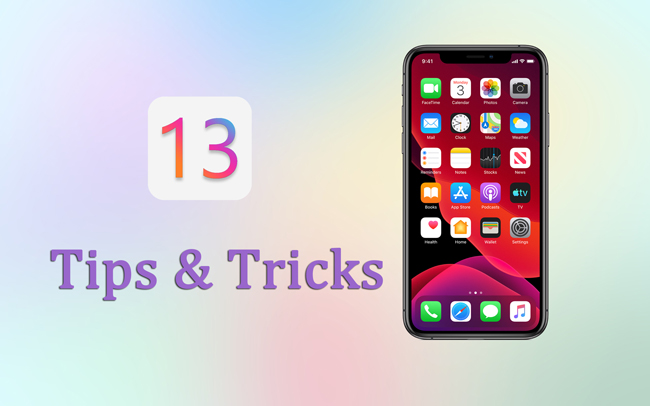 A few weeks ago, Apple Inc. officially introduced their newest version of their iOS – iOS 13. It comes with a lot of minor and major performance improvements. There are many users enjoying the update right now and there might also be some users out there that haven't seen or experienced the changes at all. Therefore, by following the article written below, you will learn the top iOS 13 tips and tricks about the so called "hidden" features of this iOS 13 that you may not know about.
Top iOS 13 Tips and Tricks You Should Know
How to Enable Dark Mode
Nowadays, lots of applications and programs offer a dark mode. To avoid putting the iOS 13 on the rear view, it comes now with this new feature that allows users to choose between the light and dark mode theme on their iDevice. To do this, go to "Settings" > "Display & Brightness", and then you can apply "Dark Mode" if you wish to.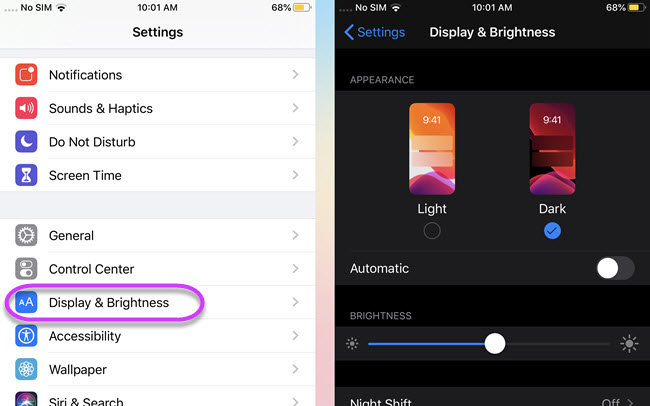 How to Adjust Volume
One of the big improvement in this update was making the volume HUD less obstructive, which has been a major complaint from most iOS users. To adjust the volume, press the volume up or down button at the left side part of your iPhone/iPad, or you can just press the volume button (any) and slide your finger to its HUD to adjust the volume. As you continue to adjust the volume, the HUD becomes thinner.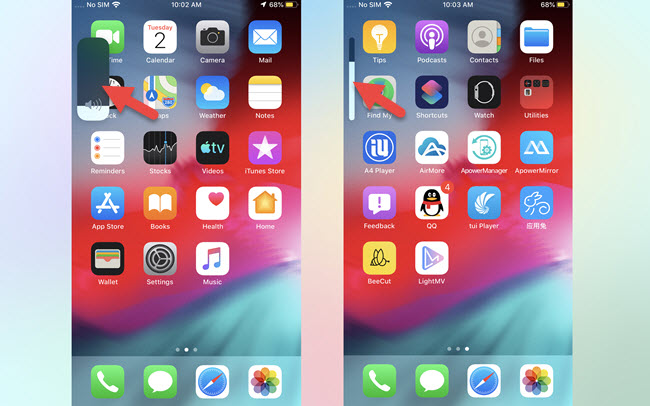 How to Delete Apps
To delete apps in iOS 13, the usual way is still possible, but a new option on how to delete an app has also been added. This is another one of iOS 13 tips and tricks for iPhone. You'll find the delete option when updating apps or viewing the installed apps on the App Store. From the update screen, you can delete unnecessary apps instead of updating them by simply dragging the app to the left and tapping the delete button.
How to Save Battery in iOS 13
iOS 13 users need to know how to economize on battery usage to make the device last longer with just a single charge. How can you do that? Users can check which applications use the most energy, causing the battery to drain by going to "Settings" > "Battery" or by going to "Settings" > "Screen Time" to see which app or notification is sucking up all of your battery's juice, and you can choose to close the app or turn off the notifications to extend the battery's life.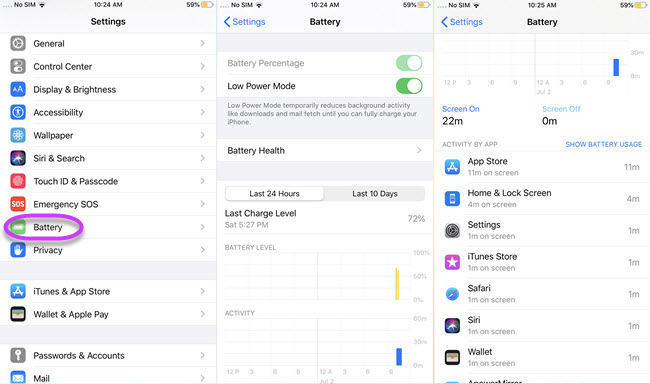 How to Edit Photos and Videos
This is one of the most useful iOS 13 tips and tricks for iPad and iPhone. iOS 13 made improvements on Photos to make it more efficient, including adding editing options for photos and videos and improving the editing interface. To edit photos, head to the "Photos" app and select the photos you want to edit, and click "Edit" on the upper right side of your screen. Then you can edit your photos based on your taste. And for video editing, go to "Photos" > "Videos" album, then select the video you wish to edit. From there, you can edit the video as you like.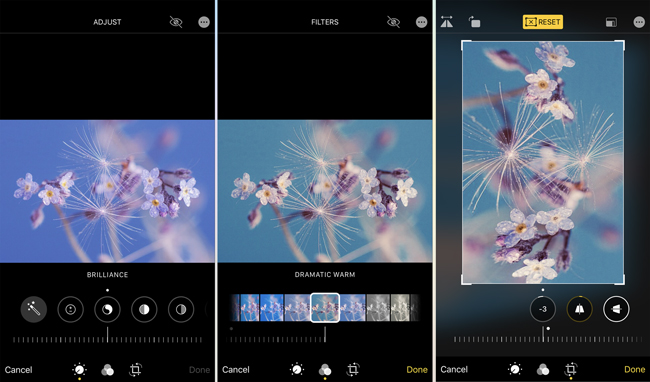 How to Customize your Animoji and Memoji
Having a conversation with someone using a messaging app is now more fun and enjoyable because you can create and customize your own Animoji and Memoji. iOS 13 allows you to do this. Just go to your "Message" app and tap the icon to create a new message. Next, tap the "Animoji" icon and choose an Animoji. Place your face inside the frame and record your desired expression. Also, to customize a Memoji, go to "Message", create a new message, and then click the "Memoji" icon. From there, you can start customizing your own desired Memoji.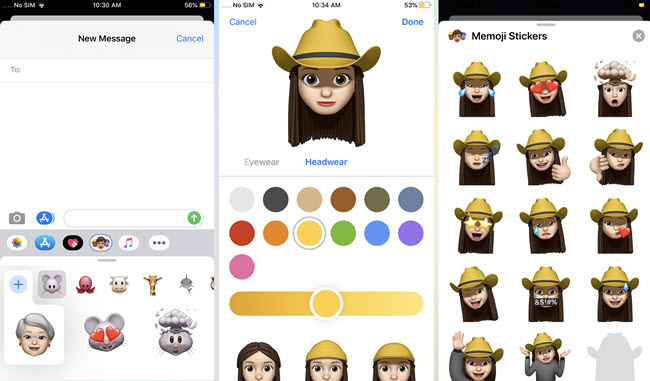 How to Add Siri Shortcuts
Using shortcuts can make a lot of things way easier. In iOS 13, users can also add Siri shortcuts for their own convenience. Simply open the Shortcuts app, and tap the "+" icon to add a Siri shortcut. From there, you can choose whether to create a personal automation or home automation shortcut.
How to do the Copy and Paste Gestures
This is another one of the great tips and tricks for iOS 13, which is helpful for most iOS users. Instead of tapping the cursor on a certain area and long pressing it for a few seconds to show the options on where you can select to copy or paste, you can now simply pinch in with your three fingers to copy the selected data and pinch out with your three fingers to paste the copied data.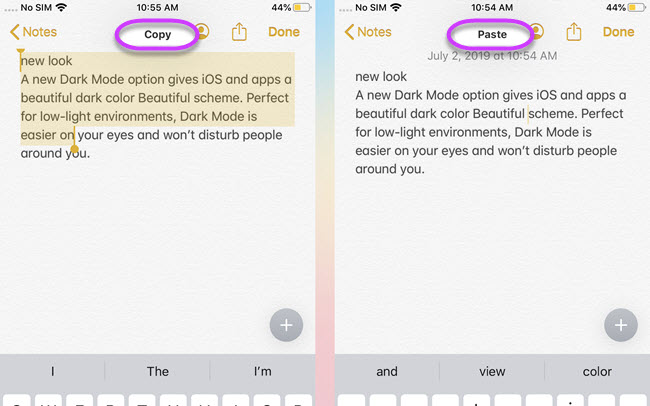 How to do Undo and Redo Gestures
If you accidentally made a mistake and wish to undo, instead of deleting it manually, you can swipe to the left using your three fingers to undo. Also, you can swipe right with three fingers to redo an action.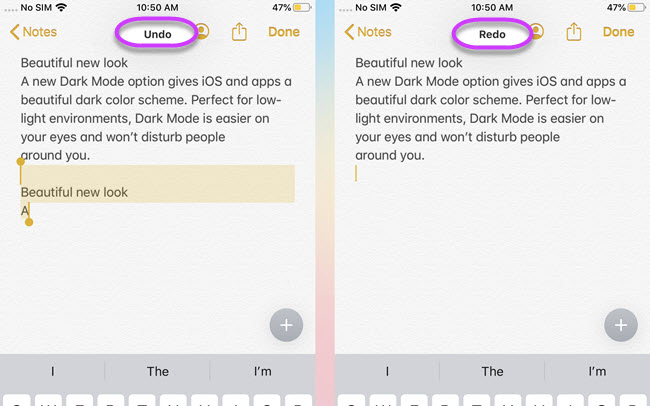 How to Silence Unknown Callers
Unknown calls are one of the most annoying things that we may encounter when using our smartphones these days. Thankfully, in iOS 13, we can now silence the unknown callers by going to "Settings" > "Phone" > then enable "Silence Unknown Callers".
Conclusion
Those are the most useful iOS 13 Tips and Tricks for iPhone and iPad that you should know. Knowing these "hidden" features will save you much time and effort. With them, you can now use your iPhone/iPad running iOS 13 more smoothly and with less of a hassle.