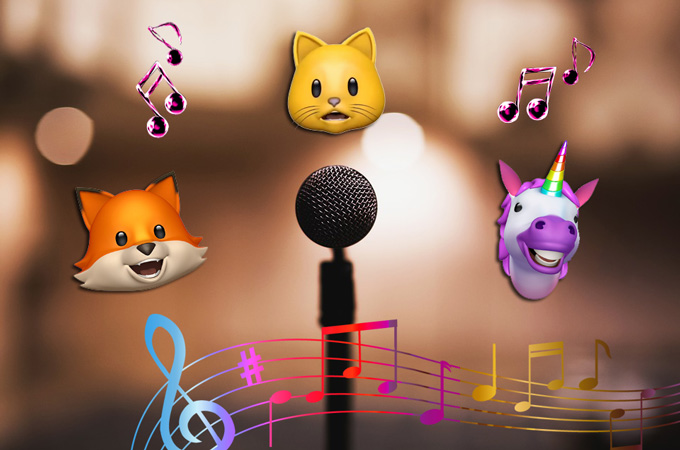 In celebration of Apple's 10th anniversary, Apple released the iPhone X which offers many features that are cool and unique to other smartphones. One feature that amazed many users is the Animoji. Animoji is an emoji but it is not the typical kind, because it is incorporated with animation, thanks to the TrueDepth camera tech which has 3D facial recognition. With this, you can do many things, and today we will show you an interesting way that is use iPhone X to make Animoji Karaoke. This is kind of similar to Dubsmash, however, instead of actual people, you can use the Animojis. To know how, scroll down for more information.
How to Make Animoji Karaoke
1. Record
To produce a fun video, you need to select a song. Note that once you open the Animoji, the music on your phone will stop. Thus, you need to open a music player on another device (phone, tablet and computer are OK). Also, make sure that you know the lyrics of the song you're going to use. After setting up everything, you can now proceed with the recording. Below are two options that can help you.
Option One:
Open iMessage app on your iPhone X and tap App Store icon and you will see an Animoji icon.

Choose a character and bring your face into the view. You will see a red record button. (Tip: Don't switch your phone to full screen mode so that you can make a cleaner version of the video.)

Play the music on the other device, hit the record button and begin lip syncing.
Option Two
You may don't want to record any noise while recording, so here we recommend another way to record Animoji karaoke video – using ApowerMirror. It is a mirroring application that cast your iOS screen and sound to the computer. There are also capturing tools that will help you to take screenshot of your device and record the performance of your screen without time constraint. Below is how to use it:
Download and run ApowerMirror on your computer.
Connect your iPhone and computer on the same WiFi network. And on your iPhone, swipe down to open Control Center, hit on "Screen Mirroring", and choose your computer with Apowersoft.

Once your iPhone is mirrored on your PC, open iMessage app and choose an Animoji. And on ApowerMirror desktop app, click on "Options" > "Capturing settings" > "Audio input"> choose "System Sound".

Click on the record button on the right side of the program. Play music on your desktop player and start lip syncing to the song.

Once done, click on the same record button to stop the recording and the video will be saved to the computer.
However, this solution has one disadvantage: you will need to edit Animoji karaoke with a professional video editing tool as the whole screen of your phone will be captured and you need to crop the video for better performance.
2. Transfer
If you record Animoji video within iMesseages, you need to move your Animoji video files to your computer before proceeding to editing.
To save the video, you need to send the video to anyone who enables iMessage function > press on it deeply > hit "Save". You can see your recorded file in "Photos" app.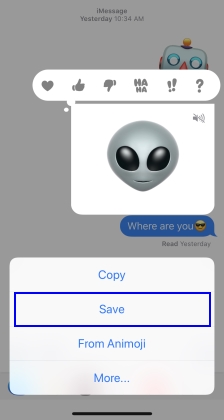 After this, you can use Apowersoft Phone Manager, a desktop mobile data management tool, to export the videos to PC.
Get the software on your computer and open it.
Connect your iPhone to PC via USB cable. And then go to "Pictures" tab.
You will see several categories, click on "Camera Videos", select the videos, and click "Export" to transfer videos.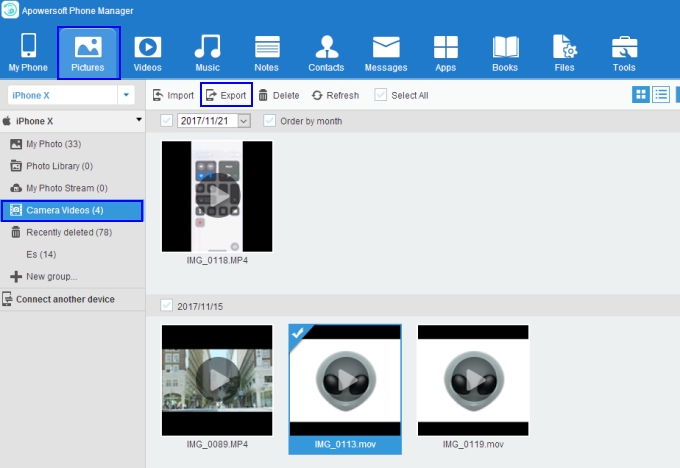 Actually, this program can also transfer photos, music, documents, and even contacts between phone and PC.
3. Edit
To create Animoji karaoke video, you may record more than one video, thus, you need to combine the videos and add some effects. Also you can insert the text to the video.
Now you can make your own Animoji video. And if you have fun while doing your own creation, share them with us on Twitter or Facebook.