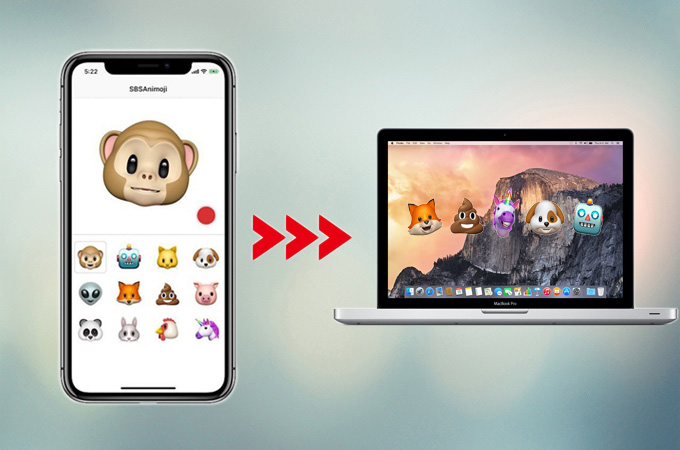 The iPhone X has just been released, and have presented a large variety of new and exciting features. One of its best features is the amazingly great and funny Animoji for iPhone X. With this function, you can create animated characters which require voice or facial expressions in the Messages app. The newly-released iPhone X is the only iPhone which can create Animojis. Besides, they can be sent to other iPhone users and they can also be saved on iPhones for future usage. In fact, many users are excited to transfer Animoji from iPhone to PC because they can make funny videos and enhance their conversations visually with them. Furthermore, they can also create Animoji Karaoke. Below is a detailed guide on how you can transfer your Animoji on PC.
Creating and Saving an Animoji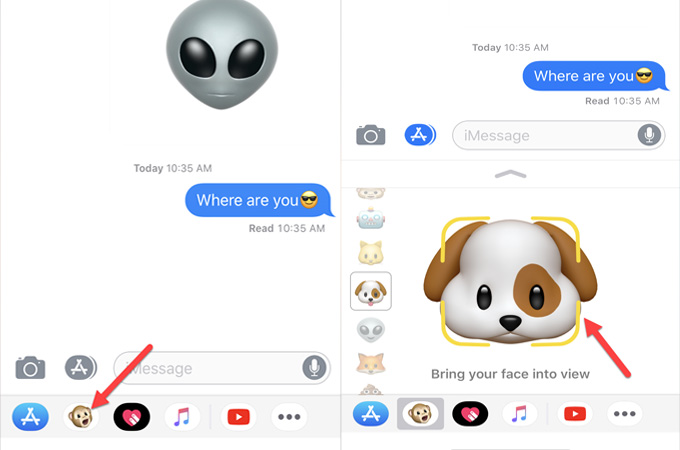 iPhone X has a TrueDepth camera which can analyze your expressions. These expressions will be mirrored to iPhone and become the basis for the expression of the different Animojis in the Messages. Here is how you can create your own Animojis.
Go to Messages and start a new conversation. You can also use the existing ones.
Tap on the A-like icon and afterwards tap on the monkey icon which represents Animoji.
Choose an Animoji which you prefer and then look straight in your iPhone X. Place your face in the frame.
Tap the red button to start your recording. Tap the button again to stop. Click on the refresh icon to preview the recording.
Save the Animoji you sent or received by pressing the Animoji for seconds. Otherwise you can also perform the saving by Swiping up and tapping on "Save." In case your phone is iPhone 6 or the earlier model, just simply tap "Save."
Move Animoji from iPhone to PC
After creating or receiving the Animoji, now you can transfer iPhone Animoji to PC.
For Windows users: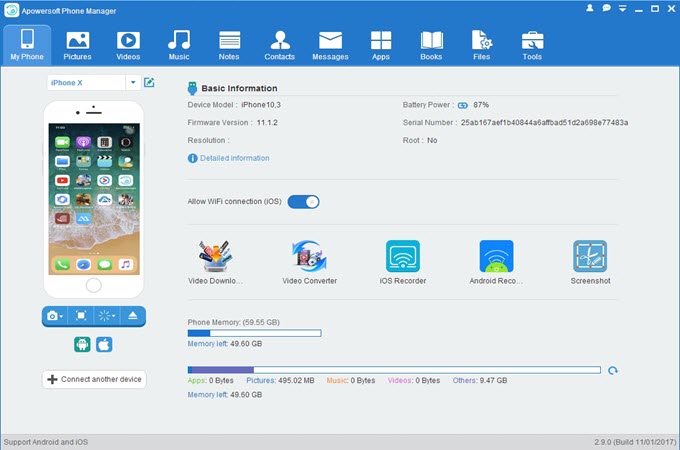 If you are a Windows user, you can simply utilize the Apowersoft Phone Manager app. This is a professional tool which can help you manage your phone's different files. You may import or export files from computer to phone or vice versa. In this case, we need to export the files.
Click the button below to download the program. Launch the Apowersoft Phone Manager on your PC and then connect the iPhone via USB cable.
Go to "Videos" and then check the Animoji clips that you saved.
Click on the "export" button to save the files on your computer.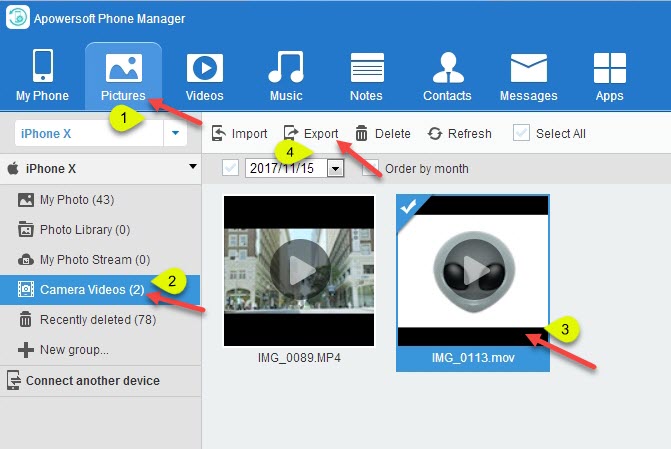 Aside from importing and exporting videos, photos and music, you can also manage your contacts and messages via this great tool. Moreover, you can delete and back up files if you want to, based on your need.
For Mac users: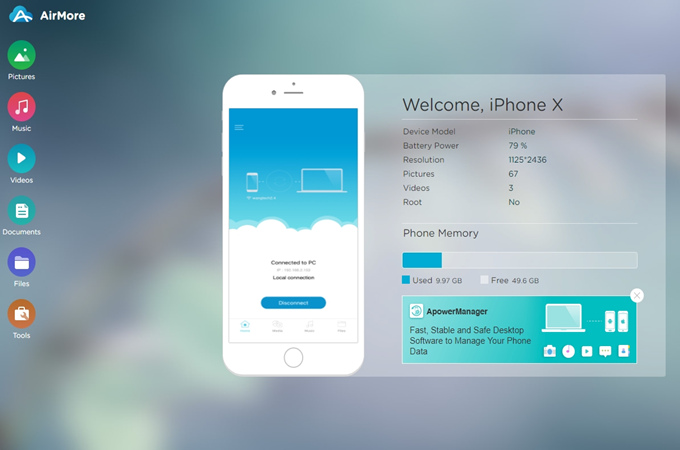 For Mac users, you can utilize AirMore as an important tool to export Animoji clip from iPhone to PC. This is an online-based application which can help you manage your phone's file with the use of WiFi connection. It works with a QR code or Radar. You just need to make sure that both your phone and computer are connected on the same WiFi network. Here are the steps of connection.
Visit the AirMore's homepage and then click on "Launch AirMore Web to Connect" on the lower part of the page.
Tap the "Scan to connect" button on your phone. Aim the QR code shown on AirMore web into the scanning box.
After connection, go to "Videos" then check the files you want to get and simply click on "export" afterwards. The files will then be downloaded onto your Mac PC.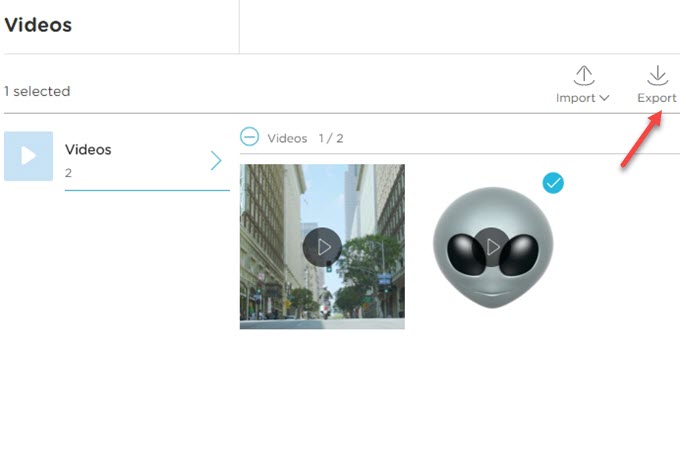 Tip: After you have used the tools described above to move Animoji video from iPhone to PC, you can also make use of ApowerEdit in case you want to edit the Animoji clip. ApowerEdit is a professional editing tool which lets you create and edit videos. You can add effects and overlays on your Animoji clips with it. In addition, you can also compile all your clips and save them as video file.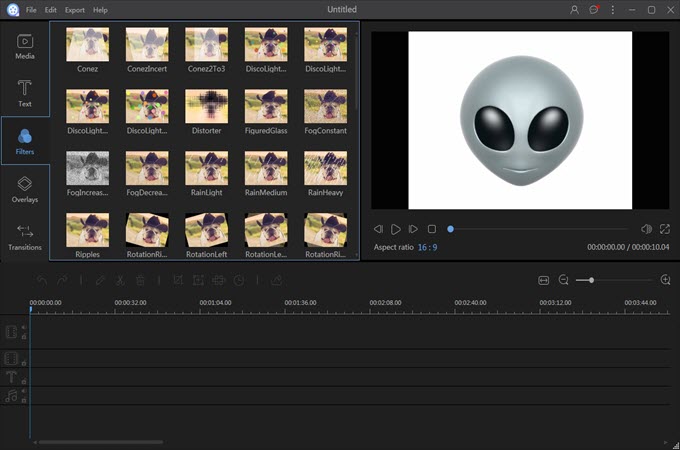 Here is a download button.
Conclusion:
This is the complete guide that you can refer to in case you wish to transfer Animoji from your iPhone to computer. All of the tools recommended to you are proven to be effective and easy to be utilized and it is just up to you to see which is the most suitable to fulfill you Animoji needs.