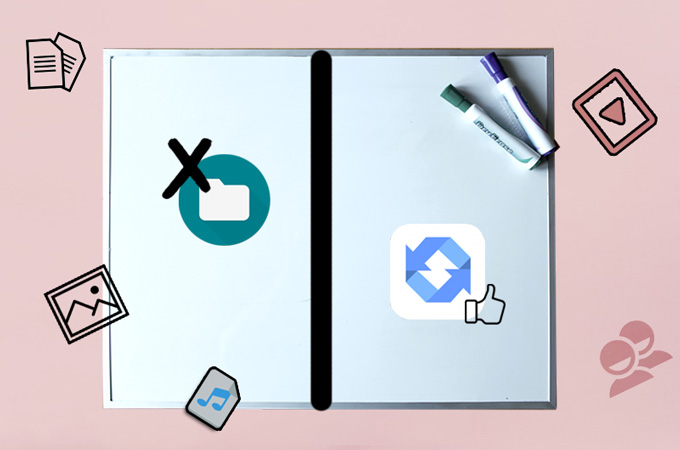 Recently, Google secretly released a beta application called Files Go, which many users are wondering what this kind of app is about. Basically, Files Go is an application that allows Android users to import and export data from other devices. This can be seen as a great improvement to the Android OS, as until now, there is still no local application that focuses on this operation except for the Google Drive that synchronizes files over the internet. In this article, let's take a look at how this works and search for the best Google Files Go alternative.
What is Google Files Go
As it has been mentioned above, Files Go is a sharing app designed to transfer files between Android smartphones. So far, Google aims to increase the efficiency of Android in terms of freeing up space, sharing files, and keeping track of unused apps. To keep these goals, the developers made it a lightweight app taking only less than 6 MB on your device. The app utilizes Bluetooth, therefore you can move files even without a network. There are some handy functions that come along with this which we can't find on other apps like Files Go. The first one is that it can detect the duplicate files, while the second function is that it separate large files from others, so when you experience that your mobile storage is running out, you can check these files and free up some space.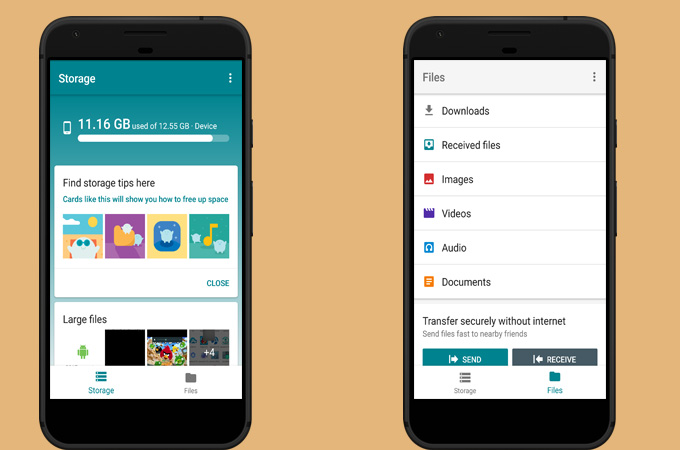 If you own any Android device with OS version 5.0 or higher, you can already try the app now. Since it's still the beta version, the app is not stable and you may experience some bugs at certain points.
Though this offers some amazing functions, it still has a lot of parts that need improvement, for example it can offer more solutions to transfer files and some functions could be combined together which can be more convenient.
App Similar to Files Go – ApowerTrans
ApowerTrans is a free application that is able to send files among multiple devices. It supports a wide range of smartphones like Samsung, HTC, Huawei, and Motorola. Actually, you can also use it to share files with an iOS device like iPhone and iPad. With this great tool, you can transfer pictures, videos, music, contacts, and other documents from different sources. Furthermore, it allows you to manage your media files wisely. You can play a video and preview the images before you send them to other people. Also you can remove unnecessary files on your smartphones to save some space.
What makes ApowerTrans a very recommendable alternative to Files Go is its multiple connecting choices, ease of use, and clear interface.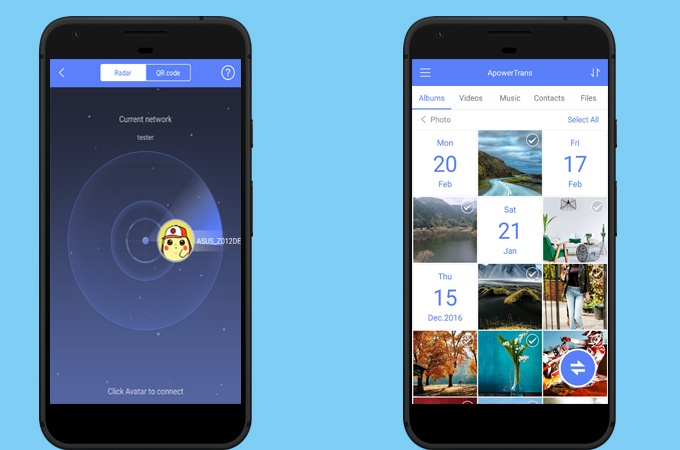 Connection Methods
As many people regard Bluetooth transfer as an old fashioned and slow way for data transfer, ApowerTrans offers 3 quick solutions for users: Radar, QR code, and Transmission without network. The first two options require the devices to be connected under the same established network, thus, with the help of internet connection, the transfer speed will be improved. Considering users may encounter the situation that no network is available, the last method relies on hotspot to help people send files.
Easy Operation
There are separate tabs which you can access quickly, including the option to choose files while previewing them and sending them immediately. It enables you to select files and then connect to transfer as well as choosing files to send after connection. What's more, you can select one piece of data, multiple files or all the data to moving to other devices with a few taps. Here we take Radar method as an example to show how easy this Google Files Go alternative works.
Make sure your devices are under the same established WiFi connection and then hit the transfer icon at the bottom right.
When you see the name of the other device, tap its avatar to establish the connection.
Go to a certain tab and select files. Hit "Send" to transfer.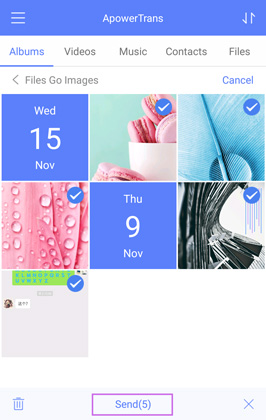 Clean Interface
This app has clear instructions for new users and it separates data into different tabs. Moreover, unlike other similar apps to Files Go, this app doesn't have any ads or plug-ins.
Comparison
| | Files Go | ApowerTrans |
| --- | --- | --- |
| Manage files stored on Android device | | |
| Transfer files without internet connection | | |
| Copy files from Android to iOS and vice-versa | | |
| Move videos, music, pictures, and documents | | |
| Share contacts | | |
| Transfer files in a Group | | |