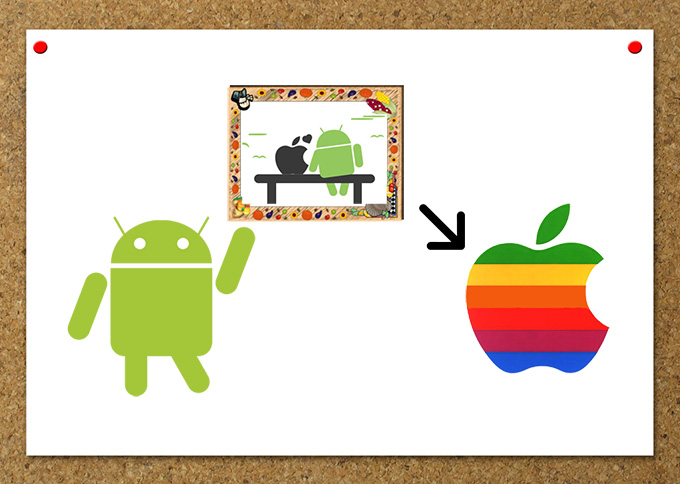 Latest models of iPhone such as iPhone 7, 7 Plus, 8, X, XR, XS and XS Max are now available in the market and many people are getting crazy about them. Aside from the Apple fans, many Android users also switched to iPhone 7 or other latest iPhone models. However, switching is never easy, because you need to go through transferring files between phones, especially for the massive amount of photos. In case you would like to transfer photos from Android to iPhone 7/7 Plus/8/X/XR/XS/XS Max and you find the use of Bluetooth is not satisfying, we recommend you to try the following tools.
2 apps to transfer photos from Android to iPhone
User-friendly transfer app – AirMore
AirMore is a free application that can help you transfer all the files from one phone to another in a fast way. It can be used for both Android and iOS devices. All the files that are moved using this tool will not lose their quality. To know how to transfer pictures from Android to iPhone using AirMore, please refer to the steps below:
Step 1: Get the app.
First of all, you need to download the application on both your Android and iPhone. For Android, you can find it in Google Play Store, while for iOS, you can get it in the App Store.
Step 2: Pair the devices.
After installing, launch the app on both phones. Then go to the "More" menu, under "Other tools", tap "Phone Transfer". From there, available devices will appear. Just make sure to connect both to the same Wi-Fi network. Once available devices are shown on both screen, tap the avatar of the other device to successfully connect.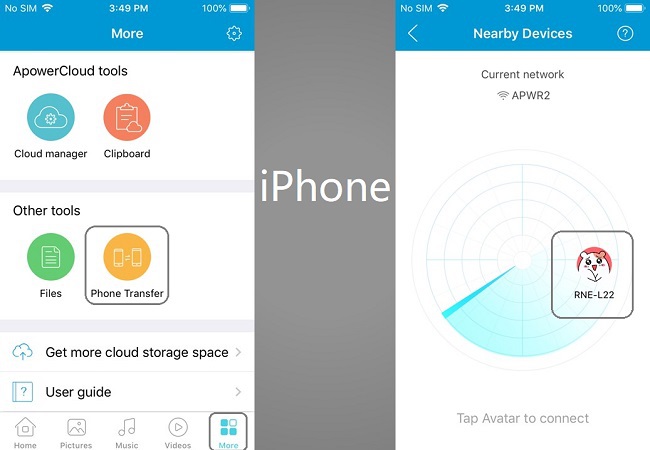 Step 3: Transfer the photos.
Once successfully connected, tap the "Albums" tab using your Android. From there, you can now choose the photos you wish to transfer. After selecting the photos, tap "Send" to successfully transfer the photos to your iPhone.
You may also transfer your other files if you want to. Just go to other folders or tabs such as videos, music, contacts and more. Check on the file, and again, tap the "Send" button to transfer the files.
Hot file transfer app – SHAREit
Another great app is SHAREit. This can also help you move photos from Android to iPhone using a WiFi connection just like the ApowerTrans. It is also compatible with both Apple and Android devices. Furthermore, this app is fast and reliable, as well.
On your Android phone, tap "Send" and go to photos tab to choose the pictures. Afterward, tap "Send" button at the bottom. It will enter into the Radar screen.
On the iPhone, tap "Receive" so that it can be found in the Radar. Tap the iPhone's name on Android and the files will then start transferring.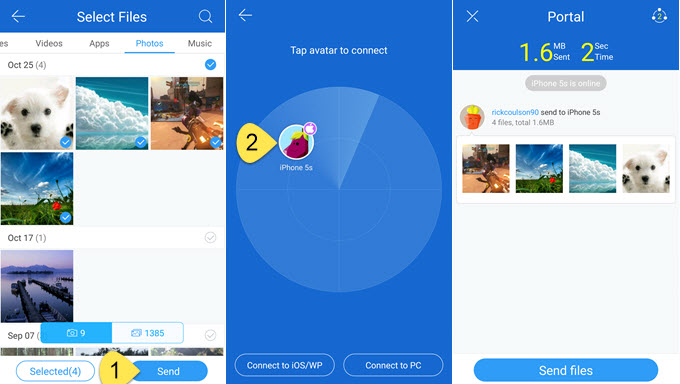 Comparsion
Those are the two best apps which you may use to transfer photos from Android to iPhone. Many same functions as they have, they still differ in some aspects. For example, SHAREit has a lot of ads which may be annoying while AirMore is totally Ad-free.