Practical Methods to Move Music from Android to iPhone
ApowerTrans
ApowerTrans is a cross-platform application, which builds the connection between phones wirelessly. Its comprehensive functions enable users to transfer photos, videos, contacts, music, and other files from phone to phone. It has three ways to establish the connection: Radar, QR Code and Transmission without the network. The first two methods require that both mobiles have to be on the same network, while the last one could work without the internet. Now, we will describe how to transfer songs from Android to iPhone in details.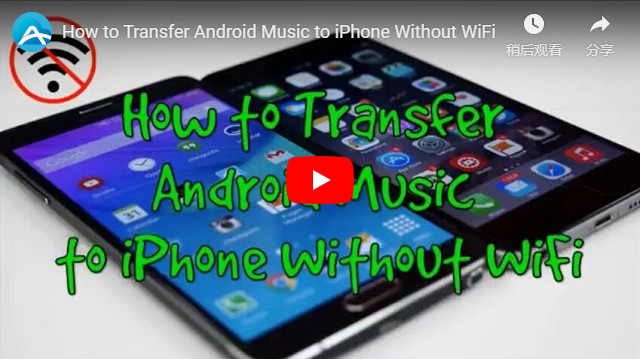 On the main interface of the application on Android, press the button on the lower right corner. It will jump to Radar interface. You can see a question mark icon, hit it and slide to open the hotspot.
On iPhone, go to "Settings" and set "WiFi" connected to the network named "Apowersoft". Or you can tap on the question mark icon on Radar interface, and press "Turn on WiFi" to choose the network.
On the two phones, go back to Radar interface and wait for detection. When the avatar of the device shows up, tap the icon to establish the connection.
Under "Music" tab, select the music you want to share and press "Send" to transfer Android music to iPhone.
Due to the restrictions of Apple, the music transferred in this way cannot be found on iPhone's built-in music player. However, ApowerTrans has its own player, so you enjoy the songs on the app. Better yet, it could read the music from iTunes and play music which might not be compatible with iPhone's music player. And this function works without the need of internet.
Zapya
Zapya can also help you transfer music to iPhone without WiFi. It is a mobile app which allows users to share files between mobile devices quickly. The working principle is similar to ApowerTrans. It can move photos, videos, contacts, music and other files as well. Unlike the app we mentioned above, it has two other tabs – Discover and Circle, so people could learn what happened recently from "Discover" and share wonderful moments with friends on "Circle". Follow the instructions below to move music from Android to iPhone!
Open the application, tap "Transfer" and choose "QR Code" on both devices.
On Android, hit "My QR Code", and it will generate a code for your mobile. Use iPhone to scan this code and then you will be asked to connect your iPhone to a certain WiFi. Just follow its guide to set the network.
Once connected, go to music tab and check the songs. And if you want to send all music, tap "Select". After this, press "Send".
Comparison
Now you've already known how to send files between phones when there is no network. But which one is more suitable for you? Let's compare these two methods.
Both ways can transfer Android music to iPhone wirelessly, and they can help users to move items in bulk. The music transferred through Zapya and ApowerTrans cannot be found on Music app, but the two transfer tools can act as a music player. However, Zapya could not read other songs from iTunes, which might be its shortcoming for iDevice owners. Another inconvenient part of Zapya for iPhone users is that users could not search for files like Android users.
In general, both apps work perfectly for transferring. So which one do you prefer? Leave a comment to let us know!