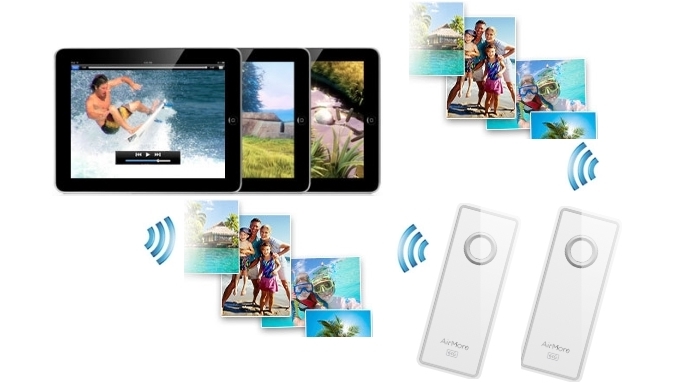 One common disadvantage of iPad is its limited internal storage, which leaves little space for digital content after installation of operating system and default apps. Besides, it is not easy to hook up an external drive to iPad, because many external drive requiring USB connection will not be recognized by iPad. Fortunately, there is now a big selection of wireless hard drives for iPad, so that users can use them to increase the internal storage of iPad.
Three Ways to Increase Wireless Storage for iPad
AirMore FlashDisk
AirMore FlashDisk is a perfect wireless hard drive for your iPad. It is one of the most compact external drives in the market. With it, you can switch files from iPad to this wireless hard drive. Besides, it is also a great option to backup your iPhone. AirMore FlashDisk allows simultaneous connection for a maximum of eight iOS devices. Once connected, users can access data stored on this hard drive and then they can stream photos, videos, and view documents that are stored on this FlashDisk. The available capacities of this iPad wireless hard drive are 32GB and 64GB. Now read following guidance on how to use it.
Open AirMore FlashDisk and it will send out WiFi signal just as the router does.
Click "WLAN" under "Settings" tab on your iPad, click the hard drive's WiFi network like AirMore _00CF and then you can connect your tablet to this hard drive.
Open AirMore+, click "Media", "Music", "Files", you can view files stored on iPad and FlashDisk. Choose files you want to transfer to the external drive and then click "Cut to device" or "Copy to device". Just for a few seconds, you can finish transferring.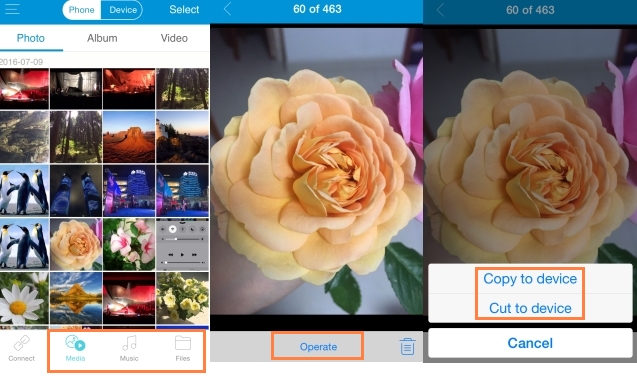 If you're a frequent traveler with lots of digital content to carry and prefer the compact design, AirMore Flashdisk will make a good investment as it will be an excellent way to add storage to your wireless storage for iPad.
Kingston Wi-Drive
The Wi-Drive is the first flash-memory-based wireless storage for iPad and it is tiny both in terms of physical size and capacity. This Wi-Drive allows a maximum of three Wi-Fi clients at one time and it is a handy companion for those who possess a moderate library of digital content on their tablets.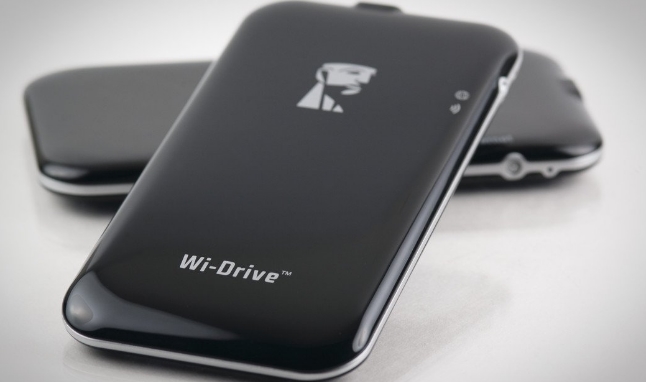 However, this Wi-Drive only supports USB 2.0. What's worse, it works slowly as an external drive and it has a short battery life. The Wi-Drive still has a long way before it becomes an ideal iPad wireless hard drive.
Corsair Voyager Air
Corsair Voyager Air is a useful USB 3.0 portable drive with a built-in Wi-Fi access point which allows mobile data sharing and HD content streaming. It provides 1TB of storage at most and supports wirelessly streaming HD content to about eight concurrent Wi-Fi-enabled phones. As your wireless storage for iPad, this hard drive is a good option.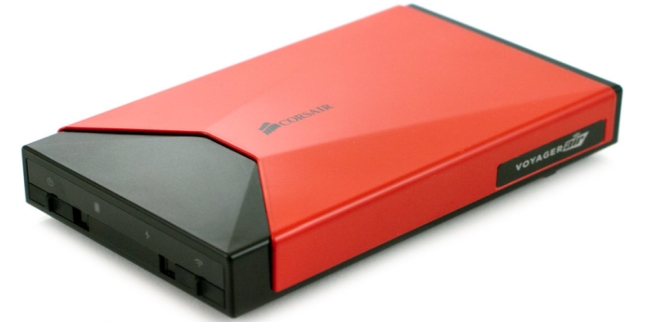 Nevertheless, Corsair Voyager Air also has fatal drawbacks. It fails to recognize some popular file formats, and won't automatically organize content by type. It is based on a slow Wi-Fi standard and has no network port-based Internet sharing.
Conclusion: There is a long list of iPad wireless hard drives you can choose from. With these storage expanders, you have more space to keep your irreplaceable digital data.