How to transfer data from iPhone to Xiaomi Mi 9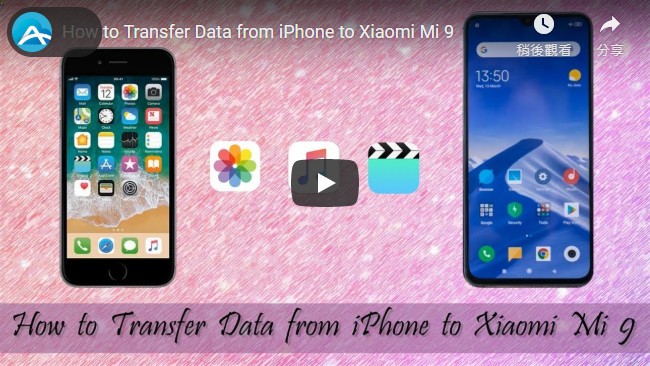 Free app – AirMore
AirMore is a dependable tool that you may use to transfer data from a phone to another phone or from a phone to a PC and vice versa. This tool works even without the use of any cable; you will only need an internet connection to start the transferring process. Moreover, files like videos, images, music, and other documents are allowed to be managed or transferred using AirMore. Simply follow the steps below to learn how to transfer data from Xiaomi Mi 9.
On both devices, open the application and go to the "More" icon at the lower right hand of the interface.
Under "Other tools" section, choose "Phone Transfer". Wait for your iPhone to recognize your Xiaomi Mi 9.
Click the avatar of your Xiaomi Mi 9 to build connection between the two devices.
Choose the files that you want to transfer then click "Send", and then your iPhone files will be saved on your Mi 9 immediately.
Practical tool – ApowerManager
If you also want to transfer contacts, messages, and other files in a faster way, ApowerManager will be a better choice. It allows you to transfer, back up, and restore your files or data safe and easy. With this tool, you can transfer files like photos, videos, music, and other documents from phone to PC and vice versa in a fast and convenient way. Follow the procedures listed below and start to transfer files from iPhone to Xiaomi Mi 9.
Download and install the application on your mobile phones and your computer.
Link your iPhone to PC to transfer iPhone files to your PC first.
Click the "Manage" menu and proceed to the data or files you wish to move, then click the "Export" icon to save them on your computer.
Then go back to the main interface, and click the "+" button next to your iPhone device name on the lower left of the interface to add another device. Connect your Xiaomi Mi 9 to PC, and go to the "Manage" option and select certain file folder to import files. Click the "Import" icon and choose the data or files you have just exported to your PC to transfer them on your Xiaomi Mi 9.
Conclusion
Transferring data from your old iPhone to your new Xiaomi Mi 9 will not be a problem anymore with the above-mentioned tools. Both are easy and have a user-friendly interface that even a beginner can catch up the steps given. With them, you may now move data from iPhone to Xiaomi Mi 9 without any hassle.