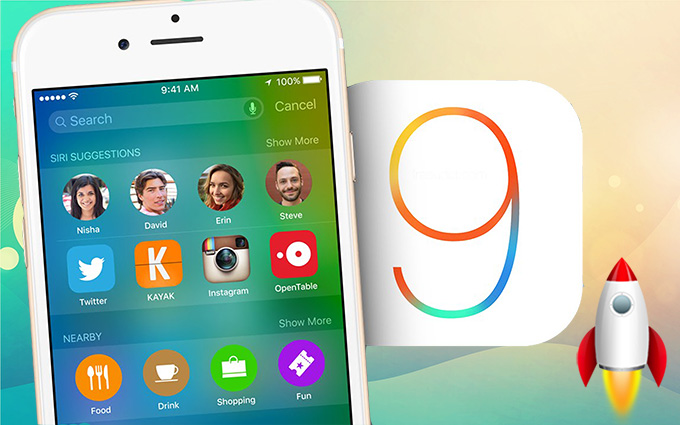 There is no doubt that iPhones are considered as the best phones nowadays, having millions of users around the world. Every time Apple Inc releases its new product, numerous people are going crazy just to have one on its first launching day. The latest products that they released were the iPhone 6s and iPhone 6s Plus. In line with these new products was the update of iOS 9 and iOS 9.1 operating systems.
Though a lot of people are excited with iOS 9's new offerings, a notable number of complaints can be seen over the internet because the version makes their phone (especially older models) slower than before. It lags most of the time and it has a delayed response from the user interface. This indeed is very frustrating. Thankfully, there are some useful ways on how to speed up iPhone 6, including other lower models, and iPad which are updated to iOS 9 and iOS 9.1. You can refer to the tips below to help you make your phone faster.
Tips on how to speed up iOS 9
1. Speed up by disabling transparency and motion
Disabling transparency and motion allows you to speed up the general interactivity of the system of your phone. The operation may be a bit long to follow but it will be worthy.
Go to "Settings" and then tap on "General".
Next, choose "Accessibility".
Look for "Increase Contrast" and then turn on "Reduce Transparency".
After that, get back to "Accessibility" and turn on "Reduce Motion" too.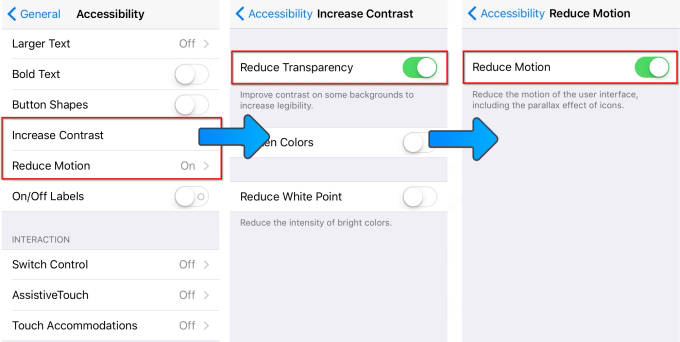 Finishing these, you'll experience a faster phone. However, your iPhone will not look so fancy since it does not possess any translucent windows and the effect of zooming in and out will be removed. If you do not prefer this in order for you to speed up iPad or any iDevice that you have, you may try the next tip.
2. Speed up by closing running apps which you do not use
If you open too many apps at the same time on your iOS device, its RAM will be full which may cause your phone to get slow. Many people do not realize this when they are using the mobile devices. To solve this, just simply double click "Home" button and then slide the open apps or games to free up the memory. If doing so still does not make your device faster, refer to the next tip which is deleting apps permanently.
3. Speed up by deleting large files or unused applications and games
Having not enough space will definitely make your device slower. In this case, to speed up iOS 9, it is best for you to delete unused games or apps in your phone. Apart from applications and games, you may also delete some music, photos, videos and other large files you don't want. Doing this may be a little complicated on your phone, especially when you have a lot of files to remove. If necessary, you can use AirMore to delete files on the computer, which will make the process much easier. Just follow the guide below to know how to use it.
Download AirMore on your iPhone. And then on your PC, open the Safari, Chrome or Firefox browser and go to http://airmore.com.
On the website, click "Launch AirMore Web to Connect". On the new page, a QR code will appear. Use the app on your iPhone to scan it and connect your iPhone to PC wirelessly.
On the left part of the interface, you'll see different icons such as Pictures, Videos, Music, Documents, etc. Click your preferred icon, check on the files and then simply click "Delete".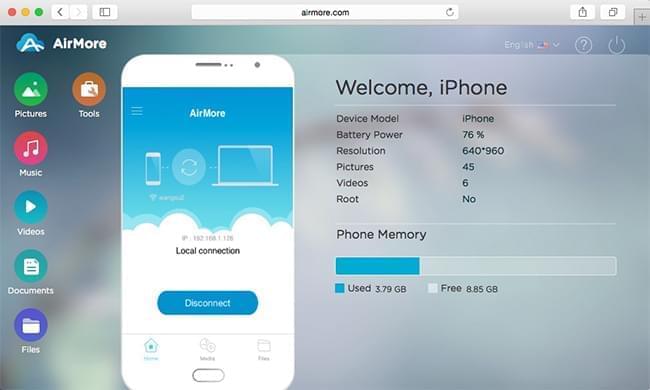 If the above tips are not what you desire, and you need to speed up your iPhone or iPad badly. An alternative is to follow the next tip and reset your device.
4. Speed up by resetting to default settings
The most efficient solution on how to speed up iOS 9 is to reset your phone back to its default settings. Then your iDevice will go back to the original status when you first bought it. This will surely make it very fast. Here's the detailed process.
Go to "Settings" and then tap "General".
Click "Reset" and then choose "Erase All Content and Settings".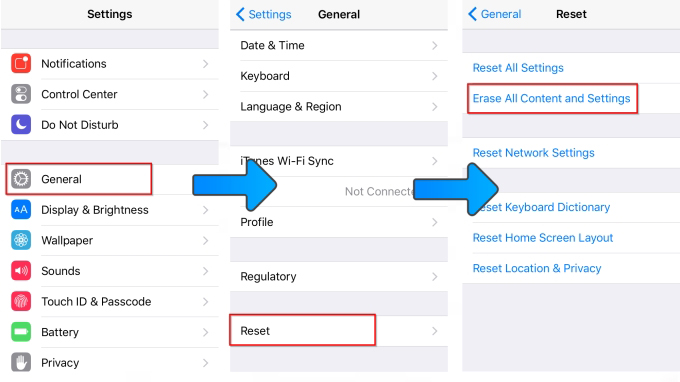 One big deficiency of this way is that you will lose all your files. Thus, you'd better back up the important data before practicing the tip. Apowersoft Phone Manager can help you to transfer data from iPhone to PC with ease. All you need to do is to download the application on your computer and then launch the program. Next, connect iPhone or iPad to PC with USB cable. Under "Tools" tab, you'll see the "Backup" button. Click it and all your files will be backed up.
Conclusion:
All of the tips above are helpful to make iOS 9 faster. You can adopt one or more as long as your needs are satisfied. Provided you cannot bear iOS 9, downgrading the system is also an option.