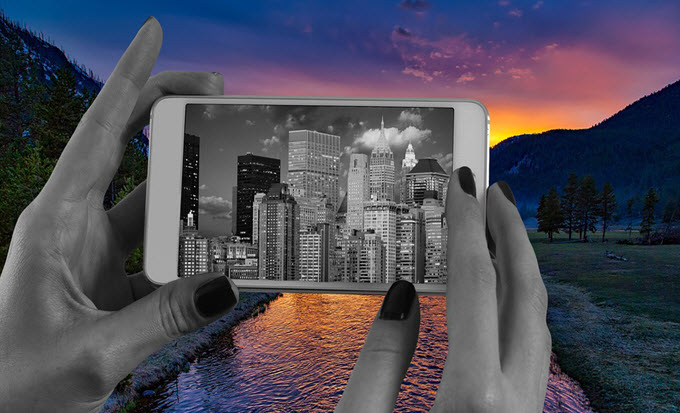 Along the frenetic development in communication technology, developers are constantly offering extraordinary smartphones. Indeed, users have been looking for the device which is most attractive with its design, its latest components, and its high performance. Among those criteria, the ability of the camera is also essential when purchasing a new phone. In fact, since the release of J-Phone, the first phone with an integrated photosensor, well-known brands have not stopped adapting their product by adding not only a rear camera which allows capturing cherished moment but a front camera for successful selfies as well. Now, many devices are available on the market, but if you want to have the most amazing one, just go along this article to discover the best camera phones in 2017.
Android Top Camera Phones in 2017
Galaxy S8 – one of the best camera smartphone 2017
Released a few days ago, Galaxy S8 leads our podium. Even though it got inspired by basic qualities of its predecessors, we should admit that Samsung knows how to attract clients. Unlike the others brands, Galaxy S8 has a 12 MP sensor combined with a large 36 mm at the rear. Additionally, once again, with Dual Pixel technology, each 1.4-micron photosite enables a more precise and clearer result. The focal aperture f/1.7 captures images in both dark night and low light conditions. For the best selfie, Galaxy S8's front camera gained a higher resolution 8MP with a f/1.7 wide-angle lens. Moreover, it has a smart autofocus which makes the portraits more detailed. Finally, the camera is also able to film high-resolution up to 4K videos.
Huawei P10 – chief of monochrome shots
Like its rival, Huawei has ruled that a 12MP camera is enough for a smartphone. However, for the model P10, the Chinese brand has integrated not one but two sensors Leica certified into its device. The first and main sensor is a 12MP RGB with a f/2.2 aperture and optical stabilization. The other monochrome sensor of 20MP contributes to the charm of the phone and attracts fans of black and white shots. Regarding the front camera, this one is an 8MP f/1.9 and enables to realize high-quality selfies even in a low light condition. In terms of videos, like all the other high-end smartphones, P10 has the ability to record up to 4K resolution. Among the major brands, Huawei has always kept pace with technology and this is what still makes it in the list of the smartphone with a good camera of this year.
LG G6 – New shots, new experience
Despite the sales failure of the latest LG G5, the Korean company has not given up to attract users. So to stand out from the older models, LG G6 has been made to be a real prowess in photos. It features a dual 13MP sensor which allows users to combine two different pictures into an astonishing one. Indeed, its f/1.8 aperture captures images in detail from day to night. The wide-angle sensor is supplied with a f/2.4. For the 5MP front camera, the 100° wide-angle brings also a big difference. In addition to that, LG G6 has a facial recognition and an autofocus system for a highly successful selfie. As mentioned above, in terms of filming video, smartphones are now able to record up to 4K and so is the LG G6.
Google Pixel XL – the giant of selfies
Yes, Google Pixel has been on the market for some time now, but it still deserves its rank among the best camera phone in 2017. Its camera got inspired from the Google Glass but with an HDR+ that produces outstanding shots. At the rear, Google Pixel is featured with a 12MP Sony IMX378 sensor with 1,55microns photo sites for easy shooting even in low light. Additionally, for sharp and detailed rendering, the 26mm wide-angle focal lens is combined with an aperture f/2. Regarding the front camera, the wide objective of 8MP delighted selfies fans. Unlike new smartphone of this year, Pixel XL does not have image stabilization but only a digital stabilization able to film in ultra HD.
Sony Xperia XZ Premium – the king of the mobile camera
As a giant of smartphones with a good camera, Sony is the first supplier of a high-quality sensor. This year, Sony will offer the Sony Xperia XZ Premium accessible at the beginning of June. This one will be equipped with a sensor of 19MP lower than the Xperia ZX but with a larger photosite. This modification will make the sensor more sensitive to low-light shots. Judging this not enough, Sony will add to the device the Motion Eye technology, a memory accommodated into the sensor for a rendering more extraordinary. Moreover, the hybrid intuitive autofocus system and the anti-distortion obturator will correct the focus and shot real appearances of a moving subject. Xperia XZ Premium has a 13MP with a 22mm lens as a front camera. In terms of recording video, its new technology will have the ability to film 960 frames per second which will allow users to admire magic slow motion.
For this year again, well-known brands have not neglected all the details concerning the renderings of the camera. Images are intended to be the perfect transcriptions of what is seen by the real eyes. From now on, make your choice and choose the best camera phone in 2017 according to this article.