Best 5 Tools to Make Image Transparent Online
Online Background Remover
Online Background Remover is one of the best tools to make picture transparent online for free. With its smart Al technology, it precisely and automatically separates the foreground from its background. Besides, you can manually adjust details by using Erase and Keep tool. In case you need to add background to your photo. It provides solid color background, well-designed templates,s and custom templates. If you want to make the photo background transparent, follow the steps below.
Visit the official site and click the "Upload Image" button to upload the picture you want to edit.
Next, the background will be removed instantly.
Once satisfied, click the "Download" button to save it on your device.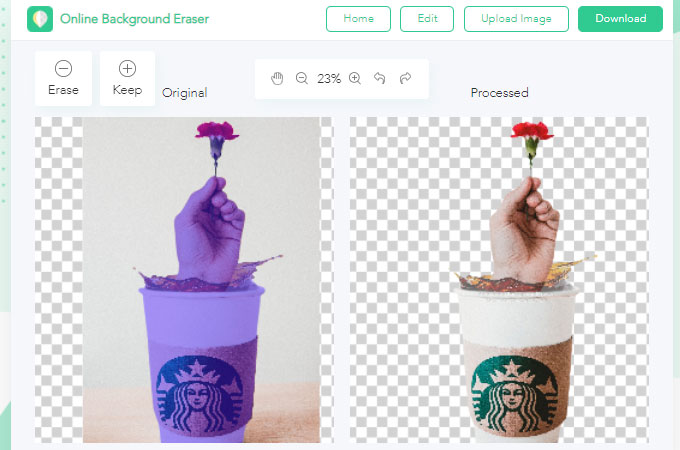 Pros:
It's easy to use and suitable for beginners.
You can upload images in batches.
Download your photo free and with its original quality.
Cons:
It can not add filters or stickers to your photo.
LunaPic
LunaPic is a perfect free solution for you to make images transparent online. You don't need to sign up to edit your photo and is totally free. You can upload your image from your computer, social media, the Cloud, or any other websites you want. However, it may not suit first-time users because it's hard to operate and beginners might not be familiar with certain tools. Despite that, LunaPic offers numerous editing tools on the left of the page. And more functions are on the top, like Borders, Filters, Effects, etc. If you get used to this online tool, you'll find its advantages. Here are the steps to guide you on how to use this online tool.
Head on its official page and upload your image on the top of the page.
Click "Edit" and select "Transparent Background" then click on the color of your background to convert it to transparent area. It will select the area roughly.
Click the "Eraser" icon on the left in the toolbar to manually erase the unwanted background and make photo background transparent.
More functions are provided on the top. Once content with the result, click the "Save" button below to download your image. Or directly share on social media.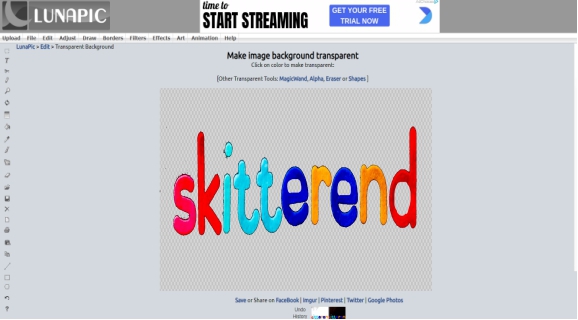 Pros:
Post your photo directly to social media for free.
Multiple tools to help you edit your photo.
Cons:
Pop-up ads may annoy you.
Onlinepngtools
Onlinepngtools is one of the simplest online PNG transparency makers which automatically remove any background from your image. Just import the photo in the editor and it will make the picture transparent online free for you. This tool recognizes the color of your photo background and its close color tones, then replaces with transparent color. The default similar color tone is 30%. Different percentage presents different effects. You can change it below to suit your photo. However, it may not precisely erase your background if the color of the foreground and the background are too close. Beyond that, it's a user-friendly online tool. If you want to make the photo background transparent, check out below.
Go to its official website and click the gray square on the left to import the photo.
Then your photo with transparent background will be presented in the right square.
Once done, click "Save as" in the lower middle part of the square to download the edited image on your computer.

Pros:
It has a user-friendly interface.
No ads pop out.
Cons:
Doesn't provide background templates and editing tools if you want to edit your photo.
Fotor
If you want to make image transparent online, Fotor is another great option for you. Fotor is a free online designer and editing tool that suits for amateur and professional. It offers two tools to help you make your photo transparent. You can brush the area that you want to retain or remove. What's more, more functions like Effect, Beauty, Frames, Stickers, etc are provided if you need to make your photo more amazing. Nevertheless, you might need to manually edit for more times for it can not make image background transparent automatically. Refer to the steps below to learn how to use this tool.
Visit the official page and click "Open" on the top middle to import your image.
Use Retain Brush to keep the foreground and Removal Brush to erase the background. You can adjust the size of the brush.
If you are satisfied with the edited image, click "Save" on the top of the page to download your image.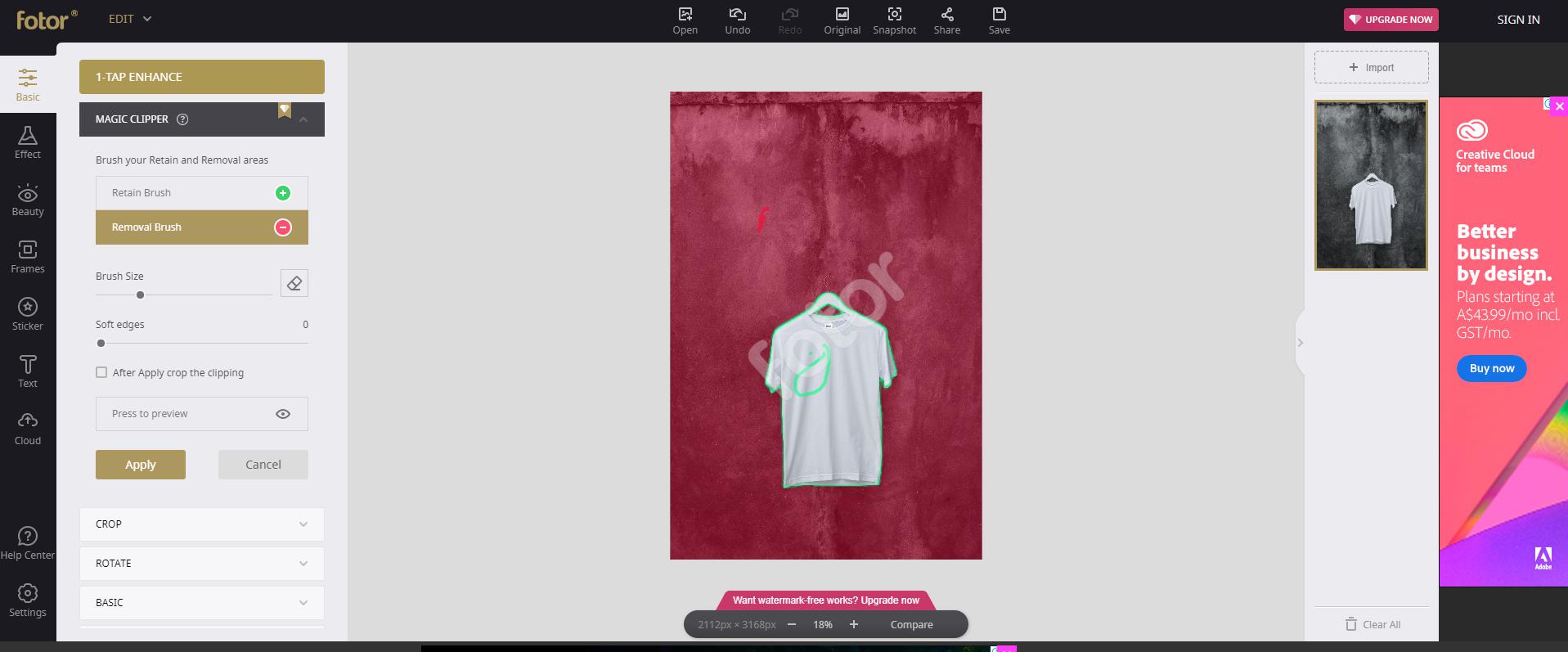 Pros:
Countless functions for you to further edit your photo.
You can import your photos in batches.
Cons:
The photo you download is with watermark unless you sign up.
There are ads during the editing.
Background Burner
Background Burner quickly makes image transparent online. So it saves you a lot of time. It applies a large amount of high-tech algorithms to analyze the line, color and focus of your photo. And every time you use it, it remembers the detail of your editing and presents a better result next time. It gets better and better on separate object from the background. In case you are not pleased with the edited photo, you can use its Basic Tools and Pixel Tools to process your photo. Furthermore, it provides different kinds of templates for you to add backgrounds to your photo. Such as, Romantic, Texture, Ambient, etc. However, you need to login to download your edited file. Given below are the steps on how to make photo background transparent.
Go to its official website, and click "Choose a Photo" on the right in the blue square or drag your image on the left in the gray square to upload your photo.
It will automatically remove your background and present several background erased options for you to choose.
If the outcome isn't so well. Click the "Touch Up" button below the photo. You can use the "Mark foreground" tool on the upper left. It will mark the object you want to keep. Use the "Mark background" to keep the background and works the same way.
Click the "Toggle checkerboard background" icon in the top right corner to make image background transparent.
Finally click "Log in to download" to save your photo.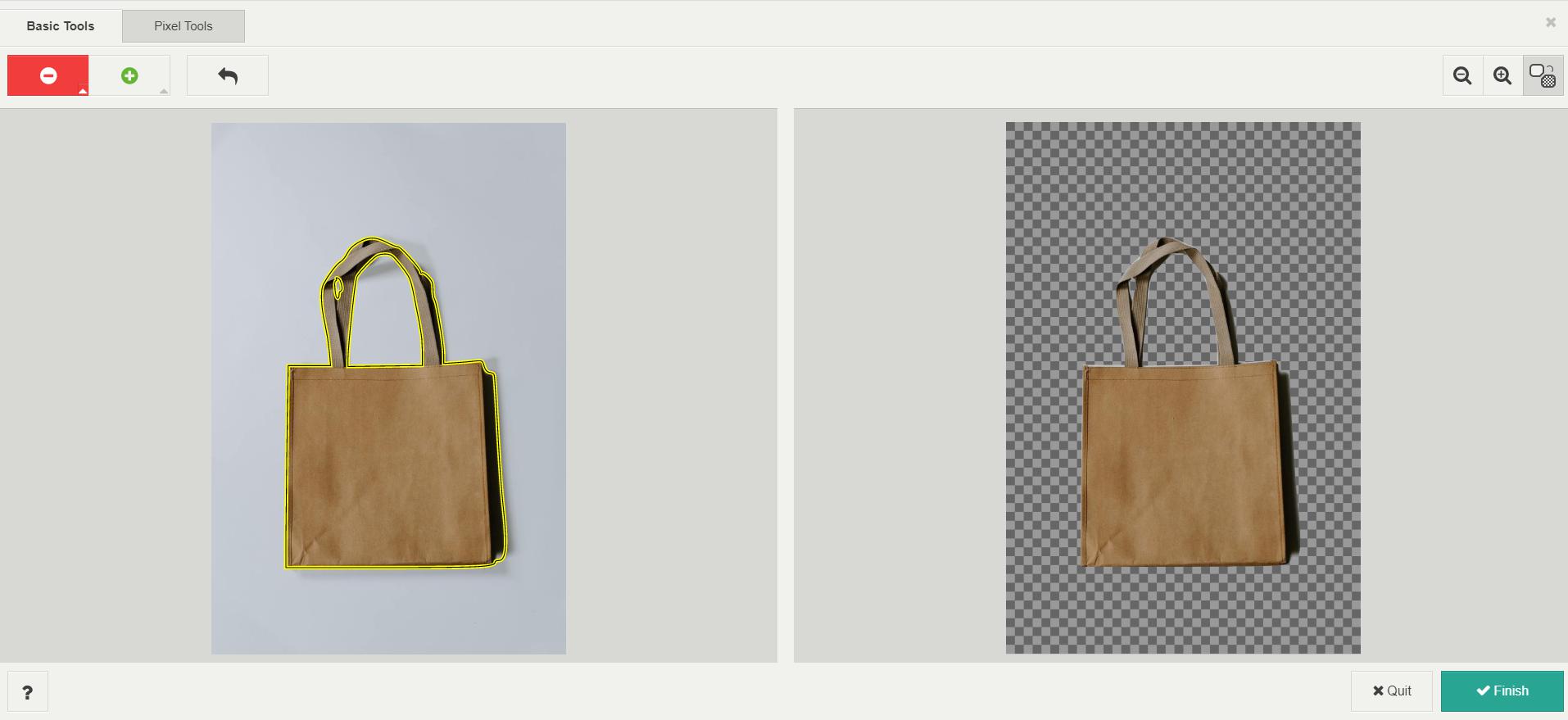 Pros:
It automatically delete your background and presents several choices for you.
It offers different kinds of backdrops.
Cons:
You need to log in to download your photo.
Conclusion
A transparent background is a great helper when you are changing the background of your digital background, designing your own logo, or making your product photos. There are numerous online tools for you to make image transparent online as we have shown above. AirMore Online Background Remover is highly recommended for its easy-to-use interface, professional cutout, and well-designed background templates.
| Features | AirMore Online Background Remover | LunaPic | Onlinepngtools | Fotor | Background Burner |
| --- | --- | --- | --- | --- | --- |
| Automatically and Precisely make transparent background | | | | | |
| Easy-to-use interface | | | | | |
| Provide multiple background templates | | | | | |
| No ads while editing | | | | | |
| Download with high quality | | | | | |
| Download file directly and free | | | | | |
| Download photo without watermark | | | | | |