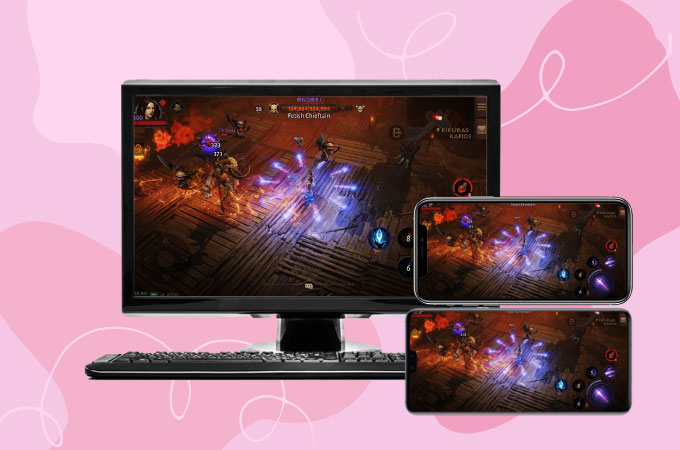 Diablo Immortal is a groundbreaking and multilayer online action role-playing mobile video game. You can choose different champions that you like to use while playing the game. These champions are Barbarians, Crusaders, Demon Hunters, Monks, Necromancers, and Wizards. You can enjoy this amazing RPG online using your mobile phone but if you like to play on a wide screen such as your PC at home, you can use screen mirroring tools for Windows to make it happen. Play Diablo Immortal on PC with the help of the following screen mirroring tools listed in this article. Here are as follows.
Top 3 Tools to Play Diablo Immortal on PC
ApowerMirror
If you are looking for the best screen mirroring too to help you how to play Diablo Immortal on PC, you should include ApowerMirror on your list. This amazing screen mirroring tool offers a great mirroring ability with extra features. These features include video screen recording, screen capturing, and whiteboard markers for annotation. You can mirror everything that is being displayed on your phone, such as movies, images, files, and as well as mobile games. Start playing Diablo Immortal on your computer by following the steps listed below.
Download the app using the following download buttons below.
Launch the app on your phone and PC and connect them using a USB cable (for Android) and a Lightning cable (for iOS).

Open Diablo Immortal and adjust controllers for you to be able to play it on your PC.
Nox Player
We also listed an emulator, which is the Nox Player, if you want to play Diablo Immortal on the computer. This is considered one of the most perfect Android emulators to play mobile games on computers. It is fully optimized with a smooth and stable gaming experience that can be compared to a gaming console. Moreover, you can download and install it on different platforms including Windows PC and macOS. To start using this emulator, you can try and check these steps provided below as your guide.
Bluestacks
Another emulator is also considered as one of the best Android emulators that you can try to help you on how to play Diablo Immortal on computer. It offers more than 2 million Android games that you can choose from including the Diablo Immortal that you can play right on your computer. This emulator can be downloaded on your Windows PC and macOS which offers a free version and a monthly subscription for you to be able to use its advanced optional features. Below are the steps that you need to follow for you to play Diablo Immortal via BlueStacks on your PC.
Go to your web browser. Download and install BlueStacks on your PC.

Log in to your account and install the game from its built-in Play Store.

You can now play Diablo Immortal on your PC.
Some Tips
Choose your server wisely. Pick a server with low latency; the lower the latency, the better.
For beginners, choose tanker champions such as barbarians or crusaders to get used to the game.
Know when and where to use your skills to maximize their usage.
Know how to upgrade skills.
Learn each stat and attribute.
Conclusion
You can now play Diablo Immortal on your PC using 3 of the best screen mirroring tools listed above. You can choose either of the three amazing tools above but if you are looking for a tool that you can use with extra features while playing the game, choose ApowerMirror and LetsView because of their extra features that you can use even while the mirroring process is ongoing.