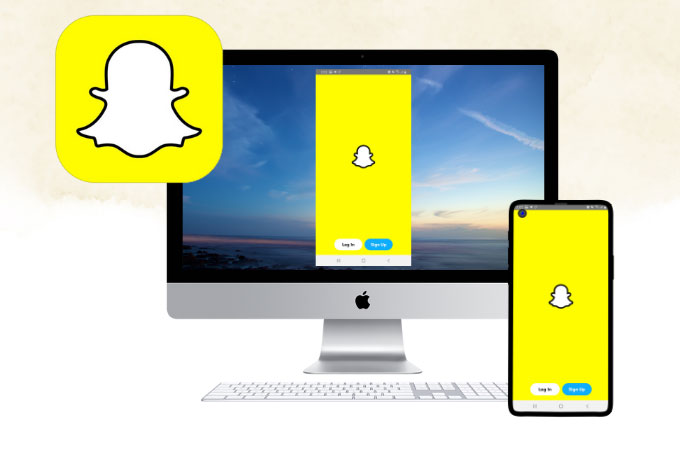 Snapchat is one of the leading social media sites that anyone can use and download online. In this app, you can easily talk with your friends, upload photos, view stories, and many more. This can also be a good way to interact and share precious moments with your family and friends. However, Snapchat is only limited to phone use which is why we have decided to help you by providing tools that can easily make you mirror your Android to Mac so that you can use Snapchat on Mac. Learn more about these tools by reading more about their descriptions and how to use them by being enumerated below.
Top 4 Tools to Use Snapchat on Mac
ApowerMirror
To easily watch Snapchat on Mac, Apowermirror should be listed as number one on your list. This amazing tool allows you to mirror and display your mobile phone's screen to your Mac fast and easily. After the mirroring process, you can now be able to open your Snapchat and control it from your phone to your Mac. Additional features are also included such as taking screenshots, video screen recording, and markers for annotations. Connect with your friends, post photos and videos, and vies stories of your friends and followers on Snapchat using your Mac. To proceed using ApowerMirror, just follow the steps below.
LetsView
Another mirroring tool that also allows you to use Snapchat on Macbook is LetsView. This awesome tool lets you enjoy socializing with your family and friends online using Snapchat. Like ApowerMirror, it offers high-quality video mirroring resolution from your phone screen to your Mac. It also offers extra features like video screen recording, taking screenshots, and markers. What's also good about this tool is that you can use it for free. Start using this app by just simply following the steps provided below.
MEmu
Aside from the mirroring tools, we also listed emulators that can assist you with how to use Snapchat on Mac. One of the best emulators that you can use is the MEmu player. This emulator allows you to install and run apps on your Mac without using mobile phones. Another good thing about this emulator is that this is also free and does not include third-party software packages. You can enjoy browsing your Snapchat with its high-quality graphics and can easily enter into full-screen mode. Just pick your preferred Android version then follow the step enumerated below.
Bluestacks
If MEmu doesn't fit you, you can try another emulator where you can download Snapchat on Mac. This emulator is Bluestacks. This is a cloud-based Android emulator that you can use on your PC and even on your Mac wherein you can download and install Android apps safe and easy. Moreover, it provides advanced features such as a keyboard and mouse as well as an improved quality of the graphics. Moreover, this emulator is also free to use and install. Just check the steps listed below to start using Bluestacks.
Conclusion
These tools listed above are some of the best tools that you can use to easily watch Snapchat on Mac. Each tool provides unique features that can help you enjoy mirroring and displaying your Snapchat screen to a wider screen which is your Mac. If you are looking for the best tool available, you can use ApowerMirror. But if you are looking for the best and free tool, LetsView is for you.