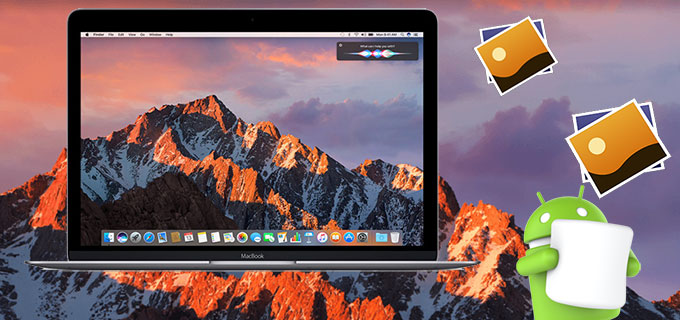 Issued recently, macOS Sierra soon turns out to be a hit. This fresh version adds new functions like smarter Siri and easier management. However, people are not familiar enough with this new system and don't know how to transfer photos between macOS Sierra and Android. As we all know, it's simple for iPhone users to transfer photos via iCloud or iTunes. However, it is tough for Android users to transfer photos from Mac to Android. Therefore, the article below will introduce two ways to sync photos from macOS Sierra to Android.
Transfer Photos from macOS Sierra to Android
1.Wireless Transfer Tool – AirMore
AirMore is a free app which transfers files in a wireless way, supporting both Android and iOS devices. There is no need to install the app on Mac as long as the browser you use can match with the app such as Chrome, Safari, Firefox and so on.
This tool enables you to transfer photos, videos, music and other files in a secure way. What's more, the app promises no ads and plugins to protect your data.
Visit the website address "web.airmore.com" on your browser. The web will show you a QR code.
Launch the app on your phone, and click "scan to connect". But do note Mac and your Android device should be under the same network. After connection, media files will be displayed as several items like pictures, music, and videos.
Click "Pictures" and enter into its interface. Functions are displayed in the menu bar. Then click "Import Files". A system window pops up for you to select the photos. Then the transfer is finished and users can check the photos on Android device.
By the way, if you want to move photos from Android to Mac, select the photos and click "Export".
You can not only sync media files but also contacts, apps and other files.
Pros
No need to install app on Mac
Transfer data for free
Connect in a wireless way
Display files as categories clearly
Easily find the wanted files and sync data
Move files without size limitation
No ads and plugins
Cons
Connect under the same network
2. Popular Transfer App – Android File Transfer
Android File Transfer is a popular tool among Mac and Android users. This app requires users to install the program on Mac. Connection between Mac and Android must be built via USB cable, which suggests a limited way of connection.
Download the app on Mac and connect Android device with Mac via USB cable.
Click "Open" and a window with your Android files will show up on Mac.
Click the icon below. Tap "Options" to choose "Show in Finder". A small window pops up displaying two icons titled "Android File Transfer" and "Applications". Double click "Applications" and open the local folder.
Drag the photos from "Applications" or the desktop into the window with phone files.
Pros
Sync data freely and easily
Delete files or add new folder directly
No widgets
No need to connect the network
Cons
Connect only via USB cable
Fail to open Android files directly on Mac unless users have saved them to Mac
Files cannot be previewed clearly
Keep the phone screen unlocked during connection
Transfer with complex steps
Conclusion
Both programs are efficient and powerful in moving photos and other files. Users can use either software when facing different situations. If you prefer installing app on Mac so as to check files anytime, Android File Transfer will be a good choice. While if you enjoy wireless life, AirMore will meet your needs.