Feasible Ways to Mirror PC to Samsung Smart TV
Samsung Smart View – Mirror Laptop to Samsung TV
If you hate messy cables, you can rely on the Smart View feature from Samsung. It is an application that enables users to connect wirelessly their computer or phone to the TV. From there, you can stream contents saved on your devices like videos and music. What makes this a good option is that it can read subtitles. Thus, it allows you to watch videos in a different language and put a subtitle on it. This function is currently supported by Windows 7, 8, 8.1 and 10. Follow the steps below and learn how to do screen mirroring PC to Samsung Smart TV.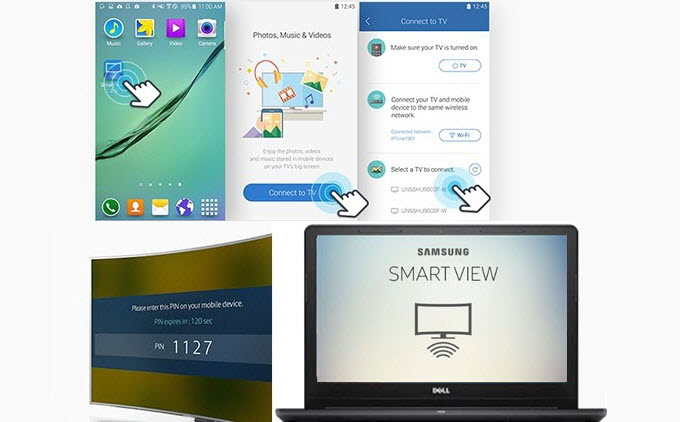 Download and install Samsung Smart View app and launch it.
Turn on your TV and make sure both devices are connected to the same Wi-Fi network. Go to your "Menu" > "Network" > "Network Status" to check your TV connection.
Go back to your computer and click "Connect to TV" then choose your TV from the detected devices.
Enter the PIN showed on your TV and hit "Ok".
To add content you want to stream, click the "+Add Content" button and import the files of your choice. Once done, press the "Play" button.
Chromecast – Mirror PC to Samsung Smart TV
Chromecast is another way to display your PC on TV. This is a plug-in device that can turn your devices into a receiver. It is renowned for its compatibility with various devices, i.e. iPhone, Android, Mac, Windows, and Chromebook. Of course, this can be used on your smart TV. With Chromecast, you can cast music or videos from your computer and watch videos from online sharing sites. You can buy this small dongle from your local store. Here are the steps to mirror laptop to Samsung TV.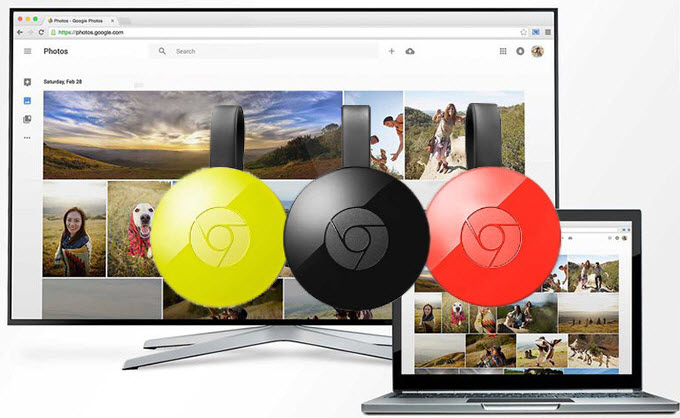 Setup your Chromecast device. Plug it to your TV and power outlet to enable.
On your computer, download the latest Google Chrome browser. If you have one, click the menu icon and select "Cast" from the options.
From the new window, drop down "Cast to" and choose between "Cast tab" and "Cast desktop".
Once done, click the cast icon at the upper right corner of your screen and hit "Stop" to screen mirror PC to Samsung Smart TV.
As this is a paid option, you might expect that it will be more advantageous to use. Sadly, it has many limitations that might give you afterthoughts. The dongle does not work alone, meaning you need to plug it in a power source. This might complicate your setup especially if you don't have an extra outlet. It also does not support 4K viewing though this resolution has been popular for quite some time on televisions. You can view your videos, but the quality will be compromised.
Valuable recommendation: ApowerMirror
After you successfully mirror PC to Samsung TV, you might want to mirror your mobile devices, so you can view them on a bigger screen. For this, ApowerMirror has got you covered. This is a professional program capable of mirroring Android and iOS devices on Windows/Mac system. It is loaded with different features that are all deemed useful. For example, it has a built-in screen recording capability that can capture screen activities and take screenshots. Likewise, it supports streaming of multiple devices and contents like videos, audios, and gameplay.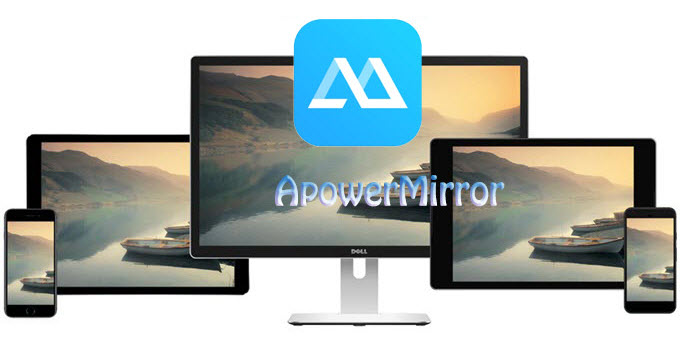 With the help of the applications above, you can effortlessly send your computer display to your TV. If you have recommendations or suggestions, feel free to leave a comment in the box below.