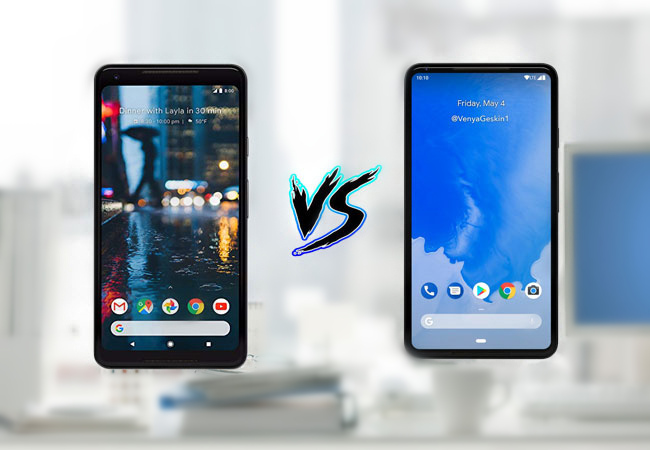 Google has launched its new smartphones which are the Google Pixel 3 and Pixel 3 XL. As far as the front side is concerned, you can see that these phones do not look identical. The Pixel 3 has bezels above and does not have a notch display. While the Pixel 3 XL boasts a 6.3-inch display with chin bezel and a pretty deep notch. Moreover, they also have a few notable features that you might like otherwise looking pretty much the same. In this comparison, however, we will take a look at the comprehensive reviews of Google Pixel 3 vs Pixel 2 to help you decide whether it's worth upgrading to Google Pixel 3. With that being said, here's a closer comparison of Google Pixel 3 and Pixel 2.
Google Pixel 3 vs Pixel 2: Comprehensive Comparison
Design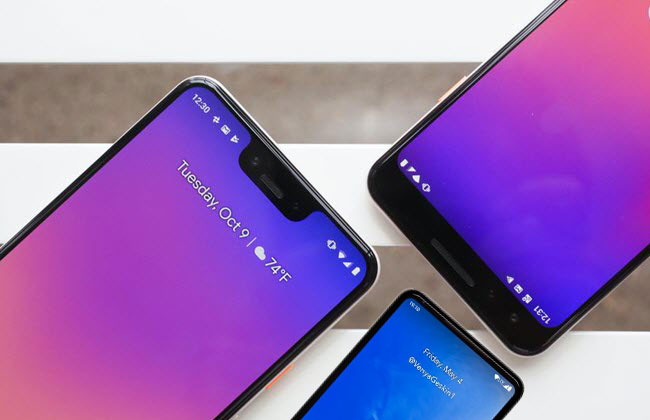 Most likely, you will get the same look from the last year's phone with little alteration when it comes to screening size and design. The Google Pixel 3 offers a bigger screen than Google Pixel 2. It boasts a 5.5-inch screen display, up from the 5 inches display on Pixel 2. Pixel 3 is slimmer and gives you subtle round edges unlike the Pixel 2 which is a bit more rectangular. Both smartphones have identical back design, giving you single rear lens camera and a fingerprint scanner.
Camera
Google put so much effort when it comes to rebuilding the camera experience for its Pixel phones and it did pay off because Pixel 2 was regarded as having the best rear cameras of any smartphones. While other phones attempt to take excellent photos through several lenses, Pixel 2 only uses a single 12-mega pixel lens which consistently takes really good shots in all different kinds of situations. Google did the same set up with the Pixel 3. With an added feature such as Top Shot who is going to improve Pixel 3 camera capabilities. What this feature does is it captures series of photos before, and after you press the shutter and from there you can choose your preferred photo.
Software
Both Pixels will be running the latest Android OS which is the Android 9.0 Pie. Pixel 2 phones have already been upgraded from Android Oreo version, with new navigation gestures, quick setting's panel and a lot more. The software experience is almost the same, although Pixel 3 can be upgraded for longer than Pixel 2. Some of the added new Google Capabilities in Pixel 3, include screen your calls to get rid of spams as well as making restaurant reservations.
Performance and Battery Life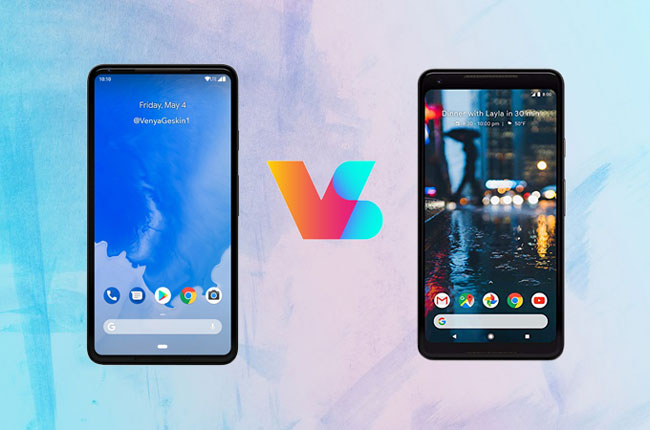 Pixel 3 has the Qualcomm Snapdragon 845 processing platform inside, improved from the Qualcomm Snapdragon 835 of Pixel 2. This chipset in Pixel 3 is also the processor of the major Android flagships to come out in 2018 like Samsung Galaxy Note 9 and Sony's Xperia XZ3. It's fast and powerful.
The memory and capacity of both Pixel 2 and Pixel 3 do not have difference. These Pixels all have 4GB RAM and are available in 64GB or 128 GB of storage.
Pixel 3 vs Pixel 2 when it comes to battering life. Pixel 3 comes with 2,915mAh which is a little larger than that was in Pixel 2, which has 2,700mAh. Even though Pixel 3 has a slightly bigger screen to power, you can still expect a better power efficiency and stamina. In addition to this, Pixel 3 supports Qi wireless charging.
Price
Pixel 3 will cost you $799 for the 64GB capacity and $899 for the 128GB capacity. Whereas Pixel 2 costs you $649 for the 64 configuration and you'll spend $749 for 128GB configuration.
Specifications
Google Pixel 2
Google Pixel 3
Operating System
Android 8.0 Oreo (upgradeable to Android 9 Pie)
Android 9.0 Pie
Processor
Qualcomm Snapdragon 835
Qualcomm Snapdragon 845
Storage space
64GB, 128GB
64GB, 128GB
RAM
4GB
4GB
Size
145.7 x 69.7 x 7.8 mm (5.74 x 2.74 x 0.31 inches)
145.6 x 68.2 x 7.9 mm (5.73 x 2.69 x 0.31 inches)
Screen size
5-inch AMOLED
5.5-inch AMOLED
Screen resolution
1,920 x 1,080 pixels (441 pixels per inch)
2,160 x 1,080 pixels (443 pixels per inch)
Camera
Single 12.2MP rear, 8MP front camera
Single 12.2MP rear, dual 8MP and 8MP front camera
Video
4K at 30fps, 1080p at 120fps, 720p at 240fps
4K at 30fps, 1080p at 120fps, 720p at 240fps
Battery
2,700mAh
Fast charging
2,915mAh
Fast charging
Qi wireless charging
Price
$649
$799
Conclusion
We can find a little refinement from the comparative review between Google Pixel 2 vs Google Pixel 3. However, it's not necessary to switch to Pixel 3 if you still own a Pixel 2. Apart from a little bigger screen along with some of the features added like Top Photos to camera, Google Capabilities, there're not many giant leaps from the last year's Pixel phone. Still, if you are choosing between the two Pixels, Pixel 3 has noticeably better design.