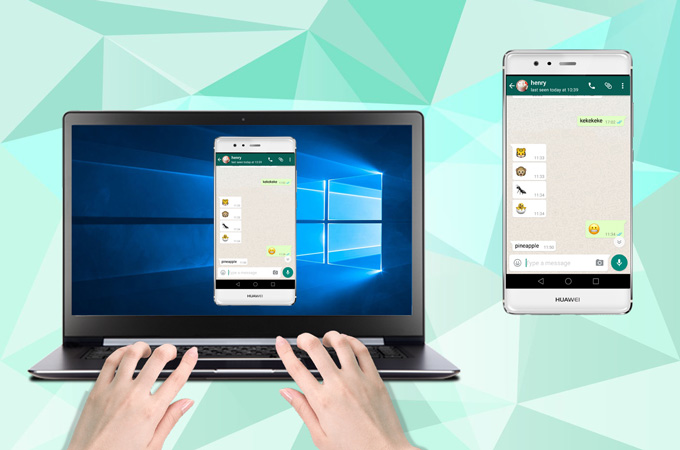 When it comes to the best online mobile messaging applications, WhatsApp must be on the list. With this widely-used application, one can send and receive unlimited numbers of messages, images, and videos without spending a single dime.
Although it is a mobile application, for many WhatsApp users, being able to use the app on PCs is much more convenient and efficient, especially if they spend all day in front of the computer. We've already known WhatsApp Web and its desktop app. However, there are other simple but effective ways on how to send and receive WhatsApp message from PC. Check out this article to learn more.
Methods to Receive and Send WhatsApp Message from PC
Method 1: ApowerMirror
One way to send messages to WhatsApp from PC is through the use of ApowerMirror. This screen mirroring application can support two operating systems simultaneously. With its unique feature, this tool allows you to wirelessly control and stream your Android smartphone to a much bigger screen.
Aside from the ability to send and receive WhatsApp messages, you can equally use the program to play mobile-based games on your PC, stream movies, send SMS messages, share contents to friends and many more. Likewise, it has additional features not available on other applications such as the ability to record phone's screen and take screenshots.
To send WhatsApp message from PC, all you need to do is: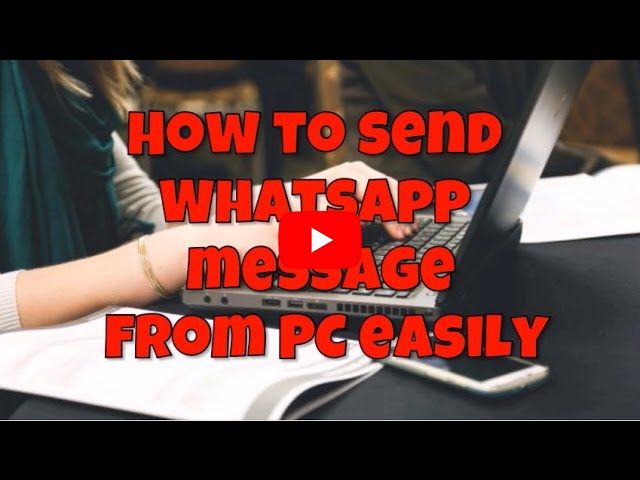 Install and launch the application on your computer.Download
Connect your phone to PC via USB cable. On your Android smartphone, enable the USB debugging mode, and wait for the mobile app to be installed.
Once the installation is completed, a notification will show up. Tap "START NOW" to begin mirroring and controlling.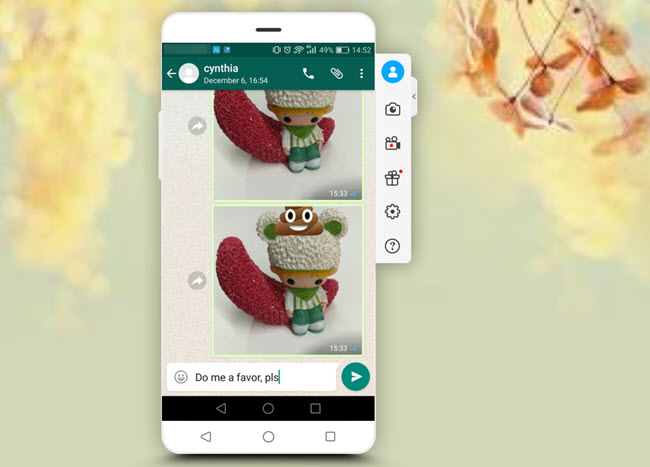 Now, you can use the mouse to open WhatsApp and text the messages with the keyboard. It is also possible to use these functions via WiFi.
After the first time using the USB to connect the phone to PC, the controlling feature will be enabled. And then you can slide to "WiFi Connection" on the mobile app, tap "M" icon, choose the device and hit "START NOW".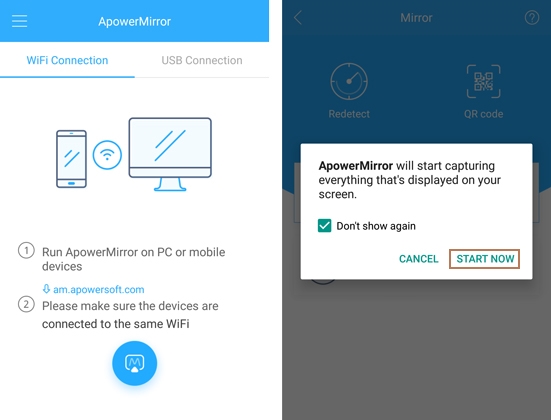 Pros:
Compatible with Android, iOS, Windows and Mac OS.
Wired and wireless connecting options.
Comes with additional features.
Seamless and stable mirroring experience.
No need to download another WhatsApp through PC.
Cons:
Watermark is present for the free version.
Only Android users can control the phone and send messages from PC.
Method 2: BlueStacks
Utilizing BlueStacks can send WhatsApp messages from the computer. Unlike the first method, BlueStacks needs no mirroring. Instead, it emulates your computer as an Android operating system so you could install Android-based applications directly on your PC. With BlueStacks, you can stream, watch and play Android contents on your computer like the actual mobile phone.
Install and run BlueStacks App Player on your computer.
After opening the program, you need to create an account and search "WhatsApp" on the list of available applications.
Download and install WhatsApp, then verify your phone number as well as the country. After you have received the code, insert it and click "ok" to activate and use WhatsApp on your PC.
Pros:
Uses WhatsApp application directly on PC.
Connection to mobile phone is not needed.
Easy to use.
Cons:
You can't use the same WhatsApp account on both devices simultaneously.
There's no synchronization of messages.
High PC configuration requirements.
Lagging and not seamless to use.
Method 3: WhatsRemote for Android
If you don't like the way BlueStacks works, you can alternatively try WhatsRemote for Android to send messages to WhatsApp from PC. WhatsRemote is a web-based WhatsApp app. Different from the others, with WhatsRemote you can't install or use any other feature or service other than WhatsApp.
To run this program, simply download the mobile version on your Android phone and go to the web app on your PC. WhatsRemote allows using the same WhatsApp account, so you don't need to create one for your PC. Aside from its ability to send WhatsApp messages from the computer, there are also desktop notifications whenever you receive a new message.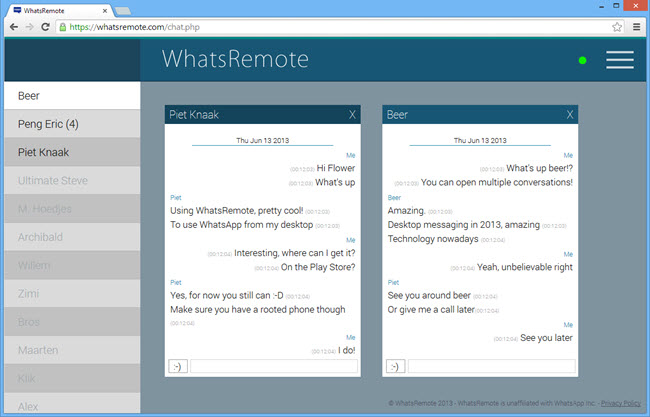 Pros:
Lightweight and easy to use.
Allows the use of the same WhatsApp account.
Cons:
Requires rooted Android phone.
Free for 3 days only.
No additional features and functions.
Does not show media inline.
Indeed, there are many ways on how to send and receive WhatsApp message from PC. You can try Android emulators and standalone web-based counterparts, but you need to be aware of their limited functions. In comparison, third-party mirroring applications such as ApowerMirror let you use the phone's features and all its applications straight on your computer.