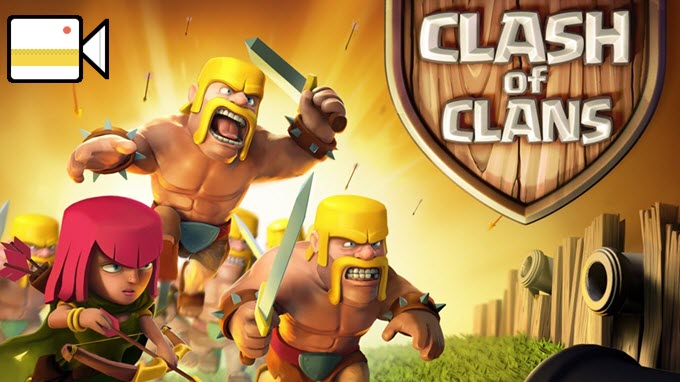 Generated by Supercell, Clash of Clans has been quite popular among fanciers and gamers on various smartphones. It is a creative strategy game that runs on both Android and iOS platforms. In the game, player will act as a clan leader and build up the clan stronger and stronger through offensive and defensive battles. Meanwhile, many players want to record Clash of Clans and make a video so that they can share the wonderful battles as well as their unique experience and tricks with others more vividly. Thus, concerning for those who don't know how to capture a video for Clash of Clans, here I would like to share several workable programs and help them out.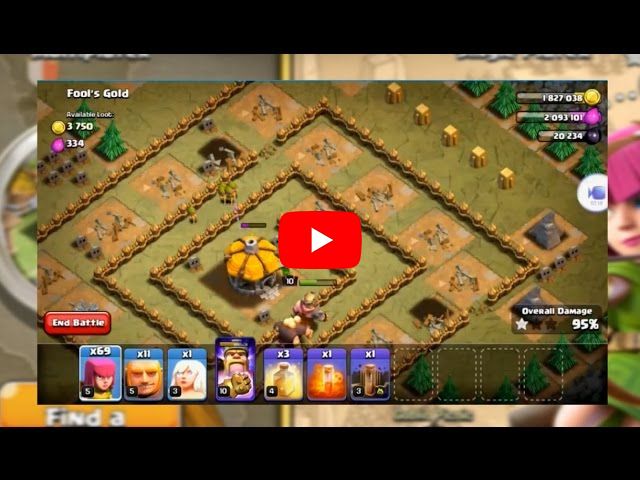 I. Advanced Way Running on iOS
II. Workable Apps for Android Devices
Superior Way to Record Clash of Clans on iOS
If you want to make a Clash of Clans video on your iPhone or iPad, then Apowersoft iPhone/iPad Recorder is highly recommended. This desktop program not only allows you to capture video of your iDevices, but also you can take full advantage of its screenshot feature and make your fancy pictures for further use.
When it comes to recording part, video can be captured in good quality and there are multiple formats for you to choose. Besides, audio input from system and microphone are optional, too. So, you can add your commentary together with the screencast video. By using it, you are capable of streaming everything from your portable device and projecting it to your computer screen. That means you can enjoy a larger screen while playing game.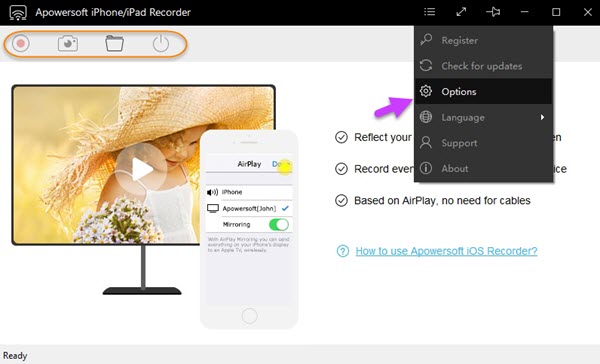 To know how to record Clash of Clans easily, just check the following steps.
Press the download button below and install the program on your computer. Once done, launch it on your desktop.Download
Open options menu and configure some necessary settings such as audio input and output format, etc.
Next, ensure that your iPhone/iPad connects to the same wireless network as the computer does.
After that, just swipe from the bottom of your portable device and open up the control center, press the "AirPlay" tab. On seeing a TV-like item with your PC name, just press it and switch on the "Mirroring" option.
Then your iPhone/iPad screen activity will be displayed on PC monitor immediately. Whilst, you can just launch Clash of Clans. When you want to record video, simply click on the red recording button and it will start soon.
To finish recording COC, click the stop button and video will be saved in the selected folder.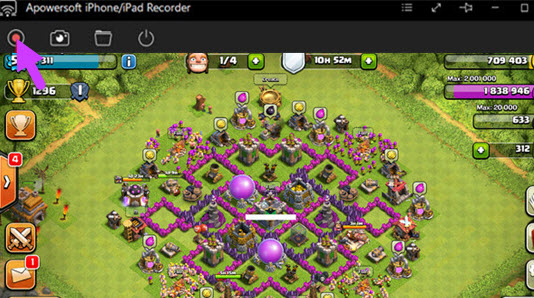 Tips: If you would like to transfer the video from PC to portable devices, AirMore can absolutely be a wise choice. Under the same Wi-Fi environment, you can get full control of both your devices and computer. If you would like to check more details upon it, here you can follow the guiding post to transfer movies to iPhone and it will help you out.
Feasible Choices for Recording Clash of Clans on Android
1. Apowersoft Screen Recorder

In fact, many Android players are also very fond of COC game and want to make a personal video about it. In that case, Apowersoft Screen Recorder can completely hit the target for it is also compatible with Android OS. It can help users record Clash of Clans as well as any other mobile games along with lossless sound track. Plus, you can add your camera and show yourself during recording process. Screenshot feature is also included and you can use it without any limit.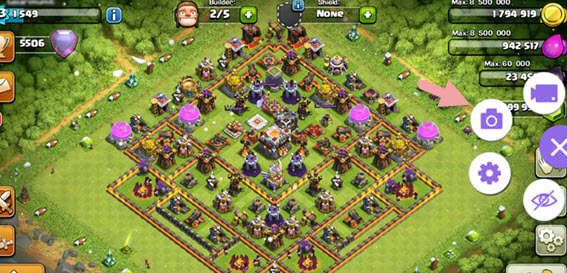 Currently, it supports Android 5.0 and its later versions. You can get this app from Google Play.
2. AZ Screen Recorder

Another app that can act as a Clash of Clans recorder is AZ Screen Recorder. It is a workable screen recording app for Android users. You can make use of it for recording wonderful video clips together with taking funny screenshots. Audio source from both system and microphone can be recorded synchronously with the screencast video. Before using, you may configure some settings such as resolution, frame rate. The only defect is that it now doesn't support camera recording. By the way, users can run the app smoothly on Android Lollipop and Marshmallow.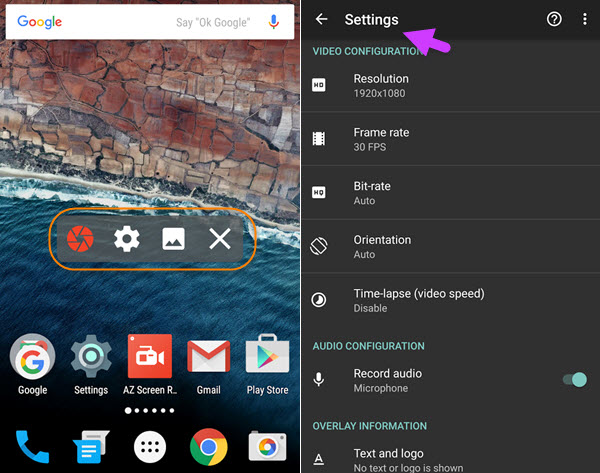 Conclusion
These tools mentioned above are all useful solutions upon how to record Clash of Clans no matter on iOS or Android. No more talking, just enjoy making your unique video and share those great achievements with friends and mates.