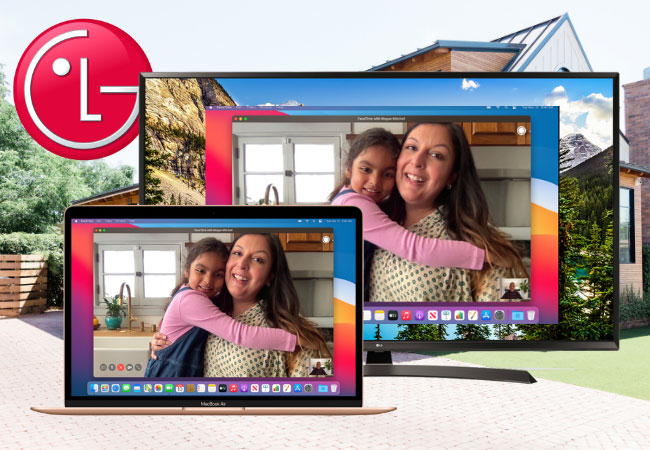 Watching videos or presentations on your Mac is your favorite thing to do every day, why not try casting your Mac on your LG TV? A screen twice or thrice the size of your Mac will give you a better view and additional convenience. Although Mac and LG have a contrasting systems, you can easily mirror Mac to LG TV using these tools we've found. They are compatible with both Mac and LG TVs and are easy to use.
Best Ways to Mirror Mac to LG TV
ApowerMirror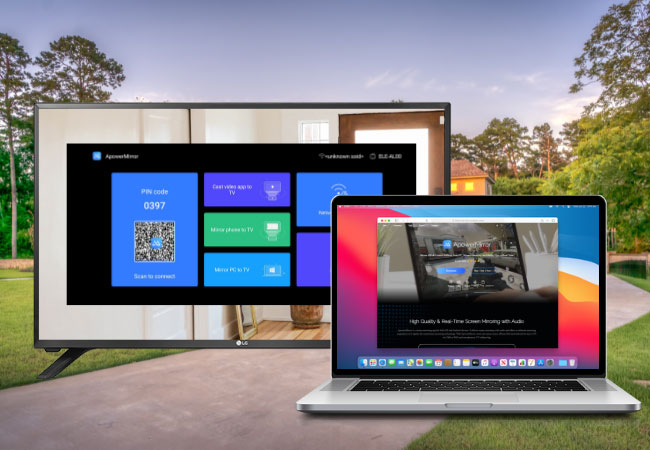 First on our list is ApowerMirror. It can connect Mac to LG TV since it's compatible with a myriad of devices including iOS, Mac, Android, PC, and smart TVs. ApowerMirror can cast multiple devices simultaneously with or without using a USB cable. Moreover, this tool comes with an amazing list of built-in features which are screen recording, screen capturing, lite mode, full-screen mode, rotation key, and many more. Its newest update features AirCast which allows users to remotely mirror their device to other nearby devices and even overseas. Here's how you can use this application.
First, download ApowerMirror on your Mac and LG TV. Then, install the app.
Make sure to connect both devices to the same internet.

On your Mac, reveal Control Center and choose Screen Mirroring. From the list, choose Apowersoft to mirror.
LetsView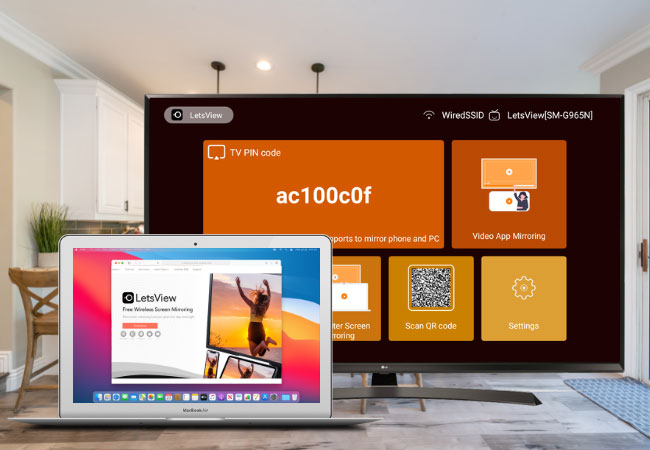 Another compatible app to cast Mac to LG TV is none other than LetsView. This application is almost similar to ApowerMirror. Apart from mirroring, it has built-in features like screen recording, screen capturing, and painting tools that you can use for free. In addition, LetsView can withstand long hours of screen mirroring without producing any delays or glitches on the interface. If you want to use this app, you may just follow the steps listed below.
Visit App Store and download ApowerMirror on your Mac. On your TV, go to its app provider and look for LetsView and install the app.
Connect your Mac and LG TV to the same WiFi and launch the app.

Go to Control Center on your Mac and tap Screen Mirroring. Then, select Apowersoft on the list of available devices to mirror.
LG Screen Share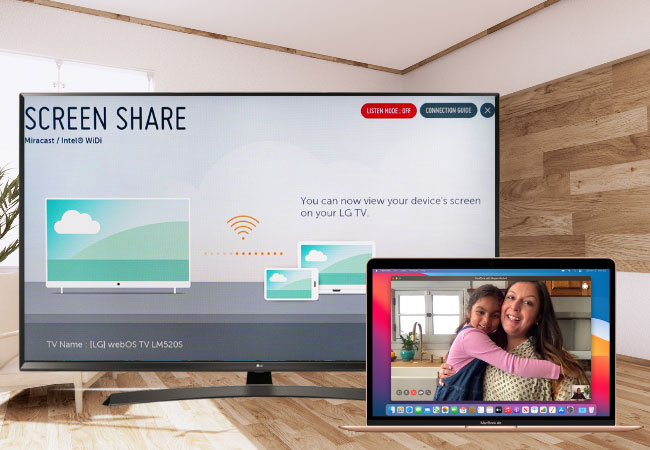 If you're looking for plain mirroring, you can switch to LG's built-in screen mirroring feature called Screen Share to stream Mac to LG TV. It's the newest feature among LG smart TVs. It works not only on Mac but as well as on phones, tablets, and computers. Just follow the instructions below to use it.
On your LG TV, go to Screen Share. While on your Mac, tap the AirPlay button.

From the list of available devices, choose the name of your LG TV to mirror.
Conclusion
These are the easiest ways to mirror your Mac to your LG TV at home. Using these tools, you can easily navigate your Mac on a screen twice the size of it and get better views. It's easier and more convenient, especially during meetings or watching videos.