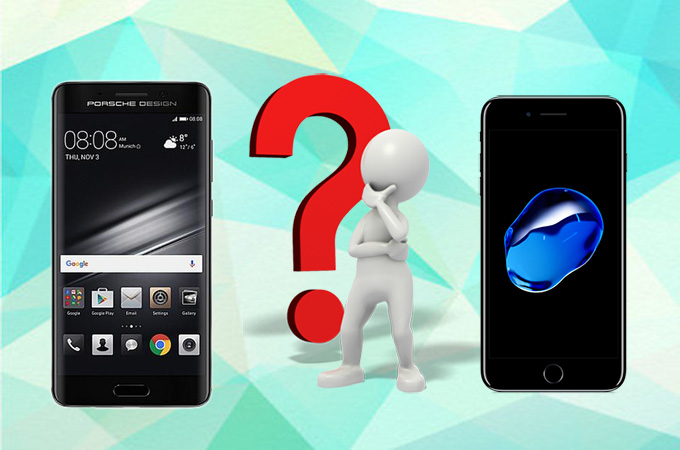 We live in a modern world where smartphones have been an essential part of our lives. We can hardly communicate with our friends or partners if we do not own a cell phone. Given the fact that the demand is so high, many mobile phone companies are releasing different units almost every quarter of a year. Recently, Huawei announced the launch of Mate 9 which is believed to be a ferocious competitor of the very popular and newly-released iPhone 7 Plus. According to the tech company, Mate 9 will be sold directly from Huawei in the United States. Here we compare Huawei Mate 9 vs iPhone 7 Plus, in case you are planning to buy a new phone and can't decide which one you should get. These two products have the most powerful equipment and the latest design of the time. Now let's check them out!
1. Mate 9 vs iPhone 7 Plus: Display & Design
The Mate 9 and iPhone 7 Plus both have bigger screen as compared to other phones. This is to make sure that users could enjoy watching and playing games on a bigger screen. iPhone 7 Plus has a 5.5-inch of screen while the Mate 9 has a 5.9-inch of display. Both have the resolution of 1080 x 1920 pixels. In terms of design, the Mate 9 has 5 different colors which are space gray, moonlight silver, champagne gold, mocha brown, and ceramic white. Moreover, Mate 9 with a Porsche design will also be available but it will be a limited edition. On the other hand, iPhone 7 Plus has 5 available colors which are jet black, black, silver, gold and rose gold. And iPhone 7 Plus removes headphone jack, which might disappoint some potential customers. Fortunately, Huawei Mate 9 is still equipped with 3.5 mm headset jack.
2. Huawei Mate 9 vs iPhone 7 Plus: Camera
In terms of camera, Huawei Mate 9 possesses a dual-lens back camera with 20 MP and 12 MP respectively. Its front camera has 8 MP. Meanwhile, the iPhone 7 Plus has a both 12 MP back and 7 MP front camera. In this aspect, it is evident that Huawei has the better camera feature. Moreover, Mate 9 continues to cooperate with Leica, but the camera updates to second generation.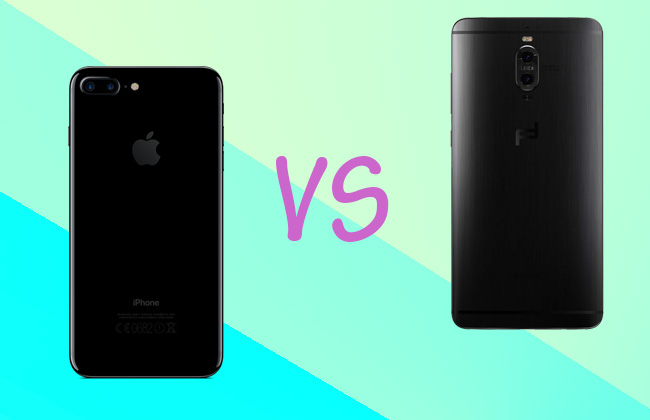 3. iPhone 7 Plus vs Mate 9: Storage and RAM
When choosing a mobile device, the first thing that people might take into consideration is the storage capacity as the high resolution media counts more and more space. And the storage also affects the running speed of the phone. Mate 9 consists of 4G of RAM while the iPhone 7 Plus has 3G RAM. The regular Huawei Mate 9 has 64G of storage expandable to 256G via microSD card slot. The Mate 9 Porsche design, a limited edition, has 256 internal memory and 6GB of RAM. iPhone 7 Plus has available storage of 32G, 128G and 256G internal memory.
4. iPhone 7 Plus vs Huawei Mate 9: Battery
Huawei Mate 9 is said to have 4000 mAh battery while the iPhone 7 Plus is believed to have only 2900 mAh. It is said that the battery of Mate 9 could support almost 20 hours' work even when you watch videos. And its SuperCharge system could charge to 20% in 10 minutes.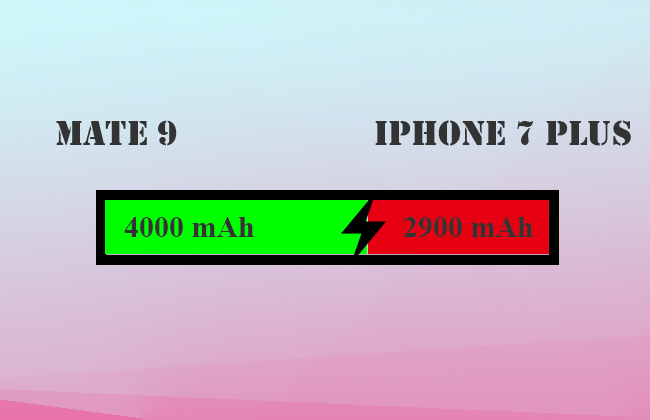 5. iPhone 7 Plus vs Mate 9: Processor & Operating Systems
For most Android users, it would be frustrating when the phone slows down. However, Mate 9 is using a Kirin 960 chip which, according to the company, is the "highest performing smartphone processor in the world" with a Nougat operating system. Thus, it would not lag, even after a long time operation. Also, it enables owners to play mobile games without phone getting overheating. Meanwhile, iPhone 7 Plus runs with the Apple A10 processor having iOS 10 as its operating system.
6. Mate 9 vs iPhone 7 Plus: Price
Apple's iPhone remains having single SIM with the price of $769, $869, and $969 for 32G, 128G, 256G respectively. However, regular 64 GB Huawei Mate 9 is about $775 with dual SIM. And the Porsche Design costs almost $1548.
Conclusion:
To sum it up, Huawei makes huge improvement in its new product, from design to hardware and from camera to battery. And the price for regular version is fair enough and a little bit cheaper than iPhone 7 Plus. As to iPhone 7 Plus, it surprisingly employs dual-lens camera. And the operating system, processor and hardware always exceed its competitors. So Mate 9 vs iPhone 7 Plus, which one would you buy? Share your preference on the comment below!